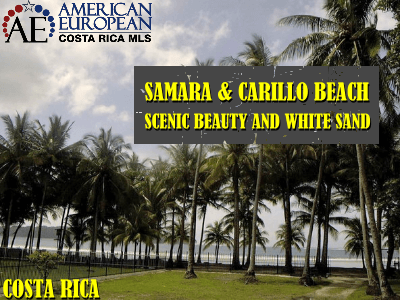 Samara and Carillo Beach have beautiful white sand beaches where a property can be bought in Paradise.
A real paradise awaits visitors to the area. Playa Samara and its sister beach, Playa Carrillo, are identical in extension and beauty. Both beaches have calm waters and gentle waves that please tourists who wish to enjoy swimming in the ocean. Other attractions are horseback riding at sunset along the seashore.
Residents at Samara and Carillo beach enjoy the finest Costa Rica real estate on the beach for sale.
Samara beach is located on the southwestern end of the Nicoya peninsula. It's south of Tamarindo and north of Carillo Beach. The drive from International Daniel Oduber Airport in Liberia is only 2 hours. Also, it's 4 hours from International Juan Santamaría Airport in San Jose.
In the immediate area of Samara Beach are the incredible beaches of Carrillo, Camaronal, and Buena Vista, right on the shores of the Pacific Ocean.
Playa Samara
Of the four beaches, Playa Samara is the most developed in as far as infrastructure and tourist activities go. It is also well known for its scenic view. Samara has a superb coral reef and its own picturesque wooded island in the bay, Isla Chora. Samara beach is popular with swimmers and windsurfers because of its calm waters. It's an ideal beach for your kids.
Samara is not only a charming beach resort, with a wide choice of friendly and attractive hotels, restaurants, bars, and discos, but, unlike other Pacific Ocean resorts, it is also a thriving fishing and farming community. The main activities there is tourism, which has grown a great deal in the past few years, fishing, and the planting of tropical fruits such as exportation mango, melon, and watermelon.
Playa Samara has enough commerce to fill your immediate needs, like a Bank, ATM, mini-markets, public telephones, Internet cafés, tourist information centers, car-rentals, police station, physicians, pharmacy, artisan workshops, restaurants, bars, and much more.
Downtown Carillo Beach
In the downtown area of Carrillo Beach there are several Internet cafés and tourist information centers for your internet services and reservation of tours to the infinite tourist destinations in Costa Rica, or simply take a shuttle service to the airports at the end of their stay.
Commerce
Vendors of handicrafts are organized and have their own stands and very rarely approach tourists to
sell souvenirs in the beach. They usually have a fixed stand on the main street a few meters from the beach, where visitors may purchase beautiful souvenirs created by local artists with Costa Rican materials. There is always somebody selling coconut water or soft drinks to all those who wish to refresh themselves.
Activities
There are many activities in Carrillo beach to enjoy, such as horseback riding to observe monkeys, turtles, crocodiles, birds, and other native animals, recreational or sport fishing tours, hikes to nearby rivers and waterfalls, kayaking, snorkeling in Isla Chora, Canopy tours, the Zoo, Spanish lessons, dancing, and of course surfing.
Other beaches
To the East of Playa Carrillo and Playa Samara is Playa Camaronal. And to the west is Playa Buena Vista. These beaches are just a short drive from Samara and Carrillo but offer a different experience.  Both beaches are well-known and appreciated. Because the wildlife refuges, protecting the nesting sites of marine turtles, are simply amazing.
Protected
The government has declared the beaches of Camaronal and Buena Vista protected zones because of the constant arrival of turtles for spawning, has made them into non-exploited and well-cared for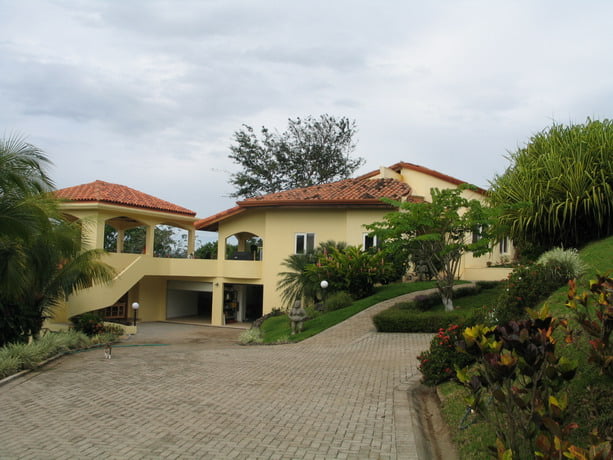 beaches by residents and tourists, and are very well known by local surfers as beaches with strong waves where they can surf peacefully without nearby swimmers.
The paths to reach these beaches have magnificent scenery. Visitors must cross rivers and use small jungle roads to get there.
Temperature
In our area, the climate and the seawater are always warm. The temperature is constant the whole year round: 87 to 90 degrees Fahrenheit.
The dry season begins in November and ends in April, which is the best time for fruits and fishing. Also, the rainy season begins in May and ends in mid-November.
Therefore, if you are looking to live on a beautiful beach and a beautiful place off the beaten path, Samara and Carillo Beach are definitely locations you should look at.
Contact our affiliate partner in Samara beach, Shannon Mika, to check out the local real estate.
Feel free to leave your comments on this blog. If you like this article, please feel free to share it on your social media.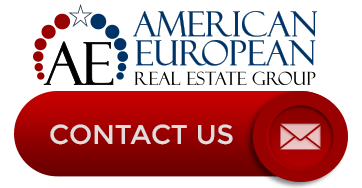 ---
If you like this blog, connect with me on Google+ or subscribe to our newsletter by clicking the banner below.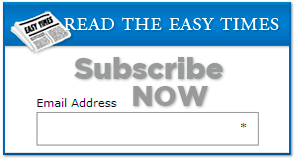 While we're at it, I DO want to remind our readers that we appreciate any referrals you can send us. Finally, please remember the American-European real estate Group's agents when you refer a real estate agent. Because we DO appreciate your business.