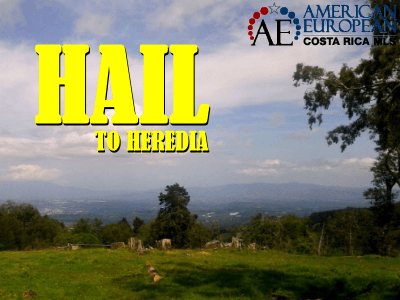 I'd like to give hail to Heredia, the city I love so much. I own a house in Heredia and I enjoy living here tremendously. I'd like to take the opportunity to tell you all how happy I am and why.
Development-wise, Escazu, and Santa Ana have already had their day in the sun. Such as driving up prices, of land for building and rentals and therefore of everything else required for living. So that by now investment in those areas is largely by those who figure to buy now and sell later. At a thumping profit of course.
But that's a pretty risky assumption, requiring nerves of steel and loads of time, more suitable for gamblers than retirees.
This is why it is now time to sing the praises of Heredia, Hail to Heredia. In Heredia, you don't have to be a millionaire to buy or rent. There is no need to remain without the constant prospect of being driven away by relentlessly increasing prices and taxes.
But this claim requires justification, so let's talk a bit about how and why developers first concentrated on the southwest side of the Central Valley. Hail to Heredia!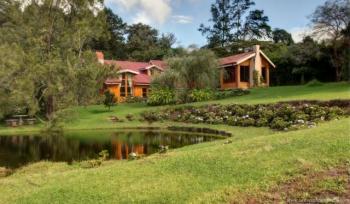 Barva de Heredia
It is undeniable that the town of Heredia lies on the lower slopes of the long extinct volcano – Barva. And like they say, once a volcano, always a volcano. In fact, if Barva became active again in future, the prevailing wind from the northeast would ensure that ash and scoria would fall on Alajuela. And not on Heredia. And the lie of the land would conduct any lava flow in the same direction.
Nevertheless, when choosing a site, prospective homeowners are on balance likely to prefer a simple hill to the slopes of a volcano, however quiescent and however far away. Hail to Heredia!
That is why savvy developers first choose to buy property in Escazu and then Santa Ana, and since the homeowners when they came were largely well-off Americans, we have a little America already established there, with malls and boutique shops and services on the U.S. model, further attracting North American house-seekers.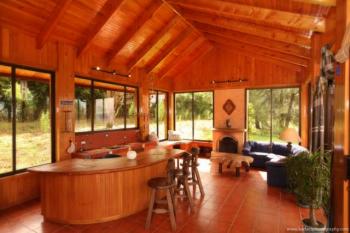 Heredia has not stayed on the sidelines
But little old Heredia has not stayed on the sidelines. Now we have
malls and supermarkets to rival anything on the south side,
a super new hospital is getting ready to open,
a prestigious University
and, above all, much lower prices than the Escazu, Santa Ana areas.
Hail to Heredia
Needless to say, Heredia too will eventually price itself out of the Costa Rica real estate market, and we shall have to think about developing further and further away from San Jose and the Government offices which we must visit from time to time.
So now is probably the very best time, the window of opportunity which in a few years will close forever, to get in on the ground floor of a development boom. Hail to Heredia!
The Author
By Jack Obrean, a long-time client of Xinia Salazar. Xinia lives, loves and breathes Heredia and lives there herself. Xinia has been a professional real estate agent for over eighteen years and has a lot of great listings in Heredia to show you. When you are looking for someone to assist you to find your home in the Heredia area, feel free to contact Xinia.
---
Feel free to leave your comments on this blog. If you like this article, please feel free to share it on your social media.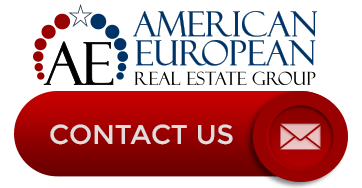 Also, if you like this blog, connect with me on Google+ or subscribe to our newsletter by clicking the banner below.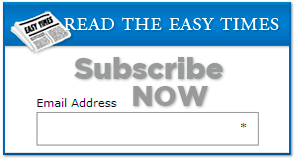 While we're at it, I DO want to remind our readers that we appreciate any referrals you can send us. Finally, please remember the American-European real estate Group's agents when you refer a real estate agent. Because we DO appreciate your business.