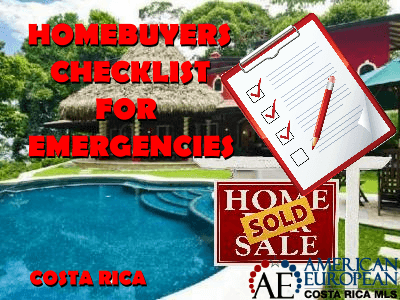 Have you ever heard of a Costa Rica homebuyer checklist for emergencies? You'll be surprised how important it can be when you purchase real estate in Costa Rica.
When you purchase a Costa Rica home for sale, there are always a lot of things forgotten by all parties. The closing went smoothly and the day you move into the home, you have a water leak and your living room is flooded. You probably don't know where the main water valve is located so you can turn it off.
When you find out you have an electrical problem, you cannot find the breaker box. Or suddenly your toilets don't' flush anymore and you don't know where the septic tank is located.
They're all simple things and you can save yourself a lot of headaches if you find out those little but very important things about your new Costa Rica home before the closing and not when the emergency hits you.
If you have hired a home inspector before you purchased, quite a few issues will have been covered in the home inspection report. If you haven't, you will need the help of the sellers and your real estate agents to find out about all the details of the property you are buying.
Many sellers leave the country or will just disappear on you, and after the closing, all kinds of questions will come up. I have been selling homes in Heredia for many years and have found out that most agents don't do much more than showing up at the closing to pick up their commission check.
Even though your closing attorney should take care of a lot of post-closing issues, as a serious real estate agent who sells homes in Heredia, I sit down with the seller a couple of days before the closing and write up a property checklist. I always work hard to make a real estate closing not only as smooth as possible for the buyer and the seller, the reason for the checklist.
The Costa Rica home buyer checklist for emergencies
Cold water main valve location
Hot water main valve location
Main power switch location
Breaker box location and numbering
Septic tank location
Last time the septic tank was cleaned
Drainage septic system location
Explanation of functioning of the water pump, the pressure tank, and the water reserve tank
Password of the alarm system
Others
The Service People
Apart from the above, it is easier to use the same service people the seller has used to start with and add a list of the names and phone numbers of those who directly or indirectly have something to do with the servicing of the property to the Costa Rica homebuyer checklist for emergencies:
Condo Administrator
Cable TV
Water company
Power company
Plumber
Electrician
Handyman
Architect or builder of the home
Gardener
Gate maintenance
Garbage collection days
The documents
Apart from the Costa Rica homebuyer checklist for emergencies, I always insist the sellers should bring the following documents to the closing:
Passport or residency card (the one used when property was purchased and your actual one)
5 Corporate books, copy of the constitution and corporate ID
Checks for the amount of the agreed sales price or the balance that is owed in case there is earnest money in escrow
Label the keys and remote controls of the property
Canceled last 3 months water and power bills
Canceled last property and municipal tax and a certification of the municipality showing payments are up to date
Letter from the condo administration showing payments are up to date (when applies)
Construction plans if existing
Agreement what to do with the phone line
Seller Suggestions
Cancel cable TV and internet contract or get the existing contract changed into name of new owner after closing
Supply letters of cancellation of employees/gardener/maid's worker's comp, so they can eventually start fresh
Buyer Suggestions 
Change the locks or lock cylinders on all exterior doors
Change alarm code and property information with the alarm company
We certainly hope you will find good use to this homebuyer checklist for emergencies. If you in are the market to purchase a home for sale in Heredia, you should definitely have a look with Xinia, contact her now. Pay special attention to the more elevated areas of Heredia where the temperatures are cooler than in most areas. It rains a bit more there than in some other areas but on the other hand, the beautiful nature is green throughout the year.
---
Xinia Salazar is our affiliate member for the Heredia area and a specialist in homes in Heredia for sale and for rent. Xinia lives in Heredia herself and as a born and raised Costarican knows the upper Heredia mountains better than any other real estate agent in Costa Rica. Xinia is fluent in English and Spanish. Xinia has lived in Boston for a couple of years. Xinia wrote this Costa Rica homebuyer checklist for emergencies as a service to her clients.
---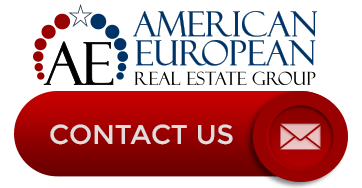 Feel free to leave your comments on this blog.
---
If you like this blog, connect with me on Google+ or subscribe to our newsletter by clicking the banner below.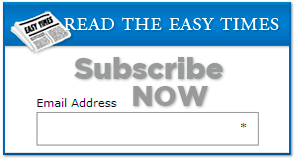 While we're at it, I DO want to remind our readers that we appreciate any referrals you can send us. Finally, please remember the American-European real estate Group's agents when you refer a real estate agent. Because we DO appreciate your business.