Don't you agree that homes with exotic hardwood cabinets look better? Well, they also sell better!
Hardwood is not so easy to find anymore, not like it was in the 1900s. Nonetheless, homes with exotic hardwood cabinets are still loved by many home buyers in Costa Rica. Our agents get special requests from homebuyers that they only want to see homes with exotic hardwood cabinets installed.
Costa Rican exotic hardwoods are world-famous and can be used for an incredible variety of home features. Cedro Amargo, or cedar, is used mostly for custom hardwood cabinets. But you'll also see other hardwoods used, depending on the architecture and the quality of finishes.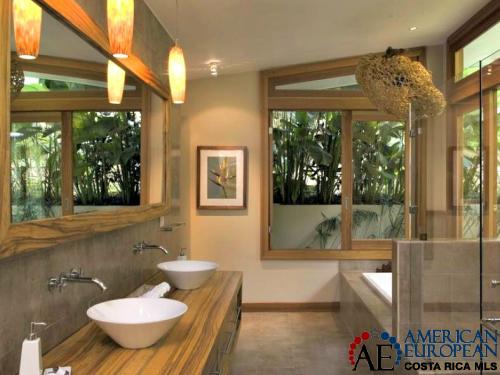 You'll see, for example, teak is used often in Bali-style homes, and sura or laurel is often used in high-end luxury homes. Melina is often used in lower-budget homes.
Nowadays, there are stores that import cabinetry from Italy, Germany and other countries everywhere. Those stores sell different kitchen types and styles with names like Arrital, Snaidero. You can also choose the type and colour of the melamine with names like Wengue, Sahara and Sapeli.
But, Costa Rican homes with exotic hardwood cabinets sell better!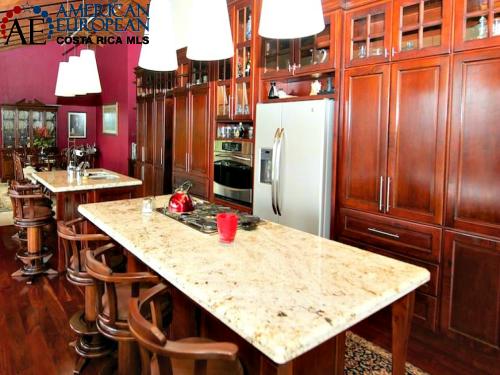 Taste
It's all a matter of taste, not everyone likes the look of exotic hardwood. Some homeowners prefer a painted surface. I once sold a home in Coronado that had a beautiful laurel hardwood ceiling throughout. The buyers just hated the wood color and painted the ceiling all white. I'm sure that, if they had built the house, they would have used gypsum ceilings.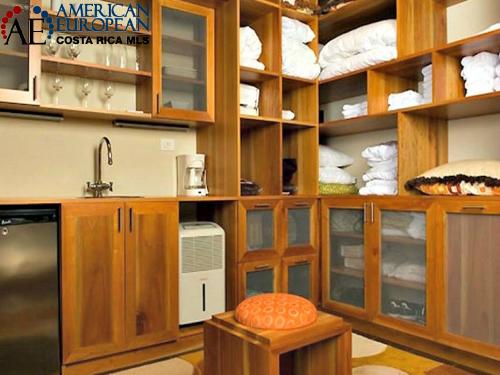 Some like the modern look of modern factory-made materials. There is fiberboard, plywood, thermo-structured surfaces, stainless steel, PVC or laminate veneer. But don't worry, we have plenty of modern condos and homes in inventory that offers this kind of materials used for the cabinets.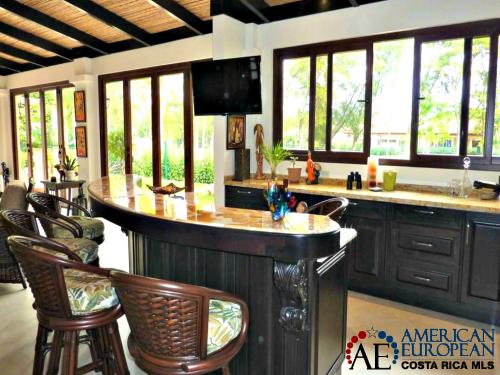 Types of hardwood
The most exotic types of hardwood have long disappeared, much of it wasted over the years. Now, homebuyers appreciate hardwood more than they did ever before. Exotic hardwood takes very long to grow. Nonetheless, you will find many types used in homes with exotic hardwood cabinets:
Cedro amargo,
Guanacaste,
Cenízaro,
Laurel,
Melina,
Teca,
Sura,
Guapinol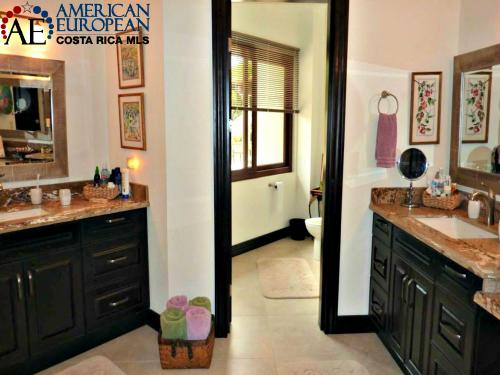 Where?
Custom hardwood cabinets can be used in many places in the home. You will find them used in
Kitchens
Bars
Pantries
Laundry rooms
Outdoor Kitchens
Bedroom closets
Dressing rooms
Linen closets
Entertainment centers
Workshops
Look at the images in this article and you'll see why homes with custom hardwood cabinets sell better!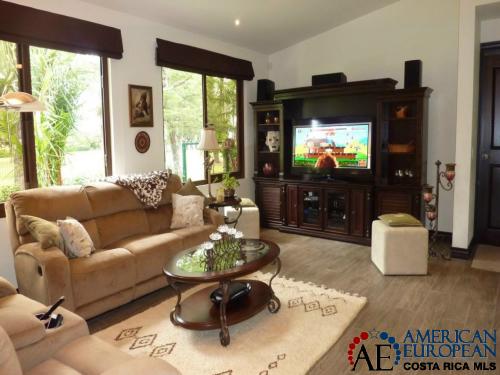 Weather
The weather in Costa Rica DOES influence the quality and maintenance of exotic hardwood.
Wood expands as humidity increases and shrinks as humidity decreases. Doors and cabinets might suddenly not close as they did before. Therefore, NEVER use hardwood for exterior window frames and sills.
The optimal humidity level is 35% to 50% relative humidity. Extreme conditions (lower than 20% or higher than 80%) especially need to be avoided. There are lots of areas in Costa Rica with high humidity. Talk to your builder or cabinet maker before starting any Costa Rican homes with custom hardwood cabinets.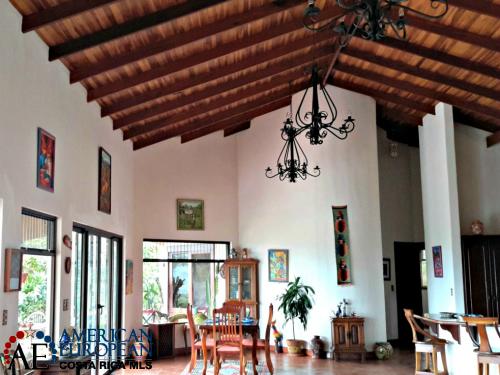 Sarchi
Sarchí is famous for its exotic hardwood furniture and oxcarts. There are furniture and cabinet makers there all over Sarchí. They build beds, desks, dining tables, office furniture, chairs, and rocking chairs. Most furniture makers will even custom build your design. Pay them a visit, it will give you some really great ideas on how to use the hardwood in your new home in Costa Rica.
You can find good cabinet makers online. Before you make any down payments, ask for references and talk to their past clients in person. Do NOT just make a deposit and expect your cabinetry installed on time and in good shape. Often, it isn't.
Do you like what you see here? We have hundreds of Costa Rican homes with custom hardwood cabinets in inventory, contact us now for viewings.