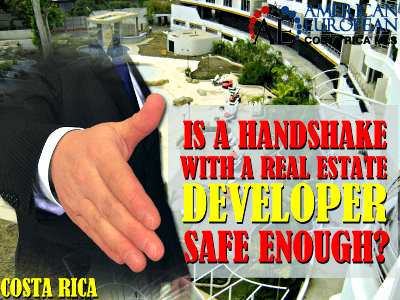 Are you buying a new house or a condo from a real estate developer in Costa Rica? Don't you know how binding the builder's promise is?
You are probably purchasing a particular property from a real estate developer or builder for the specific finishes. This can be:
a beautiful swimming pool,
the clubhouse,
a beautiful hardwood kitchen with the center island,
the classy marble flooring
or the nice open floor plan.
Just promises?
But how many of those specs will be delivered at closings? And what will happen if they differ from the builder's promise? There are many details involved in your decision that you might not even be aware of and the developer might not inform you about.
Most salespeople on a new real estate project in Costa Rica are not well trained by the real estate developer on the specifics of the materials that will be used. or even how the home or condo will be finished and other important matters. They will promise anything you will ask for. Because they know that by the time you get to closing, they won't work there anymore or you have forgotten all about it.
Any offers made by the real estate developer or his sales team are NOT binding. Unless you have a written option to purchase –sale agreement, signed by you and the developer. In this agreement, you should specify every detail of the transaction and how your unit will be finished, notarized by a notary public in Costa Rica.
Permitting
Before you start looking into the specifications of the new condo or house, the community and its advantages, ask the sales people proof of approved building permits by all governmental institutions. If they cannot show the permits, especially if the real estate developer is selling in a pre-construction stage, walk away from the project.
Pre-construction prices
When you are looking to purchase a pre-construction property in Costa Rica, from floor plan drawings and renderings (drawings that present the idea of what will be built), you will find that many of those plans will have changed by the time they property gets built. Many developers offer discounted pre-construction prices to use your money to build. Make sure you keep the copies of those renderings given to you, to be included in the purchase –sale agreement and keep your earnest money in escrow until closing.
Building materials and finishes
When you are looking at a model home, the floor plan will probably not change anymore (though it can). But the building materials and finishes can change for many reasons. Floor tile, kitchen tile, and bathroom tile are typically materials that might not be available when they get to build your home. Unless the amount of homes to be built is large enough for the real estate developer to import containers full of tile. Ceramic tile is NOT produced in Costa Rica, nor are most finishing materials.
Option to purchase – sale agreement
When you purchase a new home or condo from a developer, insist on signing an option to purchase sale agreement. Before this agreement is drawn, make a checklist of everything that you think is important to you. Include everything that would make you decide NOT to purchase if those specs will not be delivered by the developer. Include floor plans and renderings or photos of the materials used in showroom or model home as well as the sales brochure.
YOUR attorney's revision of the agreement
Once you have all these construction specifications, ask the real estate developer to include those specs in the agreement. Once you receive a formal draft of the purchase-sale agreement, send this draft to your own attorney for revision.  Many developers will offer their attorney's services but to be able to protect yourself and your investment, you should hire your own.
Bylaws and pet rules
You must want a copy of the bylaws BEFORE you sign a purchase-sale agreement. That's the only way for you to know what the rules of the community will be. Can you bring your pet or will the bylaws not allow for it? Or maybe you have allergies and do NOT want to live in a condominium where they allow pets?
Changes of plans
Usually, the real estate developer's version of the contract contains a clause that says the builder can change plans and specifications of the building at its sole discretion. This should not be accepted by you as a buyer. If the real estate developer insists on this clause, walk away from this project.
Home inspection
Usually, buyers of Costa Rica real estate move in as soon as the real estate developer allows them to. Do not make this mistake. Hire a home inspector. When you recieve the report, insist that the real estate developer makes all the necessary adjustments and repairs. Ask this to be done before closing and before you move into the new house or condo. After the developer has made the repairs, send the home inspector back for a final inspection. Insist on a home inspection clause in your purchase – sale agreement.
Final payment
No matter how you plan each payment during the construction, keep at least 10% for a final payment after the home inspection. Specify in the purchase –sale agreement that this 10% will be deducted from the purchase price if the repairs are not made within 30 days of the home inspection. Include this clause also in the agreement.
Of course, we wish you purchase the above mentioned new house or condo through one of our affiliate realtors in the American European Real Estate Group. Then you won't have to deal with most of the headaches before, during and after your Costa Rica real estate purchase. If you don't, do yourself at least the favor and do this FREE real estate developers quiz we made for you.
Feel free to leave your comments on this blog. If you like this article, please feel free to share it on your social media.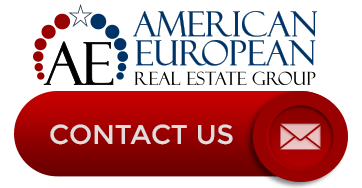 ---
If you like this blog, connect with me on Google+ or subscribe to our newsletter by clicking the banner below.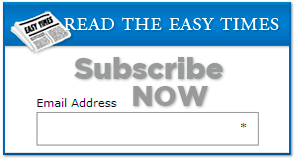 While we're at it, I DO want to remind our readers that we appreciate any referrals you can send us. Finally, please remember the American-European real estate Group's agents when you refer a real estate agent. Because we DO appreciate your business.