Did you know that the mortgage rate in Costa Rica is outrageous? I pay 9.5% interest rate on my mortgage in U.S. dollars!
Politicians have been debating, due to the elections 2018, about economic solutions for the last few months. Because the government needs money. Don't we all?
Now that Carlos Alvarado of PAC was elected president two days ago, we'll probably end up paying more taxes in the next 4 years. Unfortunately, I don't think that's the solution.
In my opinion, lowering the mortgage rate in Costa Rica can have a much more favorable impact than raising more taxes. Then, the poor will also end up with less money to buy food and pay for their essential needs.
Economic Help states:
The Central Bank usually increase interest rates when inflation is predicted to rise above their inflation target. Higher interest rates tend to moderate economic growth. They increase the cost of borrowing, reduce disposable income and therefore limit the growth in consumer spending. Higher interest rates tend to reduce the rate of economic growth and inflationary pressures.
In my opinion, the solution is lowering the mortgage rate, as well as the credit card and car loan interest rate. Equally important is to create more loans for small and middle size businesses at an acceptable interest rate. I am not an economist or a financial whiz, but in my opinion, the millennials are financially going to hell. And the government is not doing anything about it.
When I grew up, we had to EARN credit. Now, in Costa Rica, financial institutions push hard for the millennials to accept their free credit cards. In my opinion, there are other solutions than just charging more taxes.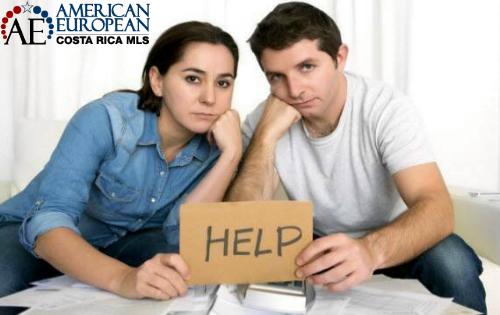 Banks
Of course, we need banks, to keep our money safe. Also, to pay salaries to our employees. And, to pay for goods and services. More important nowadays is that we need to borrow from them.
But isn't it time that government of Costa Rica puts a stop to the outrageous profits banks in Costa Rica make on lending? Then, all that money can be used instead to generate more business in the local economy? Did you know that the interest rates on Costa Rican credit cards are around 50%?
Now, banks have started to give 40-year mortgages. That is almost a lifetime for many to pay off their house. I have also seen 100% mortgages with no money down at these ridiculous mortgage rates. For your knowledge, it is necessary to be a resident or a citizen to be able to apply for a mortgage in Costa Rica.
State-owned banks
There are three State-owned banks: The Banco de Costa Rica, Banco Nacional, and Banco Popular. Few countries in the world have as much control over the banking system as Costa Rica has.
Imagine these banks putting their interest rate on mortgages, car loans, and credit card debt on par with banks elsewhere in the world? That would generate a lot more money in the local economy and private banks would have to follow on those lower rates.
With what all this money would do for the economy, the government wouldn't be looking to raise more taxes.
Mortgages rates
Let's have a look at those ridiculous mortgage rates in Costa Rica, and at the mortgage rates in other countries. Of course, the mortgage in Holland is in Euros, but the result is the same.
Just to show you the difference, let's take a $120,000 condo with a 20% down payment $24,000 over a 15-year term in each country.
Costa Rica = $1,002.46 /month (this could change twice a year)
United States = $716.95/month (fixed for 15 years)
Holland = $627.90/month (fixed for 15 years)
In other countries
Hong Kong = 2%
Russia = 7.25%
China = 4.35%
Brazil = 6.5%
Canada = 3.84%
Mortgage rate in the United States
In the U.S., the mortgage rate depends on your credit score. There is also a variable with the term of the loan. Today, the average mortgage interest rate (excluding Freddie Mac and Fannie Mae) is at an average of 4,142%.
Mortgage rate in Holland
In the Netherlands (or Holland), the mortgage rate depends on the following variables:
The size of your down payment
The term of the loan
The term of the rate being fixed
Check out how it functions in Holland here. Today, on a 15 year fixed rate, the mortgage rate is 2.228% which can vary with the size of the down payment.
Mortgage rate in Costa Rica
I have a 15-year mortgage in U.S. dollars with Scotiabank. A few weeks ago, Scotiabank raised my mortgage rate to 9.5%. In Costa Rica, the mortgage rate is usually tied to the New York prime rate. My account manager just offered to lower my rate to 8.5% fixed for two years, but they'll need a lot of documents to do that.
In Costa Rica, for a new loan, the mortgage rate is fixed for the first two years of the mortgage at the most. After that, the mortgage rate will be revised twice a year. In case of my mortgage with Scotiabank, the agreement is on New York prime rate + 4.75%. This doubles the prime rate interest.
The mortgage rate in Costa Rica does not vary on a higher down payment or any credit score. The only way the rate might vary is on the term or when there is a special promotion. I am not showing any image of the mortgage rates in Costa Rica because there is no online service that I'm aware of that gives the mortgages rates of the different financial institutions. If you are looking for a mortgage in Costa Rica, you will need to shop around for the best conditions.
The interest rate on savings
If you have any savings, and you put those savings in a cd with any Costa Rican bank, the bank will pay you around 3%. In a savings account, it's a lot less than that. This means that the bank gets 6% for safekeeping and is using your money to make even more.
Serious changes
I'm not sure anybody in government realizes what's going on. The younger generations are getting into debt deeper and deeper. They'll be owned by the banks if they're not already. Soon, nobody will be able to take a formal job anymore. I'm sure most millennials are having a hard time to make all their payments:
Mortgage
Car loan
Credit card debt
HOA fees
Private school fees
There was a time, that foreign investment was very much attracted to Costa Rica. Will it still be so in the next 4 years? Keeping fingers crossed that the next government, Carlos Alvarado's, will figure it out in time.
Unfortunately, it is what it is and it's not going to change soon.
Contact us now for your real estate purchase in Costa Rica. If you are not able to find a mortgage in Costa Rica, and you're a U.S. citizen, try an unsecured personal loan. Check for more info here.
Other Helpful Mortgage Resources
Check out other mortgage resources on our website:
Private Residential Loans
Are you looking for home financing or a mortgage for a home that you already own? Then contact our private lenders by filling out the form here.