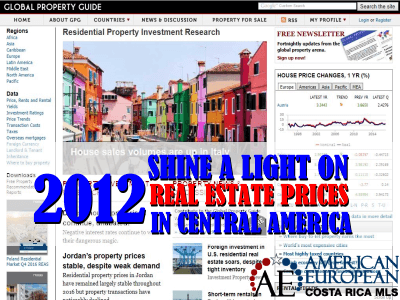 Real estate prices reveal the hotspots in Global Property Guide Release: The 2012 Central America House Price Snapshot. 
MANAGUA, NICARAGUA – Whether you're moving down the street or purchasing property in a foreign country, it's your market knowledge that will help you succeed. Ideally, you'd go to market armed with a reliable and consistent set of market comps, real estate prices and neighborhood information.
First of all, this is the kind of information that helps build a picture of what constitutes value in a particular market. Also, it allows buyers to move forward with confidence.
The problem for investors looking at real estate prices in Central America is that it can feel like a venture into the unknown. Official property statistics are not available. Sales and transaction data are not reliable. Also, the same property can be marketed by different real estate agents at different prices. As a result, this makes it hard for buyers to get a good handle on what the market is doing and make an informed investment decision.
It's against this background that Reveals Real Estate and Global Property Guide have prepared the 2012 Central America House Price Snapshot. The study provides a "snapshot" of the sales price of a typical three-bed house across 12 different property hotspots in Central America. A special Benchmarking Group of recognized real estate experts with in-depth knowledge of their local markets generated the results.
"The goal is to help improve the transparency of the real estate market in Central America. And to provide a useful data-set for buyers, sellers, developers, analysts and everyone involved in the sector," says Claudia Gonella, co-founder of Reveal Real Estate.
The snapshot shines a light on some of the most popular purchasing destinations for international investors. Often described as "hotspots," these are locations with inherent natural appeal and local attractions that draw in tourists as well as real estate investors. Places like Ambergris Caye in Belize, Tamarindo in Costa Rica, Boquete in Panama and San Juan del Sur in Nicaragua.
Key Findings
• The median house price for the 12 markets was $260,000.
• The average house price for the 12 markets was $285,000.
• A $425,000 price gap was found between the most expensive market (Placencia Peninsula, Belize) and the most affordable market (Granada, Nicaragua). Note: The house identified in Placencia, Belize is located on the beachfront.
• In all locations, the price for a typical three bedroom house was below $580,000. If we remove the beachfront property identified in Placencia, in the remaining 11 locations the price for a three-bed house was below $380,000.
• The two lowest priced markets are located in Nicaragua.
• The two highest priced markets are located in Belize and Costa Rica.
The snapshot can't compete with the mountain of market data available in more mature real estate markets. But it's the first step in improving the flow of information to buyers and sellers interested in opportunities in Central America.
The real estate prices "Snapshot"
* Property not sold. ** House is located on the beachfront.
Methodology
Reveal Real Estate and Global Property Guide coordinated the 2012 Central American House Price Snapshot. The snapshot reveals real estate prices of similar homes across 12 real estate markets in Belize, Nicaragua, Costa Rica, and Panama. The study relies on input from members of a special Benchmarking Group. The group is comprised of recognized real estate experts in Central America. These experts reported the real estate prices of a "typical house" in the last year for a specific area.
The methodology defined the "typical house", approximately 2,200 square feet in size, as a single family home. This home has 3 bedrooms and 2 bathrooms, on a lot no greater than ¾ of an acre. The experts located the homes in a "middle market" neighborhood where international real estate investors are purchasing.
Benchmarking Group Members include
Ann Kuffner, Escapeartist Belize
Macarena Rose, Rainforest Realty
Petra Wolf, Coldwell Banker Belize Real Estate
David Joyce, RE/MAX Colonial Properties
Brooke Rundle, Coldwell Banker Nicaragua Real Estate
Jeff Soderlind, The Horizon Group
Steve Linder, Pacific Lots of Costa Rica
Ivo Henfling, GoDutch Realty
Joost Hauwert, Hidden Coast Realty
Paul McBride, Boquete Highlands Real Estate
Mike Vuytowecz, Inside Panama
Kent Davis, Panama Equity
Finally, this snapshot of real estate prices is a must-see for those doing their due diligence on where to retire or make an international real estate investment. For more information about where to retire in Costa Rica, check out our Discover Costa Rica section. There you can search for more than 2,000 Costa Rica properties for sale and for rent. Therefore, you can see photos, description and real estate prices as a comparison.
Feel free to leave your comments on this blog. If you like this article, please feel free to share it on your social media.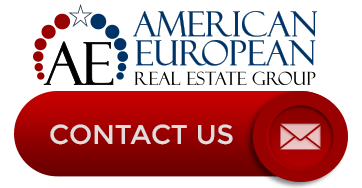 ---
If you like this blog, connect with me on Google+ or subscribe to our newsletter by clicking the banner below.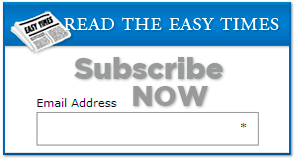 Also, I DO want to remind our readers that we appreciate any referrals you can send us. Finally, please remember the American-European real estate Group's agents when you refer a real estate agent. Because we DO appreciate your business.