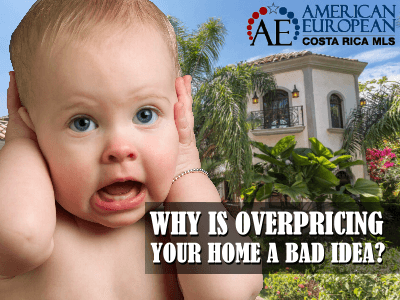 Why is overpricing your home a bad idea? Most home sellers in Costa Rica don't have any experience in selling a home in Costa Rica.
Overpricing your home has a lot of dangers you might not realize. How often in a lifetime do you sell a home, unless you buy and sell homes as a business? Do you want to be one of those sellers that need 7 years to get their house sold?
So you're a totally inexperienced home seller. This is the first time you are planning to put your house on the market. How do you get started and make sure you're not overpricing your home?
Bill Gassett, a real estate expert in Metrowest towns in Massachusetts wrote an interesting article about the dangers of overpricing your home in the U.S., but different rules apply (or no rules) for Costa Rica.
If you live in a large condominium or complex, it might be easy to find some comparable property for sale. But who says they are pricing their property right, so it sells quickly? As you probably know, only in condominiums you will find the exact same home as yours, which is why you need to do a CMA (Comparative Market Analysis).
If you live in a single-family home, the chance to find an exact same home like yours in Costa Rica and do a correct CMA is very slim.
Your options to find out the sale price
I know, of course, you want the highest price as you possibly can. Is there any way to find out what other condos or homes in your area sold for? You have only three options since you will not be able to find that information in the Costa Rican National Registry.
1.    Ask the seller,
2.    Ask the buyer,
3.    Ask the real estate agents involved.
Unless you personally know any of the parties involved in those other transactions, you won't be able to find out and you'll be on your own to put the right price on your home if you are interested in selling it quickly.
Of course, you can price your house what you think it should sell for, which is what a lot of Costa Rican home sellers do. Unfortunately, their calculation is based on zero knowledge, zero real information and 100% dreams. Yes, you read that right: 100% dreams.
Let me tell you now, what the dangers of overpricing your home in Costa Rica are before you go to the end of this article to find my recommendation.
The dangers of overpricing your home
NO excitement
Nobody gets excited when they see a new listing on the market. Real estate agents in Costa Rica talk to each other. They post their listings on Facebook real estate groups.  A new home on the market in the right price bracket will get a lot of excitement. Then you will have a good chance of getting showings of the home.
Scare off buyers
Word goes around pretty quickly and usually when the home is overpriced at the beginning, you will scare off buyers. Once the seller has decided to come down to a reasonable price, the home listing will be stale. Then nobody will pay any attention anymore.
Waste of marketing efforts
Marketing efforts will not pay off for the agents and they will lose interest quickly. The home will linger on the market for a long time while nobody pays any attention to it.
Lowball offers
Most buyers will find out how long the home has been on the market, they can see the listing ID number, and will see it is overpriced. If they make an offer, it will be a lowball offer. Once you adjust your price, you will find you should have taken any of those lowball offers and you have lost your sale unnecessarily several times.
Help sell other property
Your high price will show competing properties at a much better price, which will sell first because you overpriced your home.
No financing, fewer buyers
Those who will need to finance their home purchase will lose interest immediately. Because they know the bank appraiser will not find the price acceptable.
The solution or pricing your home right
If you don't want to stay for a long time on the Costa Rica homes for sale list for a long time, call every real estate agent in your area and invite them all to a listing appointment and give them all the advantages and disadvantages that you feel your home for sale has, so they can give you an informed opinion. Ask them to give you the price what they think you should ask. The second question would be what they think it will sell for.
Once you have a better idea of the value, you should discuss with the agent you feel most comfortable with at what price you should get started without overpricing your home. Depending on which market you are located, beach or Central Valley, list your home as an open listing or as an exclusive listing.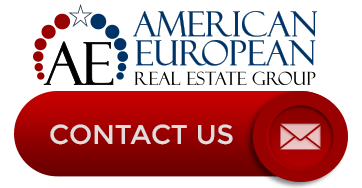 Contact us now if you'd like one of our affiliate real estate agents to pay you a visit for a listing appointment and give you a CMA.
---
If you like this blog, connect with me on Google+ or subscribe to our newsletter by clicking the banner below.