You might have some doubts about the going real estate commission rate in Costa Rica when looking to list your property for sale. Let's clear this up once and for all.
The going real estate commission rate in Costa Rica is anywhere between 5 and 10% plus 13% VAT or IVA in Spanish. This commission depends on factors such as location, size, access, and property type or business.
Who pays the real estate commission? What is the real estate commission rate can you expect to pay? Is there a Value Added Tax (VAT) on top of the real estate commission rate?
Since real estate in Costa Rica is not regulated, the real estate commission rate is not regulated either. But most formal real estate brokers maintain more or less the same standards.
Where is the property
Maybe it sounds a bit strange but the real estate commission rate varies a lot by location. If you know Costa Rica's geography, the road system and the quality of some roads, it makes a lot of sense that the real estate commission rate changes. It is usually lower in the Central Valley than it is in the rural areas and beach areas of the country.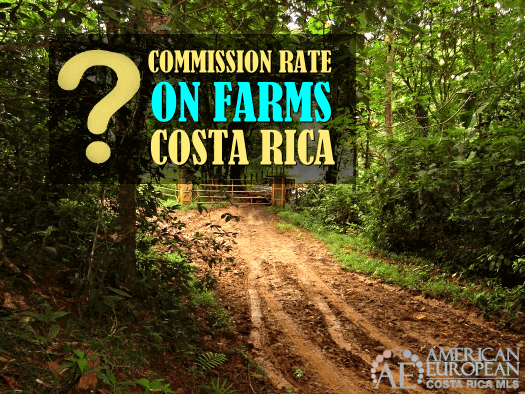 What kind of property
Showing a city of beach condo is a lot less work for a real estate agent than a farm with acreage in the middle of nowhere. Needing a 4-wheel drive or showing a farm on horseback is much more work to show than a 600 ft2 condo with a pool.
Also, building lots usually have a much higher commission than a house. Raw land requires much more work as for checking documentation, restrictions, and zoning.
For homes and condos, most agents usually charge the lowest rate.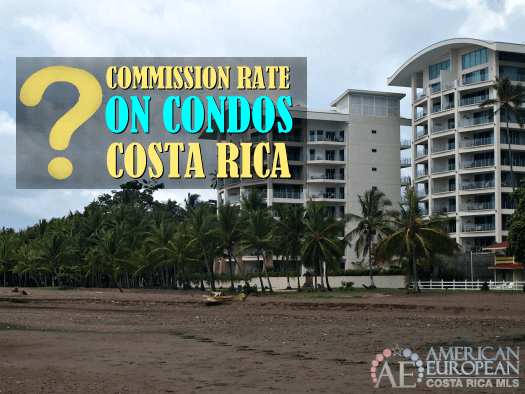 Real estate commission rate
As you probably know, our MLS covers Costa Rica real estate from coast to coast. So we asked the 28 broker members what the going real estate commission rate in their neck of the woods is. Their answers are varied and show that each agency has similar but different standards.
The Central Valley
In the Central Valley, the real estate commission rate is 5% + 13% VAT for every property type. Some agencies include the VAT in the commission but then charge 6.78%.
I have seen some real estate agencies charge 7 or 8% when signing an exclusive listing agreement but that is definitely not the standard in the Central Valley.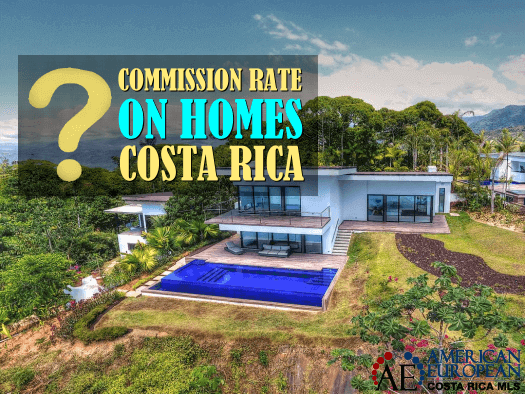 Outside the Central Valley
You will find a lot of variations in the real estate commission rate outside the Central Valley. There are some agencies who cover a long coastline and will also have to drive high into the mountains to show small building lots for example.
Also, to show farms, they have to cover a lot of territory in a 4-wheel drive, going through rivers and over mountains to reach each farm. An agent outside the valley can be on the road with a client all day long and having shown only 2 properties, because of bad access or long distances. Therefore, I will cover each property type separately.
House and condo = 6 – 8% + 13% VAT
Luxury home = 6 – 8% + 13% VAT
Building lot = 6 – 10% + 13% VAT
Farm = 10% + 13% VAT
Commercial property = 6 – 10% + 13% VAT
Business = 10% + 13% VAT
A property value of less than $50,000 = 10% + 13% VAT
Value Added Tax
The VAT (former impuesto de ventas) is 13%. This tax is ONLY calculated over the real estate commission, not over the sales price of the property. It is always paid by the SELLER, who pays the real estate commission.
By law, (Ley de Impuesto General sobre las Ventas: Ley 6826, Articles: 1.n – 2.d – 3.c) the real estate agent functions as a tax collector for the government. The agent (or agency) has to give the seller an official electronic invoice. This invoice has to be in accordance with resolution DGT-R-012-2018 against payment of the real estate commission.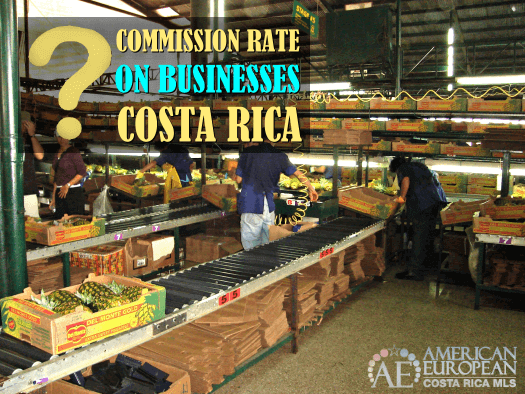 Buyer's agent and listing agent
It is quite customary in Costa Rica (and not illegal) for a real estate agent to represent the buyer as well as the seller (dual agency).
Nonetheless, when a buyer's agent and a listing agent are both involved in the transaction, they will split the commission 50/50.
If the buyer is referred by another agent, it is customary the referring agent receives a 25% referral fee. Untrained part-time Costa Rican agents often split 1/3rd each if there are 3 agents involved.
Exclusive listings
Although our members reported that the commission stays the same when they take an exclusive, I have seen different. Some agencies in the Central Valley charge 7 – 8% (instead of the usual 5%). This way they can offer a higher commission share to a realtor who brings a buyer.
As for why listing exclusively with one agency, our Jaco Beach member, Brooke Rochester, declares "in our brokerage, all properties receive exposure as a general brand marketing strategy, however, exclusives are becoming a more appealing way to do business nowadays as the market evolves.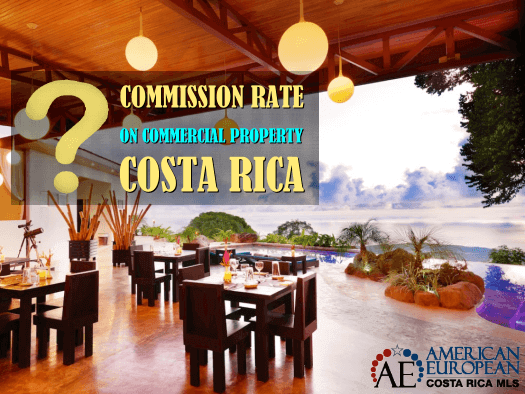 Overpricing
Sometimes the sellers don't care how much commission a real estate agent makes on selling their property, as long as they receive $X amount. In that case, agents sometimes raise the price so that the earnings are much bigger than the standard real estate commission rate.
This overpricing is called "sobre precio" and is not allowed on our MLS. A member, when caught, will be expelled from the MLS.
Nonetheless, it is possible for a seller to offer the agent a performance bonus without violating our internal ethics regulations.
Extra advertising
Some motivated sellers cooperate by paying for a "boost" in Facebook advertising of their property, or any other "extra" promotions. These payments are often deducted from the real estate commission at closing.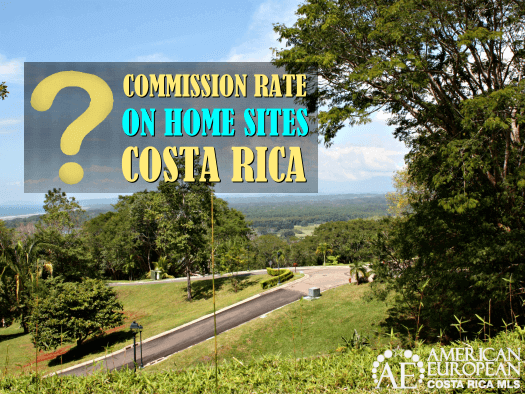 Too much?
If you are a seller and you think the commission is too much and in your opinion, there are no benefits to that, don't ask a real estate agent to list your property. There are many FSBO websites to assist you in marketing. There is no reason for an agent to accept your listing at a lower real estate commission rate than any other seller's pay without complaining.
Planning to purchase or sell a property in Costa Rica and you are looking for professional assistance? Then contact us now and we will connect you with the right member on the MLS.