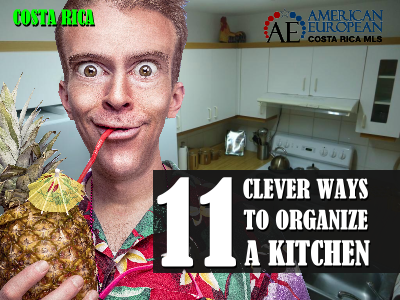 A cramped kitchen and no pantry? Then you should find a way to organize a kitchen in Costa Rica after you purchase your new home from us.
Getting older and having a hard time getting on your belly to find something you need in your kitchen?
It depends a bit on where you live in Costa Rica and on the type of home you have. A townhouse or a small condo in Escazu and Santa Ana usually has cramped kitchen cabinetry and no pantry. A single-family home in that area probably has a pantry.
In Atenas for example, most homes have large kitchens with lots of cabinetry but when you get older, it's hard to go on your knees to find anything hidden in the back of the kitchen cabinetry.
At the beach, unless you own a luxury home or a condo, you probably have cramped kitchen cabinetry or you don't have any, depending a lot on your budget. Either way, you need to find a way to organize a kitchen in Costa Rica.
Many of our buyers of Costa Rica real estate are over 55 years old or getting there. The knees don't cooperate as much as they used to. The kitchen is a key factor to buying a house or not. That's why I decided to give you 11 clever ways to organize a kitchen before you buy the house that you really want.
1. Pocket organizers
Those pocket organizers as shown in the photo above were invented for shoes, underwear and stuff that don't have anything to do with food. It is amazing though what you can do with over door hanging bag shoe rack hangers, or whatever you want to call them. You can fit an amazing amount of small items that you would normally spend hours looking for and can now find in seconds.
You might not be able to find them in Costa Rica, but they're easy to buy in Target or Bed, Bath & Beyond in the States. I'm sure you have friends and family visiting all the time that can bring them as they don't add hardly any weight to their luggage.
2. Easy to view cabinet organizers
Find the right size cabinet organizers that fit your cabinets. Measure before you buy so you use the space as best as you can. Stores like EPA and Cemaco normally have some good options for you. A Bowl Full of Lemons can give you a good idea about the use of the Easy to View cabinet organizers. I particularly like the idea of the signs on the front of the organizers.
3. Portable storage
Rolling kitchen carts can be a real smart option, but they can turn out to be the total opposite. This depends a lot on the type of kitchen, the space that you have and can use without bumping into them all the time.
4. Wicker can be slicker
To use wicker baskets to organize a kitchen in Costa Rica, especially if it's fresh veggies or other fresh ingredients might not be a great idea. We have quite a bit of humidity in the air, which will affect the wicker if you don't regularly clean it. Wicker baskets work well if you can look into them from above, so they have to be used below eye level. You can buy wicker baskets in the central market in San Jose or check out Zeledon factory Facebook page.
I have also seen Interiors in Escazu sell wicker baskets with plastic lining. Other kitchen suppliers might be able to help you to. I'd hate to send you some place where they have them today and won't tomorrow, so I'm not recommending any particular store here.
5. Sliding shelves
Labor is still affordable in Costa Rica. You can easily have sliding shelves designed and made in any wood shop.
6. Max out the cabinets
Most do not use their cabinets in full. There is so much wasted space that you can use to smartly organize a kitchen. Use baskets or containers that fit and save space. Use modular stacking containers when possible.
7. Pull-out
In every kitchen there is a lot of unused or wasted space. A pull-out larder system, or rolling pantry is a great solution. You can purchase at almost every kitchen supplying company in Costa Rica or even have one made to fit.
8. Labels
If you use containers, label them well and organized logically by food type. Use labels that can be cleaned easily. Find free kitchen and pantry labels on Pinterest. Buy the materials at Jimenez & Tanzi.
9. Hanging
You can hang bags of chips, pretzels, dried fruit and any other food products that come in bags by using hanging clips, so they won't get crushed.
10. Lazy Susan
Use Lazy Susan turntables wherever you can. You can buy them at Amazon for under $15 and have them shipped to Costa Rica. They can make a huge difference to organize a kitchen in Costa Rica.
11. Wire racks
Though wire racks get dirty easily, you might want to use them on the inside of the cabinet doors. Use wire racks on eye level for storage of smaller items and the lower ones for larger items. You can fin dwire racks in all sizes in the EPA stores.
Our agents on the MLS are all area specialists. Ask your agent for any referrals on kitchen cabinetry and supplies.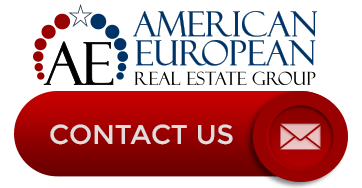 Contact us now for a real estate tour of the listed properties in the area you are looking to purchase.
---
If you like this blog, connect with me on Google+ or subscribe to our newsletter by clicking the banner below.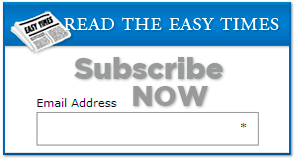 I DO want to remind our readers that we appreciate any referrals you can send us.  Please remember our agents when  you meet someone who wants to purchase property, we appreciate it.