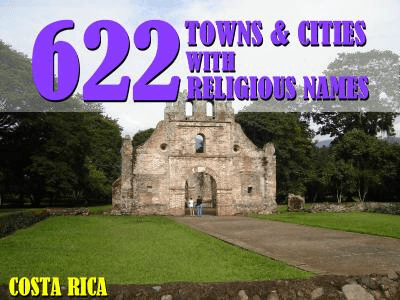 Did you know that there is an amazing amount of towns and cities with religious names in Costa Rica? I'd like to take advantage of being in a religious month to tell you more about towns and cities with religious names in Costa Rica.
Very often, I get calls and emails from expats looking to buy or rent in San Isidro. They don't know there are quite a few towns and cities with that name. Why is that?
Roman Catholicism is the official state religion according to the 1949 Constitution. Therefore, you will find many towns and cities with religious names in Costa Rica.
Often, we receive inquiries from future expats who want to live in San Isidro. I even get emails from property owners asking if we can pay their property taxes in San Rafael.
Learning a bit about the geography of the country that adopted us will be a big help when you get lost in the maze without street names and numbers.
Not always is the full name used by the Costa Ricans, they shorten it for easy use. San Vicente de Moravia is just Moravia and San Isidro de Coronado is just Coronado.
There are literally hundreds of towns and cities in Costa Rica with San, Santa or Santo. Quite a few you will see repeated in other districts, counties, and provinces. San Rafael, San Antonio, and San Isidro are the ones most repeated.
A landmark
All towns and cities in Costa Rica have their own Catholic church, a park or a soccer field and most look to the west. We all use them for landmarks when giving directions. Learn more about the importance of landmarks in Costa Rica in another article.
The Central Valley
Most towns and cities with religious names are concentrated in the Central Valley or Greater Metropolitan area.
Different studies of Costa Rican toponomy relate how in the nineteenth and early twentieth centuries the first settlers or priests who came to an area promoted the name of the saint to whom the hermitage was dedicated.
622 Towns and cities
The book División Territorial Administrativa de Costa Rica, edited in 1997, shows a total of  622 towns and cities that carry the names of saints.
There are 52 with the name San Rafael, there are 33 called San Antonio, followed by 29 with the name San Isidro. Furthermore, there are 27 with the name San Juan and 25 Santa Rosa.
Others appear only once, with names such as Santa Rogelia (La Cruz), San Macario (Los Chiles), Santa Margarita (El Rosario de Naranjo), San Alejandro (Los Chiles), San Julián (Parrita), San Valentín (Jiménez de Pococí), San Edmundo (Carrandí de Matina), San Bernardino (Horquetas de Sarapiquí) and San Lázaro (San Antonio de Nicoya).
There are also 26 that refer to the Jesucristo (Jezus Christ) like Cristo Rey, Corazón de Jesús, Jesús and Santo Cristo.
Limon province
Let's start with the Limon province, which is the easiest one. The Limon province has a significant Afro-Caribbean and indigenous population. For that reason, only a small percentage is Catholic. Nonetheless, you will find a few towns and cities with religious names: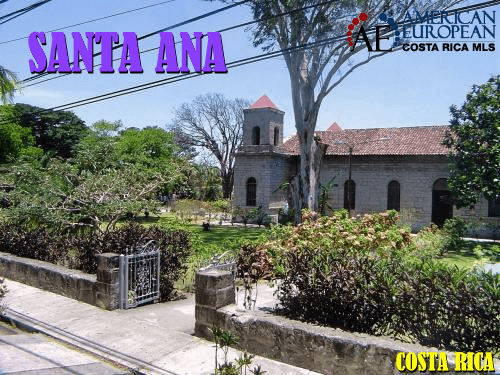 San José province
San José is the capital city of Costa Rica, also the capital city of the province of the same name. You will find lots of cities with religious names in the province of San José:
Valle de Los Santos
El Valle de Los Santos or The Valley of the Saints is the area with the most towns and cities with religious names in Costa Rica. This area belongs to the San José province. Check these out:
Heredia province
The Heredia province is located on the north-east side of the San José province. This province has several volcanos and national parks. While the capital city of this beautiful province carries the same name, which is nicknamed the "City of Flowers". There are not that many cities with religious names that I could find.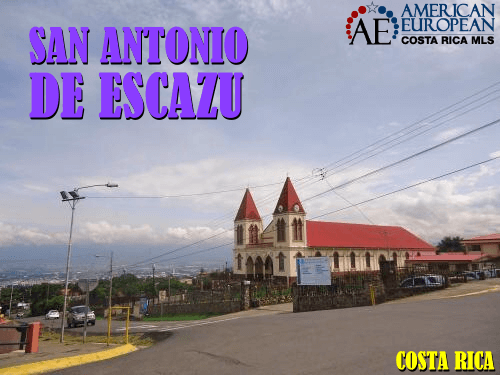 Alajuela province
The Alajuela province has quite a few towns and cities with religious names. We have quite a good representation of agents in Alajuela. The reason is that the International Airport Juan Santamaría is located in the Alajuela province. The weather in this beautiful province is amongst the best in the world.
Cartago province
Though Cartago is one of the most religious provinces, I can find very few towns and cities with religious names there. That doesn't mean Cartago doesn't have anything to offer. Check out the Irazu volcano and the Orosi valley, those are really beautiful places to visit. Another stop on the way to enjoy the most beautiful flowers on earth in Lankaster Gardens. Nonetheless, not much of a chance to find real estate in Cartago on our MLS, as we don't have any agent representation there.
Puntarenas province
The Puntarenas province is very much like Cartago, with very few towns and cities with religious names there. We do have a great representation in all the beach locations, in the Central and South Pacific area.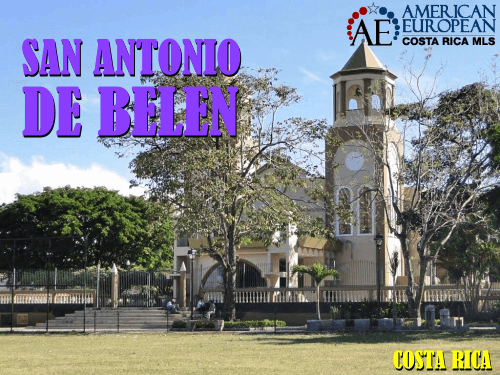 Guanacaste province
Also, Guanacaste has very few towns and cities with religious names. Again, our agents cover all the beach areas as well as Liberia and Cañas.
You will find hundreds of name of barrios or neighborhoods with a religious name all over the country. I'll leave that to you to figure it out if you insist living in a neighborhood with a religious name.
Interested in buying a property in Costa Rica that is located in a town or city with a religious name? Then contact us now.
Feel free to leave your comments on this blog. If you like this article, please feel free to share it on your social media.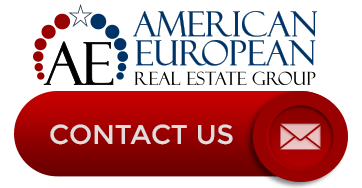 ---
If you like this blog, connect with me on Google+ or subscribe to our newsletter by clicking the banner below.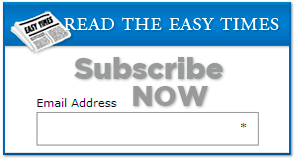 While we're at it, I DO want to remind our readers that we appreciate any referrals you can send us. Finally, please remember the American-European real estate Group's agents when you refer a real estate agent. Because we DO appreciate your business.