Horseback riding is fantastic at Finca Caballo Loco in El Rodeo, Ciudad Colon. If you are in for active retirement, you will love this story.
Rudy Matthews wrote about active retirement in Costa Rica, so I thought about Krysia Peterson and her Finca Caballo Loco. And I think you will love the horseback riding topic. When the American European Real Estate Group was created, back in 1998, Krysia was a Costa Rica real estate agent. She covered, together with Barry Ashworth, Kjersten van Horn and me, the Escazu and Santa Ana area.
Things have changed over the years and Krysia, always the horseback riding fan, started Finca Caballo Loco. This is a friendly and professional riding facility located near Ciudad Colon in El Rodeo, close to the University for Peace.
This is a perfect introduction for any active retiree who wants to try horseback riding. Also perfect for non-riders or beginners who would like to learn some skills and enjoy nature on horseback. For experienced equestrians, they offer a more challenging ride at a faster pace if requested. Daily horseback riding starts at 10:30 am and 2:30 pm (reservations required). Gourmet Breakfast and Lunch are also available on the Tree Top Terrace. From there, you'll enjoy excellent bird watching at the canopy level of the forest below.
About Krysia and Finca Caballo Loco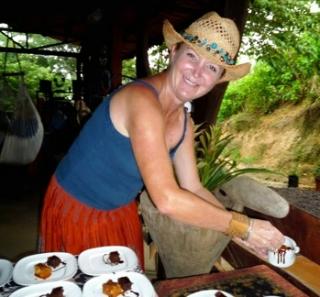 Krysia Peterson, the owner of Finca Caballo Loco, has lived in Costa Rica since 1993. She raised a family while remaining actively involved in horseback riding, training and competing in a variety of disciplines. Her vast knowledge of horses allows her to carefully choose and personally train the ones that are used for trail riding. Healthy, good-natured and well-educated animals are a priority Finca Caballo Loco. A safe and fun riding experience is guaranteed!
Fully bilingual and with a passion for Fine Wine, Gourmet Food, and Horses, an idea was born when Krysia decided to transform, what started as a small hobby farm five years ago, into a truly unique Equestrian Facility. The farm is located within a very biologically diverse part of Costa Rica's Central Valley. The combination of incredible flora and fauna, great climate, spectacular views, and unbeatable riding trails made the decision to share this unique treasure with other nature lovers and horse people.
Riders and non-riders alike who visit the farm are totally fascinated by the abundance of wildlife that migrates up and down the El Rodeo Biological Corridor. Therefore, white face monkeys, toucans, sloths, lizards, deer, butterflies, and birds galore will be sure to cross your path as you explore the surrounding areas.
The close proximity to San Jose, the neighboring University for Peace makes Finca Caballo Loco an ideal stop for those looking for active retirement and entertainment. We encourage you to spend either a half or full day at the farm. Only then you can enjoy some delicious and healthy food prepared by Krysia on the Tree Top Terrace while bird watching. Stay active, even in Costa Rica active retirement and check them out.
Some of the horseback riding tours you can take
Make sure you check this out, these tours are much different than the usual riding tours offered for tourists:
Scenic 1 ½ hour Horseback Ride for Beginners to Advanced Riders
Invigorating 3hr Adventure Ride for Intermediate to Advanced Riders
Beginners Fear Buster Ride, guaranteed to help even the most apprehensive riders!
Experience the Full Moon on Horseback in beautiful Costa Rica
Tropical Breakfast Ride for Beginners to Advanced Riders
Gourmet Lunch and Trail Ride for Beginners to Advanced Riders
Full Moon on Horseback – Wine and Cheese Tour
Unusual Clinics
Finca Caballo Loco also has unusual clinics and activities to offer:
Riding Basics 101
Horse Owners Vet Clinic
Riding Lessons
Equine Therapy Sessions
Cooking Classes
Bird Watching
Many other things to do and services to enjoy:
Boarding Stables
Finca Caballo Loco offers a truly unique VIP boarding facility in Costa Rica's Central Valley. The convenient location on the west side of San Jose is only one of the many advantages that our boarders enjoy along with unlimited access and use of the attractive and well-constructed facilities within the property. Even the most demanding of clients will be impressed by our high standards of equine care and minute attention to detail.
Arenas and Corals
There are few places as spectacular as our Mountain Top Arena to ride in while you enjoy the 360° views of the El Rodeo Biological Corridor and breathtaking canyon below. Your mind will relax as you become one with your horse in this magical setting. Companions can stroll through the farm or just relax on the terrace, while you practice and improve your riding skills. Therefore, make an appointment to tour the facilities, you will be pleasantly surprised!
Tree Top Terrace
Visitors can experience the "Heart and Soul" of the farm, the Tree Top Terrace is situated near the upper stables. Therefore, this combined, outdoor, living and dining space is perfect for enjoying a gourmet meal or relaxing in the hammock to listen to some tranquil background music. The unique design allows you to be at eye level with the birds, monkeys and other animals that call this home!
Waterfall Mirador
This Rustic Covered Terrace is located at the highest point of the farm with spectacular views in all directions. In addition, the Waterfall Mirador is available for special events and get-togethers. You can let your imagination go wild in planning a memorable party or function for your family and friends and why not consider combining a trail ride into your plans for a once in a lifetime experience that your guests will never forget!
Walking Trails
Throughout the farm and surrounding area, you can wander at your leisure along well-maintained paths that are lined with an abundance of exotic and colorful plant life. The choice of local walking trails provides every level of hiker with an invigorating and interesting biological experience. Take some quiet time to hear the sounds of the jungle. And don't forget to have your camera ready for that perfect shot!
Accommodation
Nature lovers who really want to feel surrounded by the exuberant forest can enjoy the Stable Suites. Guests are also fascinated by the Antique Photos of horses and rural life in Costa Rica that decorate the luxurious and extremely private suites (all rooms have private baths and large terraces). A great beginning or end to your tropical holiday.
How to get there
Finca Caballo Loco is located in Costa Rica's Central Valley on the west side of the capital city of San Jose. The nearest town to us is Ciudad or (Villa) Colon and the immediate surrounding area is called "El Rodeo", home to the world famous "University for Peace".
By the way, we usually offer a nice inventory of Ciudad Colon homes for sale, so you won't have to drive too far.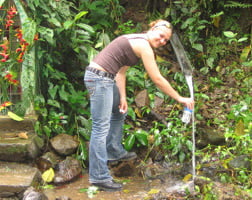 Horseback riding is only one of many things you could do for entertainment when looking for Costa Rica active retirement. For more details, you can visit their Website or call Krysia at 2249-2725 / 8386-4586.