Don't "fall on your face", like so many who moved to Costa Rica before you, when buying or renting a property.
Protect yourself, your family, and your money. Learn about everything you should NOT do when you buy, or rent a property in Costa Rica. Participating in this legal due diligence seminar is the best investment you can make.
Many spend hours and hours online, to learn what they can, so they won't make any mistakes. You can save yourself the time and the effort to sift through the online info that might, or might not be current.
In this Legal Due Diligence Seminar, there will be NO sales and NO referral pressure. The seminar will show you how to deal with banking, how to send your money to Costa Rica, how to deal with real estate developers, and much more!
Be pro-active and register for the seminar so you receive a wealth of important information that will save thousands of $$$$, for peanuts.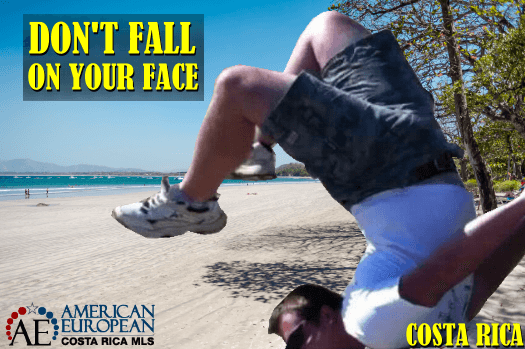 Seminar Topics
In a two-hour time span, you will learn about an amazing variety of topics:
·       How to choose which lawyer and realtor to hire
·       How to apply for Residency Immigration Status
·       The legal process for buying or renting a property
·       How to deal with real estate developers
·       Protect your real estate investment against fraud
·       The procedure and benefits of incorporating a company
·       The use of escrow and its requirements (Money Laundering Laws)
·       Your options for opening a bank account
·       All about taxes – Property Tax – Luxury Home Tax – Corporation Tax – Capital Gains Tax
When & Where
You can join the Legal Due Diligence Seminar every 2nd Tuesday of the Month, from 9:00 – 11:00 am. The seminar is held in the Tamarindo Diria Convention Center, Costa Rica's most iconic beach hotel resort.
Tamarindo is very centrally located for anyone who flies into Liberia Airport (LIR). If you plan to move to any of the North Pacific beach locations, Tamarindo is easy to get to.
Your Coach
Attorney Rick Philps has lived in Costa Rica since 1998. Prior to moving to Costa Rica, Rick practiced law in Victoria, B.C. for 14 years and in Costa Rica since 2003. He also has the added benefit of having gone through the experience of moving from Canada to Costa Rica without speaking the Spanish language. Rick is now totally fluent.
Can't attend?
Do you plan on living in a different part of the country? Or maybe you can't fit the date of the seminar to your own schedule? No worries. You can schedule a personal on-line consultation, or a private personal consultation if you plan to be in the Tamarindo, Flamingo, or Playas Del Coco areas.
How to Register?
To register for the Legal Due Diligence Seminar, contact Attorney Rick Philps NOW by sending an email to rick@costaricacanadalaw.com