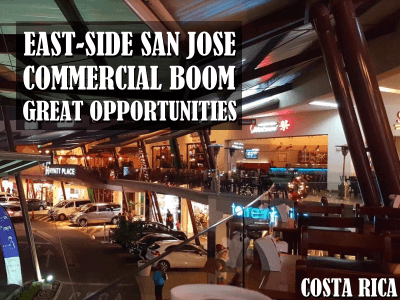 A Grand Slam for the East Side of San Jose is the commercial construction of the new Momentum Pinares (Curridabat) Mall. This is already affecting the Curridabat real estate market positively and creating great opportunities.
Commercial construction on the east side of San Jose is growing faster than anywhere else in the Central Valley. Shopping is made more accessible to the local and foreign crowd alike by the commercial construction of another shopping mall of high quality. Also, more and more good quality homes for sale in nice communities are being offered.
The first phase of the new Momentum Pinares complex is now open in Curridabat (across from the Hipermas/Walmart)!  It's like a slice of the U.S. air-dropped into Curridabat.  This is a sequel to the successful Momentum Lindora on the West side of San Jose.  Momentum Pinares is a beautiful, modern, mixed-use commercial complex, with green areas, native trees, and an interesting design a true architectural delight.
It has a little something for everyone: good eats, fashion, food market, hardware store, tire/oil change shop, pet store, etc.  And with plenty of parking (540 spaces).  Of course, the most popular feature of the 236,000-ft2 (22,000-m2), a 60-locale complex is the new McDonalds, with McCafe and outdoor terrace.  One of the other main attractions (soon to be completed) is Denny's restaurant.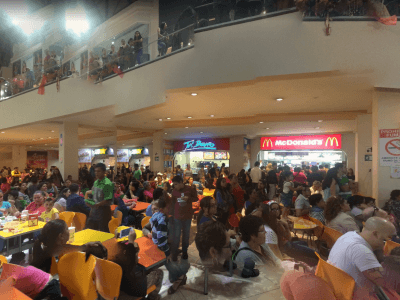 Eating out
But there is more. Commercial construction is going crazy in Curridabat! Eating out becomes more and more interesting on the "Cool" side too, a now you can enjoy a Grand Slam breakfast without having to travel across San Jose.  There is also a Pane E Vino restaurant (outstanding pizza!) and a Subway sandwich shop.  Other eateries to come are reported to include a Soda Tapia, a Cafetería Kafe Hous (coffee house), a Fresco by Rosti (a fast-casual version of the popular RostiPollos roasted chicken chain), a BBQ Place, a Da Noi Gelatería (gelato shop), a Sencha Tetería Gourmet (tea house), and a La Kreme Restaurant Lounge Café.
Stores and banks
But that's not where the commercial construction stops. There is also (or will soon be) a Ferretería el Mar (hardware store), an AutoPits shop (tires, oil changes, etc.), Librería Lehmann (bookstore), Radio Shack, Pets Market, Quality Foods Marketplace, a BMW shop a Scotiabank, and a Lafise Bank.  The remaining will be a mix of clothing stores, gift shops, specialty shops, furniture stores, etc.
The complex will also have a 97,000-ft2 office tower, a 48,000-ft2 medical building, a 120-seat theater, and a 120-room hotel (likely open by mid-2012).  It was recently announced that the hotel will be a Hyatt Place, which will be just the second Hyatt Place hotel in all of Latin America.  And it will be the first brand-name hotel on the East side of San Jose.
So, as you can see, Momentum Pinares is an impressive addition to the East side of San Jose.  And its a testament to the rapid growth of this area, and Curridabat, in particular.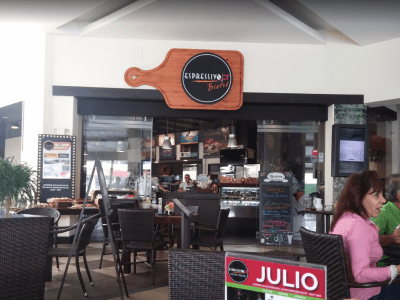 And even more commercial construction
Further evidence of that is the recent opening of a new Automercado supermarket just up the road from Momentum Pinares, not to mention the Hipermas/Walmart just across the street, and the TerraMall a bit further up the highway.  These places mostly cater to the numerous high-end residential developments in the area.  But there are also some very affordable houses in the area, too.
Your real estate broker
Patrick Mulheren is a long time affiliate realtor of the American European Real Estate Group and offers homes, condos and home sites for sale. His mission is to help the customers find, purchase and enjoy the best property for their needs at the best price. Patrick offers to consult before, during and after the sale in the areas needed so this can happen. He goes the extra mile to make the customers' involvement in Costa Rica and the purchasing of land here risk-free and hassle-free.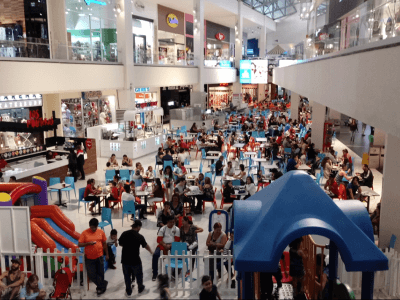 The East Side of San Jose offers good quality living in neighborhoods like Curridabat, San Pedro, Lomas de Ayarco, Pinares. The reason is that Curridabat has a great zoning plan and doesn't allow to mix commercial with residential construction. Patrick has worked properties for sale on the East side for the past 16 years and we feel he has an extensive knowledge of the area he works. Patrick is fully bi-lingual English and Spanish and can not only help you find the property you are looking for, but also introduce you to the amenities the area have to offer.
Patrick Mulheren currently offers properties in San Jose and surrounding areas ranging from $75,000 up to $2M in the general area.
Why the East side?
The East side of San Jose (Curridabat, San Pedro, Tres Rios) is one of the more rapidly growing real estate markets of the Central Valley in Costa Rica due to:
* Year-round Spring-like climate
* Wide variety of malls, restaurants, and shopping
* Excellent services and schools
* More laid-back atmosphere
* Vibrant influence of Univ. of Costa Rica
* Plenty of nightlife
* A nice mix of Ticos and foreigners
* Cleaner air (being upwind of San José)
* Close to forest and countryside
* Short hop to downtown San Jose
* . . . and much more!
Feel free to contact Patrick for any additional information or have a look at his inventory on the East side.
---
Feel free to leave your comments on this blog. If you like this article, please feel free to share it on your social media.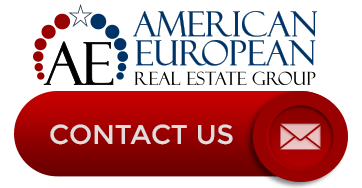 ---
If you like this blog, connect with me on Google+ or subscribe to our newsletter by clicking the banner below.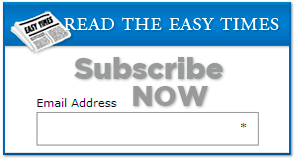 While we're at it, I DO want to remind our readers that we appreciate any referrals you can send us. Finally, when referring a real estate agent, please remember the American-European real estate Group's agents. Because we DO appreciate your business.