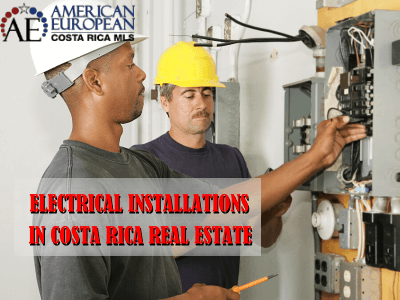 Should you trust the electrical installations of the home you're planning to purchase? When buying a home in Costa Rica, you can expect a different electrical system in the home than you are used to.
We install electric outlets to enable our appliances, lamps, computer equipment, etc to work for our convenience. In most new construction, three-prong electrical outlets are visible to the average person. If you connect them properly with three wires, your electrical devices will provide years of convenience.
However, in older or inexpensive houses, electrical installations are quite different. Two-prong electrical outlets are common and do not provide protection for your electronics.
I will explain in simple terms what electrical installations are all about in Costa Rica. Also, what is inside the electrical conduit of your walls, ceilings, and floors? I will also provide what I consider the most cost-effective method to properly ground your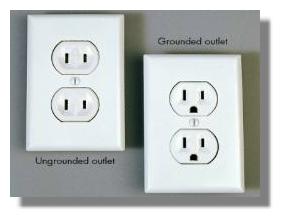 electrical devices. Then, you will not be scared away when looking to purchase Costa Rica real estate for sale.
From breaker panel to the outlet
Electrical installations travel from the electrical breaker panel through electrical tubes (conduit) to the outlets. There are stops at on/off switches along the way.
Electrical installations are up to modern day standards with three wires installed inside the conduit. An outlet functions with one wire installed from the breaker panel to deliver electricity to the outlet. The second wire returns the electricity from the outlet back to the panel.
An electrical circuit is a process of delivering the electricity to the final electrical outlet and then returning it back to the breaker panel.
In quality construction, we install a third wire to ground the circuit. The electrical circuit does not protect your electrical devices if this grounding wire is not connected to copper grounding rods. You should install the grounding rods in the soil outside the building,
How to ground wire at low cost
The least expensive method to ground electrical installations with only two wires connecting the outlets is to install three prong plugs and a third electrical wire connected to a minimum of two copper grounding rods in the soil outside the building.
This installation can be accomplished by drilling a hole in the wall behind the
electrical outlet box. This is done in order for the new wire to pass outside and be connected to the grounding rods. You can ground the electrical outlets only at the locations where you want to connect your valuable electrical equipment. This eliminates the need to re-wire the entire building.
Most structures with only two wire electrical installations have small conduit installed in the walls, ceilings, and floors. This makes adding a third wire nearly impossible. That's because there is not sufficient space in the small conduit to pull three wires.
Therefore, most inexpensive construction will become very expensive if the purchaser intends to remodel and upgrade to modern construction standards. The most common problems in existing homes are the result of the original owner/contractor wanting to spend a little as possible to complete the construction. The desire to build as cheap as possible results in various problems that render some structures uninhabitable by North American standards.
Hot water heater
For instance, in inexpensive housing, you may find that the lights dim when the hot water heater is working. Many times, low voltage can cause the heaters not to function properly. Then, the water output will not reach the proper temperature. Additionally, insufficient electrical current damages computer, appliances, and most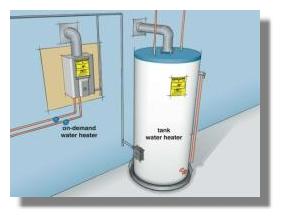 equipment.
If you're living in an older home, inadequate electrical wiring and breakers are the most common problem. Do you have a newer home, built to higher standards? Are you experiencing low voltage related problems? Then have an experienced electrician check the amperage of the breakers that supply the electricity to your hot water heater and appliances.
GFI receptacles
Near bathtubs and sinks, you should already have or install GFI receptacles. GFI stands for ground fault interrupter. These outlets, which are standard in North America and most of the real world, are extremely sensitive. GFI outlets are installed close to water outlets. A GFI outlet can save lives, as it will trip (turn off) much like a circuit breaker.
Suicide showers
For instance, do not touch a suicide shower accidentally while you're bathing, you will be shocked. Your suicide shower is probably connected directly to an ungrounded electrical outlet. If so, the power would continue to pass through the water and your wet, ungrounded body. In all likelihood, you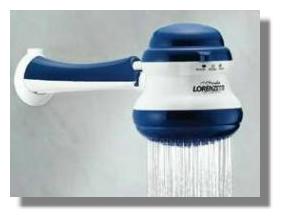 would be electrocuted.
However, if you wire the suicide shower into a GFI receptacle, you'll be safe. The device would sense the lack of electricity returning to pass through the neutral (since it was passing through your body instead) and trip. Thus cutting the electrical current to the suicide shower and saving your life.
Next time you're taking a nice warm shower; think about how much you've taken for granted all your life in the real world. Be safe, not sorry!
The Author
Before you purchase a home in Costa Rica, contact Tom Rosenberger for his home inspection services. Tom Rosenberger is a knowledgeable home and land inspector in Costa Rica with over 30 years of land development and construction experience. He enables his clients to "See Beyond the Obvious" before committing to land acquisition and construction projects.
Tom is a legal resident of Costa Rica. He has lived here since 1992, building and remodeling homes and condominiums, along with developing raw land into building lots. Learn more about Tom's Home Inspections.