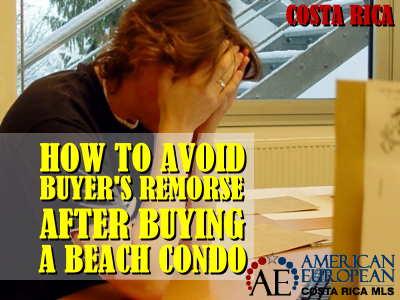 You just closed on your new beach condo in Costa Rica. Now you're flying back home and on the flight you start talking to the couple sitting next to you. They also bought a beach condo in Costa Rica but in a much different location than you did. They are exhilarated about their purchase. So are you, but suddenly some troubling questions now come to mind.
Is it normal to wonder if you have done the right thing? Should you have concerns about having bought in the right location? Is the beach condo in Costa Rica that you just bought really the right one? Have you paid too much? Are you having buyer's remorse?
Wikipedia explains buyer's remorse as follows:
Buyer's remorse (or buyer's regret) is the sense of regret after having made a purchase. It is frequently associated with the purchase of an expensive item such as a car or a house. It may stem from fear of making the wrong choice, guilt over extravagance, or a suspicion of having been overly influenced by the seller.
Your decision
You already closed, so your decision has been made and there is nothing you can do. Unless you got a real great deal and you are able to flip it. You really want to do that? After you went through the hassle of finding a beach condo in Costa Rica that you and your spouse both liked? Both really liked the beach town with its amenities. It is close enough to the airport for a quick vacation and it will rent out easily. You also found a property manager.
If all those points are in your favor, you shouldn't worry about any buyer's remorse at all. If most points are not in your favor, you should probably talk to your real estate agent.
Location
Next time you buy, don't purchase in the first location that you arrived at. I know it's really easy to fall in love with one place, especially when you are on vacation. How can you find out if the location is the right one for you? Make a list of all the amenities that are important to you.
Do you need to be close to an international airport? Love surfing and is the surf outstanding enough? Enjoy fishing and is the fishing good from there? Is wining and dining important to you? Is it close enough to the beach? Does it have the view you were looking for? Do you want your beach condo in Costa Rica to be used as a vacation rental?
Once you have made the list, and with the help of our weekly blogs you should be able to find out enough about other location options. Next time you'll be using your beach condo in Costa Rica, take the time to look at those other locations that fit your list. They will either confirm that you have made the right decision or if you need to talk to your real estate agent to get your beach condo listed.
The community
Did you pick the right condominium or gated community? You probably did compare the different communities with each other before you bought. Maybe you liked another community better but there was no beach condo available? Don't start looking at other houses now because it won't do you any good.
Unless you can afford to buy another one and then re-sell the first one you purchased.
Still having buyer's remorse?
The best way to get rid of buyer's remorse is to go through the next 3 steps:
Look at your home wish list
I'm sure you still have the home wish list with all the choices your real estate agent gave you. Go through the list again. It will help reaffirming your decision.
Start decoration
Start personalizing your beach condo as soon as you can. Once you have decorated your condo the way you want it to be, it will feel like home. Any doubts you had will evaporate.
Don't look at prices
Looking at prices of similar condos on the market will only make you feel sorry for what you did. Of course you will find some other condo at a better price. The cheaper condo on the market is probably not even comparable with yours. It doesn't have the crown molding or the granite counter tops. Or have a nicer swimming pool. Or it needs a total remodel. Don't go there; stop looking at prices of a comparable beach condo in Costa Rica.
Impossible?
It is really impossible to totally avoid buyer's remorse. Because this depends a lot on your character and if you are used to decision making or not. A good start to avoid buyer's remorse after buying a beach condo in Costa Rica is by doing your due diligence during the buying process. Be organized and clear about what you are looking for and have professional assistance during the process. That will minimize buyer's remorse incredibly.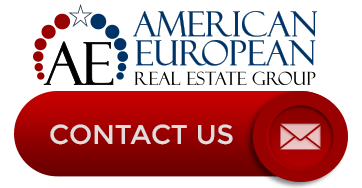 Contact us now for professional assistance to buy a beach condo in Costa Rica.
Feel free to leave your comments on this blog.
---
If you like this blog, connect with me on Google+ or subscribe to our newsletter by clicking the banner below.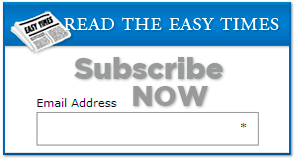 I DO want to remind our readers that we appreciate any referrals you can send us. Please also remember the American European real estate Group's agents when your refer a real estate agent. We appreciate your business.