Have you ever thought about buying a jungle home in Costa Rica? I bet you have. Where you can hear the howler monkeys calling and the surf breaking when everything is quiet?
You will find the best and most incredible jungle homes in the Caribe Sur of Costa Rica. It's that secret haven where the beach meets the jungle.
Buying a jungle home in Playa Cocles can be a really great idea if you know what to look for. You want to match your purchase to your lifestyle and make sure you're legally safe. So you'll need to visit in person and then also talk you your lawyer before you write someone a check.
I just got back from a couple of days in Puerto Viejo, the one east of Limon. It's really called Puerto Viejo de Talamanca, not to be mistaken with Puerto Viejo de Sarapiqui.
It has been a while since I visited El Caribe Sur. My affiliate agents appreciate my visit once in a while. I certainly hate the drive from Escazu to Puerto Viejo. Route 32 (you can't call it a highway) is one of the worst roads in the country to travel. A Chinese company is working to turn it into a 4 lane road, but I doubt it will make any difference. The new Limon port is generating an amazing amount of container trucks to and from the Central Valley.
Until the new lanes are built, the drive to the Caribbean coast of Costa Rica is not easy, but well worth it.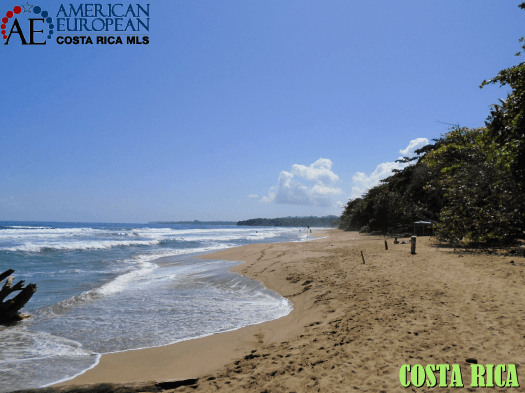 Past the airport
Once you get past the Limon airport, the panorama changes tremendously and it becomes a paradise. I grew up with the Bounty commercials on TV, those coconuts filled and chocolate covered candy bars. In a straight stretch, you will see miles of white sand beaches, too dangerous to swim, on your left. On your right, you will see miles of banana plantations. Until you get to Penshurst the ambiance changes drastically there.
Cahuita – Manzanillo
In a 40-minute drive or just 29 miles of coastal highway (routes 36 and 256), you will find several beach towns that are interesting and fun to look for a jungle home. Not only do you have a choice of towns and beaches to pick from, but each also has a different lifestyle to offer.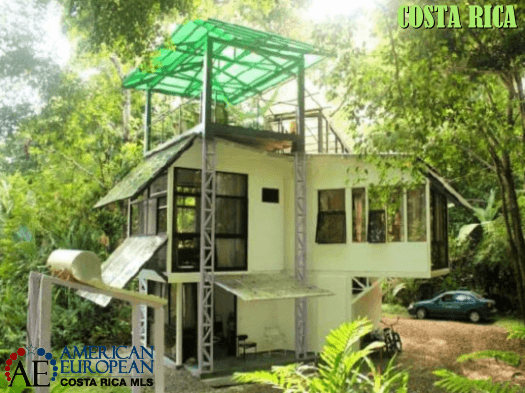 Lifestyle
Cahuita is still pretty simple without much to show for. In Cahuita, you'll find mostly a Rasta lifestyle. This lifestyle was very dominant in the other towns, but I really didn't get that feeling anymore now.
In Puerto Viejo, you'll find a more urban (if you can call it that) lifestyle with shops and many restaurants of various specialties and budgets. You can enjoy the typical Caribbean food like rice 'n beans and patí. But also Thai, Italian, and Chinese, seafood and vegetarian.
For a much quieter and laidback lifestyle, you have a good choice between Playa Negra, Cocles, Punta Uva and Manzanillo.
If surfing is your pastime, you'll be better off in Cahuita, Playa Negra, Playa Chiquita, and Puerto Viejo. For nice and quiet swimming, better stick to Manzanillo and Punta Uva.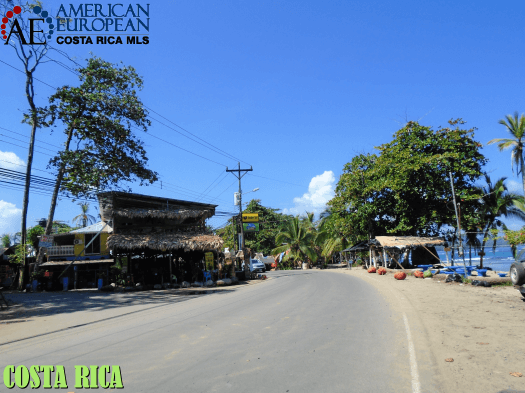 The canopy
You can buy some lovely properties under the rainforest canopy. Or you can build. But can you keep the termites out? The choice of building materials for the construction of a jungle house in the Southern Caribbean is more important than you might think.
The water
It can rain a tremendous amount during the rainy season in the Southern Caribbean. When you visit, you'll see many houses built on stilts. But can you buy a jungle house that is not on stilts? You can only find out when you talk to someone who has lived there for a long time, like our local agent Jose Tercero.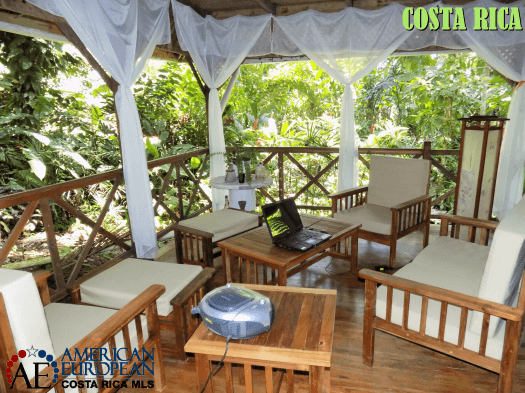 Concession or titled property
Before you sign that check, in case its love on first sight, contact a lawyer. Some sellers and agents won't tell you that all beachfront and almost everything on the left side of route 256 is concession property. Also, there is a lot of protected land in the area, such as the Gandoca Manzanillo National Wildlife Refuge Titled property. Before you know it, you'll have purchased land that you can't own, or can't build on.
Looking to purchase a jungle home in Costa Rica? Then contact us now!
Even if you don't plan to live on the Caribbean side of Costa Rica, plan a visit. I'm sure you'll love it.
This article, by Ivo Henfling, was edited by Allen Dickinson and then published in the March/April 2019 edition of El Residente.