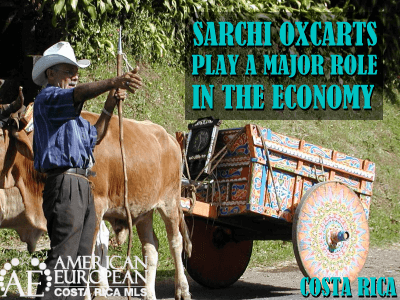 Did you know that Sarchi oxcarts play a major role in the culture and economy of this attractive town?
If you are considering living in Costa Rica, or already live here, Sarchi is a town that you should know about, especially if you are looking to purchase Costa Rica real estate. Located about 1 hour from San Jose, and 45 minutes from the Juan Santamaria Airport, Sarchi is conveniently located in the central part of the country.
The town of Sarchi is well-known for ox carts and souvenirs. Sarchi is popular with both tourists, and Costa Ricans. Many people get their furniture from one of the many carpenters of this area. Nearly all will custom build tables, beds, and other furniture for you for a fair price.
The souvenir shopping is the best in Costa Rica with lots of different art, wood sculptures, and trinkets. The highlight is the Sarchi oxcarts. Many tour buses pass through Sarchi to admire the church, built in the 1950s, which sits above the town park.  In the park, you will also find the biggest ox cart in the world.
The Sarchi Oxcarts
Sarchi oxcarts are a major part of the artisan and farm culture of Costa Rica. Before there were cars, trains, buses, and the big trucks, coffee was hauled to the major port of Puntarenas by oxcart. This was in the late 1800s and early 1900s.
It is said that each town had their own design on the oxcarts. So that others could tell where they were from in the country. Sarchi was one of the last stops out of the Central Valley before passing over the huge mountains of San Ramon and Atenas, that lead to the Pacific coast.
The Oxcart road
The old oxcart road can still be driven on in some areas of the Central Valley. If you take the old road from Alajuela to Grecia and continue on that road from Grecia to Sarchi, you are on the old oxcart road. Once you pass through Sarchi, the road veers to the left (west) in the small town of Dulce Nombre de Naranjo. This road continues on to El Rosario de Naranjo. But if you stay heading west you will come up a small road named Vaca Muerte, or dead cow road. I imagine there was a pretty big stinky dead cow there once, maybe because the road is so steep.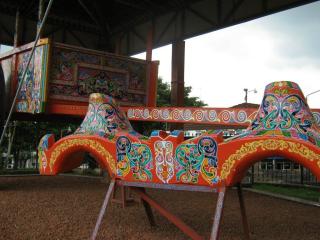 This road comes out on the Pan American highway before the Naranjo exit. The oxcart road crosses the PanAm highway and goes into San Miguel de Naranjo where it turns to a rough dirt road that heads over the mountains through Palmares, and San Ramon running parallel (mas o menos)  to the PanAm highway all the way to Puntarenas.
That is probably the reason that Sarchi became famous for fixing oxcarts. It is important to realize how important these ox carts were, with the trip to the coast being long and dangerous, if your oxcart was not in good shape, you could lose your coffee crop, resulting in financial ruin.
Ox cart factories
Sarchi is home to two ox cart factories, the Joaquin Chaverri Oxcart Factory located in Sarchi Sur, and the Alfaro Alfaro oxcart factory in Sarchi Norte.  At the Alfaro oxcart factory, you can see how they made the Sarchi oxcarts in the past, they use water wheels to make electricity.

They still use the same workshop as in the past; it is a family operation, and truly a fun way to spend a Sunday afternoon, learning about the old ways of Costa Rica.
Living in Sarchi is relaxed. With the population mostly middle-class Ticos and some foreigners, Sarchi is a great place to experience Costa Rica country life, not far from the capital. Sarchi temperatures are between 70 to 80 degrees every day. We are in the mountains, so nighttime is cool, with temperatures in the 60s a blanket is welcomed!
Low crime
Crime is low, and neighbors watch out for each other here. There are lots of great restaurants, including a great seafood restaurant that has moved to three different buildings, but today can be found between Sarchi Norte and Sarchi Sur, it is called Super Mariscos, and is famous with both Ticos and foreigners.
My personal attachment
I have a personal attachment to Sarchi as it was the first town I came to in 1999. My first contact with this beautiful town was when I came as a volunteer to help reforest old coffee plantations. I still have many friends who I met that first year who I am still friends with. I am very happy to say that Sarchi has not changed much in the last 12 years. There might be one more traffic light, and of course, the new ox cart in the park!
Planning to buy or rent a home in Sarchi? Then feel free to contact us now, Karina and I both go the extra mile for our clients.
Feel free to leave your comments on this blog. If you like this article, please feel free to share it on your social media.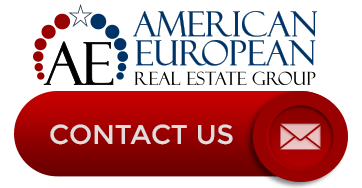 ---
If you like this blog, connect with me on Google+ or subscribe to our newsletter by clicking the banner below.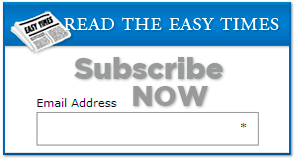 While we're at it, I DO want to remind our readers that we appreciate any referrals you can send us. Finally, please remember the American-European real estate Group's agents when you refer a real estate agent. Because we DO appreciate your business.