Estimated Reading Time: 4 Minutes
It's funny how I found The Ultimate Guide to Buying Property in Costa Rica online but it's not really a guide to anything. They advertised it on every Facebook group they could find. I read the whole article, but…
It's just another stupid article by a newspaper that didn't even consult with a real estate professional, to begin with.  As a well-known real estate broker and author of over 1200 blogs, I thought I could do better. My readers know me as a no-bullshit, tell it as-it-is-person.
Yes, a foreigner, a tourist, or a non-resident can buy property in Costa Rica, with two exceptions. Okay, that answers one of the most important questions people always ask. But is buying real estate easy? Is real estate titled? Is it easy to sell later? Does zoning exist? Is it safe to buy? Are there any pitfalls? You must have a zillion questions and I will try to cover them all here.
In 2016, I wrote a 19-step guide for The Tico Times, which might be of your assistance. But there is a lot more to learn than that.
Why do I share such valuable information with you? It's our way of showing you that no real estate organization in Costa Rica offers agents from coast to coast with enough knowledge to hold your hand all the way through the process the easy way.
I'll try to keep this Ultimate Guide to Buying Property in Costa Rica as short and concise as I can. I'm sure most of you don't have the necessary time to learn everything there is to know in one article. That's why I will be using links to other articles about every specific topic as much as I can.
So, let's cut to the chase right away. I'll keep it short and concise for an easy read. Almost every topic carries a link to it's own article, for a more detailed explanation.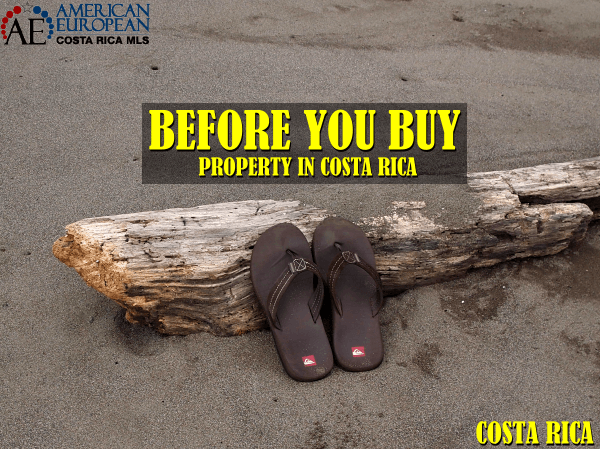 Before you buy
There are numerous reasons why you should rent first. Find out if Costa Rica is for you. Do you like the beach, the city, or maybe you want to live in a rural area? The Ultimate Guide to buying property shows you where and how:
In 20 Steps
Just learning where you want to live is a huge task, and you should do your homework while you rent.
The Weather
Costa Rica is famous for its microclimates. The advantage is that you can pick the temperatures that suit you best. You like it hot? Go to the beach. You like it hot and humid? Go to a different beach. Do you like it cooler? Take your pick in the Central Valley.
Location
I've put weather before location in this article. Who needs location if it's too hot for you? Or too wet? And location had also a different meaning for each one of us. One important tip: go where there are real estate offices. Because you want to sell one day! Learn what can happen if you don't.
For Sale by Owner
Is it a good idea to go For Sale by Owner? It can be, if you speak the language, you know your rights and your obligations. Also, if you hire a good attorney. But before you do, read what Patrick Mulheren, an east-side realtor, has to say about going FSBO.
Vacation Rental Investment
Are you looking to buy a vacation rental investment property? Do you know where to start looking? Here are some guidelines, so you won't have to waste much time, effort, and money.
Real Estate Agent
Buying a property in another country is not as easy as it looks. It's the reason you're reading this article now. Unless you want to go FSBO, here are some guidelines to pick the right real estate agent.
Attorney
You're probably going to make a major investment when buying a property in Costa Rica. NOTHING is more important than picking the right real estate attorney.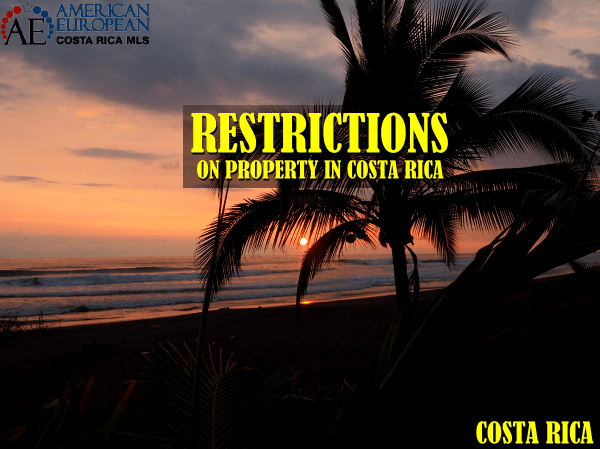 Restrictions
Before you buy, you should be aware of the restrictions a property might have. The Ultimate Guide to buying property shows you all about property restrictions. Always check for restrictions with your lawyer before buying:
Are you a Foreigner?
Starting this article, I made the statement that there are two exceptions to a foreigner being allowed to own property in Costa Rica:
– 100% ownership of a property in a Maritime Zone.
– Ownership of an INDER property, in which land is donated to poor farmers.
Title – Concession
For starters, you can check the title of a property in the National Registry yourself. It is also possible to pull a survey map or plano catastro there. The title search and plano will show any restrictions a property might have. A good lawyer will check the title before writing up a purchase–sale agreement and before drawing up the deed.
Some beachfront property is not titled but a concession, which also has restrictions.
Maritime zoning
The 1977 Maritime Zoning Law regulates ownership and usage of beachfront property in Costa Rica. Learn more about maritime zoning now. This is also important to know if you want to build a dock for your boat.
River setbacks
One of the most important restrictions a property might have is the setbacks from rivers and creeks. A certain amount of land on the riverbanks are protected areas, just like in the maritime zoning.
Zoning restrictions
Not every city in Costa Rica has zoning regulations. Therefore, before you purchase, check if there is zoning and what the zoning restrictions are. For this, you request a zoning or uso de suelo from the engineering department of the municipality where the property is located.
Buying from a developer
Buying from a real estate developer in Costa Rica is not the same as it is in other countries. There are a few promises you should worry about before signing the purchase agreement.
Fire Sale
Do you know how to look for a fire sale property? When you're in the market to purchase a property, this is what you should learn first.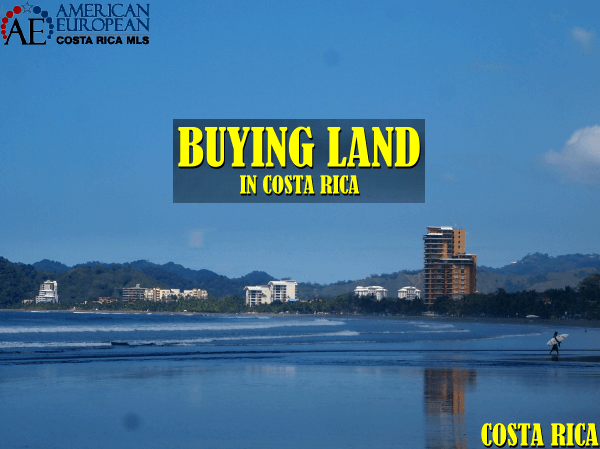 Buying Land
You might think "what can be so difficult about buying land in Costa Rica? Well, it's simple, if you use an expert. Learn more about how to buy land in Costa Rica in The Ultimate Guide to Buying Property in Costa Rica:
It's very necessary to do your due diligence and be aware of many issues before you buy land. You don't want to fall on your face and find out when it's too late.
An Architect
Why should you hire an architect before you buy land to build in Costa Rica? Here are the reasons.
Water
Often, property listings do not mention if there is water and power on the property. Without water, you won't be able to get a building permit. You do not need power for a building permit.
Construction cost
What does it cost to build a house? The cost of construction depends on many details, learn now which.
Squatters
Should you worry about squatters when you buy land in Costa Rica? Here's the scoop.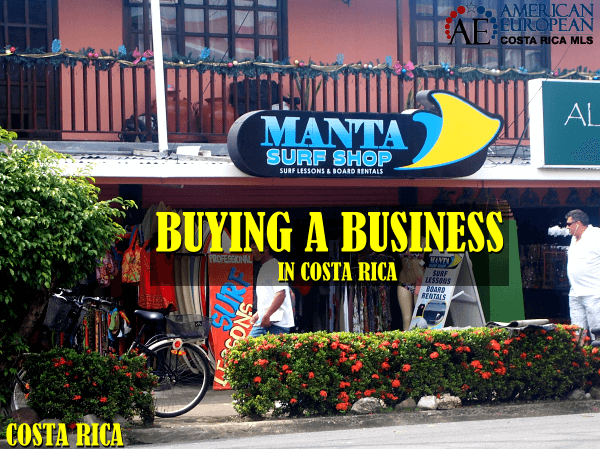 Buying a Business
Doing business in Costa Rica is different from what you're used to. You have two options: buy one or start one. Learn more about doing business in The Ultimate Guide to Buying Property in Costa Rica :
Is buying an existing business in Costa Rica a smart move? Learn about the pros and the cons of buying a business.
Starting a Business
And is starting a new business a smart move? These are the essentials for successfully doing so.
10 Business Tips
Before you buy or start a new business, check out these tips.
Use Retirement Funds
Did you know you can use your retirement funds in the United States to purchase an investment property in Costa Rica? Learn all about this way of purchasing property in The Ultimate Guide to Buying Property in Costa Rica:
Vacation Investment
It is completely legal to use your 401 (k) or IRA to purchase an investment property or an income-generating property abroad. Learn how to invest tax-free now.
Limitations
There are certain limitations to the use of retirement funds to purchase a property in Costa Rica.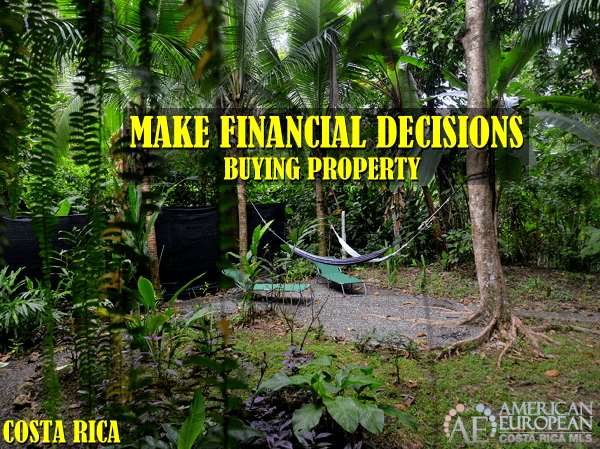 Financial Decisions
Before you start making an offer, you will want to know a bit about the cost of buying a property. Before you start making offers left and right, learn more about what costs are involved in The Ultimate Guide to Buying Property in Costa Rica:
Real Estate Commission
The real estate commission is paid by the seller, not by the buyer. Learn more about real estate commission, how it functions, and value-added tax.
Property Tax and Others
Property tax is cheap in Costa Rica. But are there any other taxes to be paid when you own property in Costa Rica? Learn all about who pays which type of taxes now.
Closing Costs
Closing cost is negotiated when making the offer. Usually, the closing cost is paid 50/50 unless negotiated differently. Learn more about this and how to calculate the closing cost.
Financing
Costa Rican banks only give mortgages to citizens and legal residents. Learn more about home financing and other possible financing options.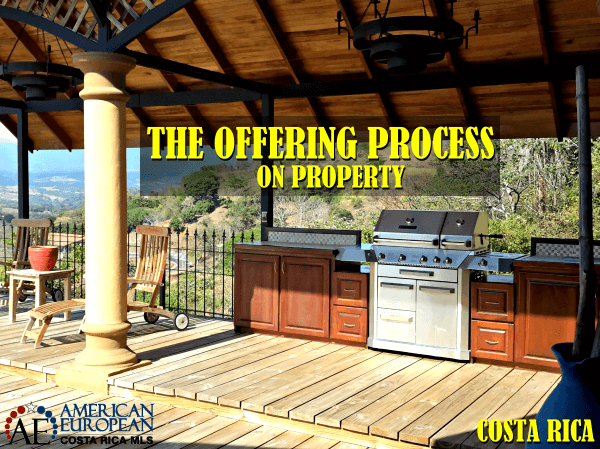 Offering Process
Again, making an offer on a property seems simple. But you want to do it right, right? Learn all about the offering process in The Ultimate Guide to Buying Property in Costa Rica:
Making an offer on a property is not binding until there is an agreement, as well as an earnest money deposit. Learn how to make a smart and complete offer.
Due diligence
Make a good decision and use a closing attorney/notary public who specializes in real estate and who speaks your language for the legal due diligence process.
Home Inspection
Home inspections are not commonly used in Costa Rica. Learn more about how important a home inspection is before you formalize an offer.
Condo Inspection
Is a condo inspection the same as a home inspection? Not really… learn more now.
Buying "As Is"
In Costa Rica, you purchase a home "as is", quite the opposite from how you buy in other countries. Learn how this works.
Contingencies
Can there be any contingencies when making an offer on a property in Costa Rica? Yes, there are, learn more now.
Option to Purchase – Sale
In Costa Rica, we formalize an offer accepted by buyer and seller with an option to purchase – sale agreement.
Earnest Money
Costa Ricans formalize an offer by handing an earnest money deposit over to the seller. Learn how to do it the safe way.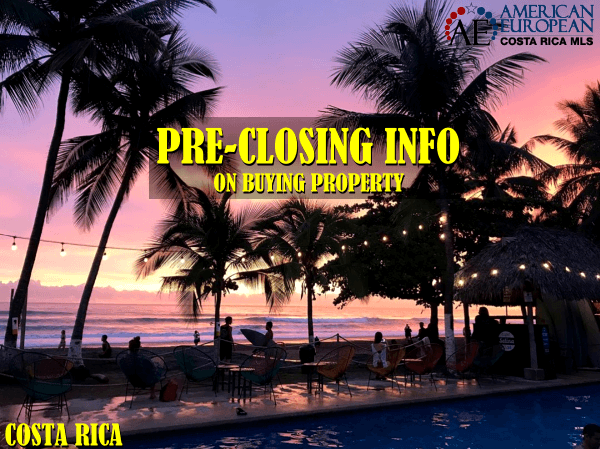 Pre-Closing Information
There are still quite a few things pending before you get to closing, which is the reason you are using this Ultimate Guide to Buying Property:
Title Insurance
Title insurance does not exist in Costa Rica anymore. Do you need title insurance to protect yourself when buying a property? Learn more now.
Escrow
A non-resident is only allowed a simplified bank account. Therefore, the simplest way to wire the money needed for your purchase is to open escrow.
Incorporation
For many years, foreigners typically purchased their property in a local corporation or Sociedad Anonima. Does this still make sense?
Money Laundering laws
The Costa Rican government wants to know the origin of the money you are using to purchase a property. The process is simple, and you have nothing to worry about if you're not hiding anything. Your realtor, the bank, and the escrow company will require proof of origin before you wire the money.
Absent Ownership
Maybe you are not able to travel for the closing? There is certainly a safe option for that: a special power of attorney
House Condition
Who is responsible for the maintenance of the house after signing the purchase sale agreement until the closing? Here is the explanation.
Repairs
The home inspection shows some necessary repairs. Do you know when you can start making repairs?
Checklist
You really don't want to miss the homebuyer checklist for emergencies either.
Walkthrough
You never know what you'll find after closing unless you do a walkthrough. Try doing this right before the closing, on the same day.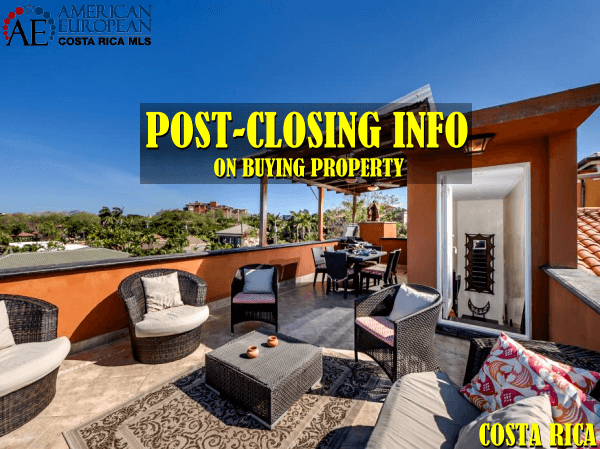 Post-Closing Information
Once you've signed the deed and paid for the property, you think you're done, right? Well, not really! There is more to do, which you can learn in The Ultimate Guide to Buying Property in Costa Rica:
Title Documents
Too often everyone forgets about the proof of what you purchased after the closing. And you won't find out until you'll need those title documents for some reason, maybe in 15 years or so. Who is responsible for the follow-up?
The Next Day…
The experts have a few more recommendations that you'll love when you wake up the day after closing day.
Utilities
Do you want the utilities in your name? If you are a legal resident, it's easy. But if you're not a resident, you will need some assistance.
Rental Income
Are you going to be generating rental income on the property you bought? Then you'd want to know everything in this article about how to generate ROI.
Promotion
If you bought a vacation rental investment property, you probably don't know how to promote it. Also, learn where to promote it without the assistance of a property manager.
Vacation Rental Property Manager
You don't want the hassle of managing your vacation rental property yourself? Then learn how to find the right property manager to do the work for you.
Special Power of attorney
Before you leave the country, you should give your property manager a special power of attorney for certain things.
Property Value Declaration
Every 5 years, you have to declare the value of the property you bought at the Municipality. Find out how that works.
Your passport
Don't throw away your passport when it expires. When you want to sell your property again in the future, you will need that passport.
The Experts
Buying a property seems like a hassle, right? Well, it is, if you don't know what you're doing. Therefore, you should use the experts, or spend many hours studying The Ultimate Guide to Buying Property in Costa Rica. Play it safe, contact us now.