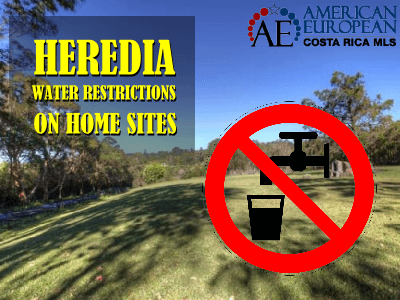 Planning on searching for home sites in Heredia? Wait a sec, you might not want to. Starting August 2015,  there are water restrictions on some home sites in Heredia.
We all need water to be able to live and global warming has changed the ground rules. The water supply in some areas of Costa Rica is suffering as much as in other countries.  The local authorities are starting to catch up on the boom in construction in the last 5 years, especially with so many condominiums being built everywhere in the Central Valley.
In Costa Rica, when you request building permits for a home site, the first document you will need is a water letter. This is also mandatory for home sites in Heredia. This water letter is extended by the water company in that area. This could be AyA, the national water company, an ASADA (which is a local coop in case it's not AyA who supplies the water in that particular area).  In other words, if you don't have the water letter, you will not receive building permits.
Heredia offers so many beautiful places to live, especially if you like cooler weather and to have access to all the amenities of a city. Our affiliate agent for Heredia offers a wide range of Heredia homes for sale, as you can see in some of the photos I am posting in this article.
ESPH
The Empresa de Servicios Públicos de Heredia (ESPH) or the Heredia Public Services Company is in charge of the water in Heredia. Starting August 2015, ESPH will NOT grant any new water connections for the following locations:
Concepción de San Rafael de Heredia
Concepción de San Isidro de Heredia
Santa Elena de San Isidro de Heredia
Breña de Mora de San Isidro de Heredia
For the areas of San Rafael and San Isidro the "Unidad de Agua Potable", the department in charge of this issue, will assess the availability of the resource when requested.
Not available
No matter if there is an existing water network; this does not guarantee the availability of the resource for new development in the area. There will NOT be any availability of water connections for:
The reason for this water restriction on home sites in Heredia, ESPH says, is that 100% of the water supply in the upper Heredia areas is from surface sources. They have seen a decline in the water pressure, a situation that worsens during the dry season.
Special thanks to Xinia Salazar, our affiliate for the Heredia area. Xinia responsibly sent us the restriction so we can warn our clients.  If you own a home site or land for development in any of the above areas and you would like to build your new house in Heredia, we recommend you apply for building permits before August 8, 2015, as ESPH will approve any requests for a new water connection before this date.
For more exact information on the water restriction sin Heredia, feel free to contact Francisco Angulo at ESPH: fangulo@esph-sa.com 2562-3848 / 8352-3480
If you are looking to purchase land anywhere in the Province of Heredia, you should contact Xinia, so she can recommend areas in Heredia that do not have any water supply problems.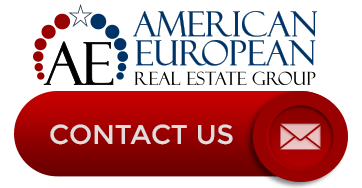 Feel free to leave your comments on this blog.
---
If you like this blog, connect with me on Google+ or subscribe to our newsletter by clicking the banner below.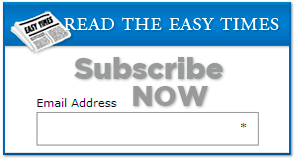 I DO want to remind our readers that we appreciate any referrals you can send us. Please also remember the American European real estate Group's agents when your refer a real estate agent. We appreciate your business.