Estimated Reading Time: 5 Minutes
Future expats ask me questions about the famous perfect microclimate of Costa Rica all the time. Isn't it strange that the temperatures and rainfall can vary by just moving a couple of miles in another direction? The great climate is one of the main reasons people move to our beautiful country, but how to figure out which climate suits you best?
If you plan to live in a beach area, you'd want to shop in time for swimwear, and you'll want to shop for tires to live in an area with a lot of rain.
Just last week, I got this email from someone doing her due diligence, saying: One thing we hear a lot about is all of the various microclimates. We experienced some of them on our last trip when we spent time (at least an hour) in Atenas, Palmares, the hills outside Grecia, San Ramon, Escazu, Dominical, San Isidro del General, Tamarindo, and Montezuma. Some of these places are hot and humid, and others are much cooler and drier. You can feel the difference when you drive from one place to another with your windows open immediately. And, I find it's much warmer at the beach than it is in the Central Valley.
We liked and didn't like certain things about each area, and sometimes we thought, "if we could only find this sized town at a different elevation.  But it's difficult to find population and elevation data for various places in the country.  I found a topographic map online that showed elevation ranges in different colors, and that was helpful, but it didn't have the towns on it.  I'd love to see something that shows, perhaps in table form, 40 towns, their populations, and elevations (and for us, the distance to the nearest feria ;-).
Maybe we'll get an altimeter and make that our hobby in retirement! Anyway, I know that microclimates come up frequently, and you need to go there to experience them yourself. But an article that helps people use their retirement exploration time more efficiently by narrowing down the towns to visit that have the perfect microclimate would be very helpful. (author: you can now set Google maps on terrain and zoom in until you see the altitude lines. Thanks, Lee, for the tip.)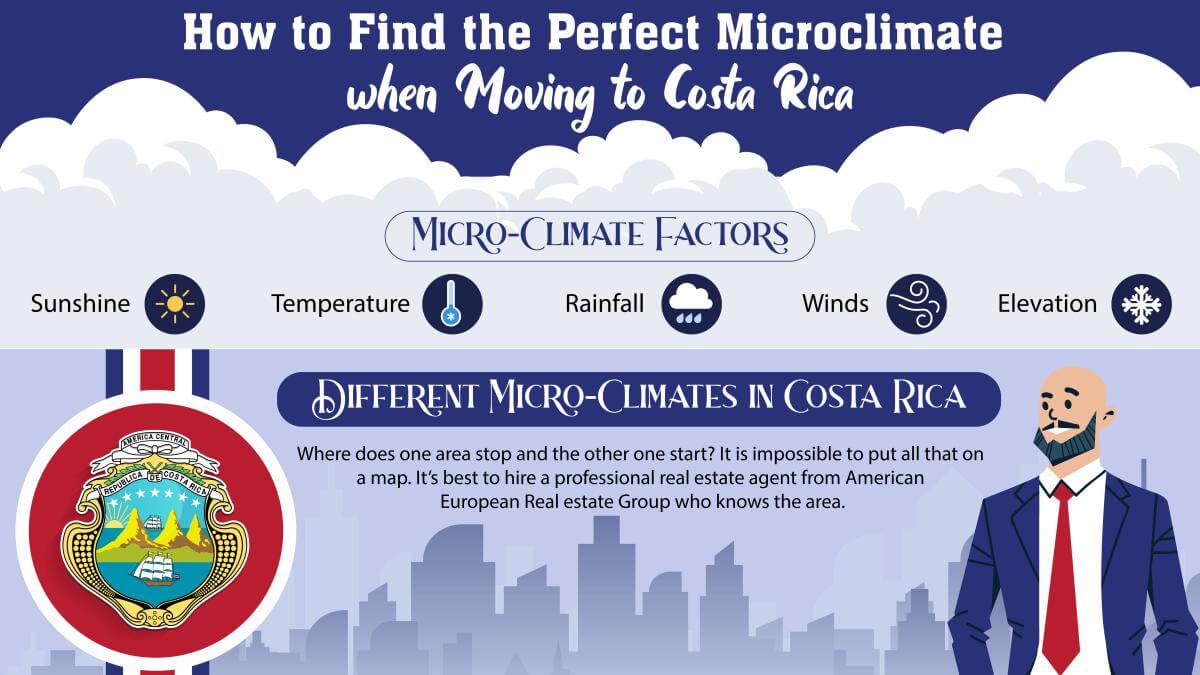 Different micro-climates
So how do you determine which micro-climate is best for you and your family? That is not an easy task, and there is no online information on each specific area. So, where does one area stop and the other one start? It is impossible to put all that on a map.
As shown in the infographic above, there are 5 focus points to take into account:
Sunshine
Temperature
Rainfall
Winds
Elevation
If you concentrate on each one of those focus points, it will be easy for you to find the right location to buy a house with one of our affiliate agents.
How to get started
Here are a couple of steps that I suggest:
Search online to discover which parts of the country you are interested in.
Book Christopher Howard's tour to show you the areas you think can make you happy.
Stay in an Airbnb or hotel in each part of the country you like best.
Register for the ARCR Costa Rica Seminar
Once you have decided where to live, hire a real estate agent and start looking at property.
All our real estate agents live where they work and can tell you everything you need to know about the micro-climates in that area, the wind directions, the humidity factor, and the details on the rain.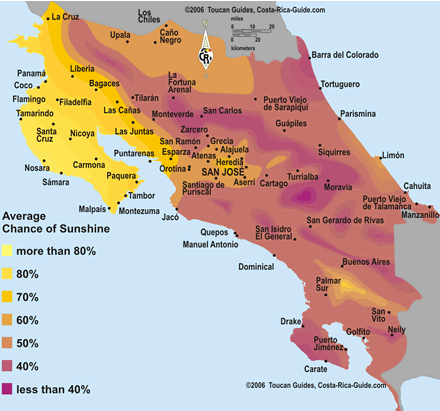 Sunshine and temperature map
On Costa Rica Guide, you can find a map with weather patterns with sunshine for each region.  This map is not perfect, though it shows the chance of sunshine, it is very general. Check out the interactive map and mouse over each area to find out the percentage of chance of sunshine in this area; at least, it gives you a general idea of where to start looking for the right place to live.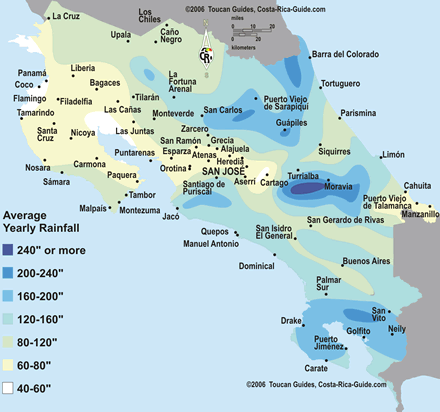 Rainfall
Not only are temperatures important if you want to learn about the different micro-climates. Rainfall is even more important. Even though normally the temperature doesn't change when it starts raining, I'm sure you are not moving here to live in the rain all the time.
Or maybe you just love the rain and are looking for areas with more rainfall. The higher altitude areas generally get more rainfall than the lower areas. But the Caribbean and South Pacific coast also get more rainfall than Northern Guanacaste and the Nicoya Peninsula. Find out about the rainfall by going to the interactive rainfall map on Costa Rica Guide by mousing over the different areas.
Make sure to do your due diligence before you make your first trip so you come well-informed. First, travel to the areas that are an option for you before shopping around for a home in the tropics.
Unfortunately, we see too many people who purchase property without the assistance of a professional real estate agent. Afterward, they find out they chose an area with too much rain, too hot, too cold, too humid, too much wind, or too much. Then they call us to help them sell their property again as they are miserable in their new dream home.
Don't be one of those, do the right thing. Find the perfect microclimate and then contact us.
Used in featured image: Image by luis_molinero on Freepik