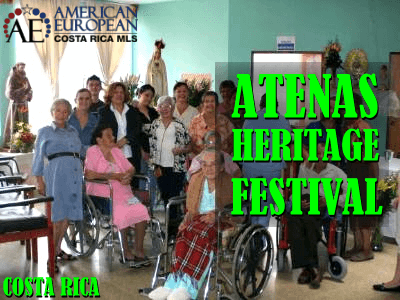 Learn all about the first Atenas Heritage Festival. On Saturday, 23 March, an event was held on the Campo Ferial fairground at the retirement home – Hogar de Ancianos to honor and display the first Atenas heritage festival with proceeds benefiting the Hogar de Ancianos.
Would you like to cooperate with their local community? Going to the Atenas Heritage Festival is one of the most wonderful things to do in Costa Rica.
Strive and Thrive organized the Atenas Heritage Festival for 2013. It was open to the public and held from 10 AM to 4 PM.
The Festival featured:
folk arts,
traditional foods and drinks,
music and dance,
artists, craftsman,
and ox-drawn cart rides for the children.
Marietta Arce of Atenas Today and member of Strive and Thrive of Atenas said they hoped the event would grow to become an annual benefit much anticipated by the Atenas community. "This was our first effort at staging an event of this size. The organization is very pleased that we were able to raise over $600 for the Hogar de Ancianos."
"Not only were we able to provide much-needed funds for the Hogar, but a number of booths and stations at the festival were rented by local schools and organizations that were able to sell traditional foods and drinks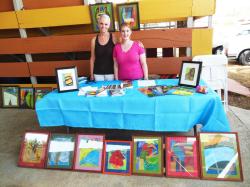 to raise money for their treasuries as well. I really need to thank all of our participants and volunteers, who helped us make this a first-time success. It was a true community effort."
The organization has sold a wide variety of foods at the Atenas Heritage Festival, including traditional rice and bean dishes featuring beef, chicken, and pork, as well as Costa Rican-style rice and pork stuffed tamales. Traditional marañon juice made from the cashew fruit, Costa Rican tropical mixed fruit drink and horchata drink made from ground dried nuts and grains.  Also available was a delightfully sweet drink, a granizado, made from as best as I could surmise shaved ice, fruit syrup, dolce crema and sweetened condensed milk plus vanilla ice cream. In addition, traditional, locally made traditional bread and sweet rolls were for sale.
Also on display and for sale at the Atenas Heritage Festival were: traditional herbal, plant and fruit medicines and remedies; lovely orchids,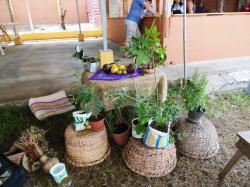 succulents and African violets; as well as handcrafted jewelry made from stone, shell, quartz, amethyst, and bone; handicrafts made from non-traditional objects such as mission roof tiles and bottles. Three local artists had their creations on display as well in oil, watercolor, mixed media and prints with some artwork also available as note card sets and placemats.
A local band also performed a variety of songs, followed by Latin tunes played in a duet on a marimba and closed with melodies from a keyboardist and accompanying drummer. However, two of the biggest hits involved the children. First was a young troupe of colorfully adorned lady dancers performing traditional Mexican dances including, of course, the Mexican Hat Dance. And in the afternoon, local farmers brought two pairs of oxen and along with colorfully decorated carts and ox-cart rides were provided.
All-in-all, the first Atenas Heritage Festival proved to be as advertised–fun, tasty and educational. I look forward to coming back to see what's new in 2014.
The Author
Guest blogger Don Davis lives in Sarchi with his wife Karen.
Feel free to leave your comments on this blog. If you like this article, please feel free to share it on your social media.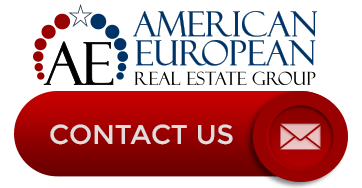 ---
If you like this blog, connect with me on Google+ or subscribe to our newsletter by clicking the banner below.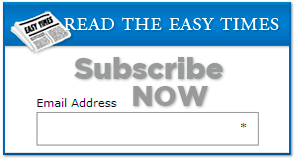 While we're at it, I DO want to remind our readers that we appreciate any referrals you can send us. Finally, please remember the American-European real estate Group's agents when you refer a real estate agent. Because we DO appreciate your business.