Starting a business in Costa Rica is easy. But successfully starting a business being an expat son otros 100 pesos. Translated into English: a whole different ballgame.
It's sad to see how often people think they can just move to Costa Rica, and make a good living by starting a business. Many return home with nothing left but bad memories. Not all understand that successfully starting a business takes a lot of time, money, and effort anywhere in the world.
It's pretty common to see: "I can do that, and I can do it better than the locals". Or "This is easy, I'm educated and I'm a good businessman (or woman)".
When I moved to Costa Rica in 1980 and started my own business, I also thought it would be easy. Well, I lost everything I had. TWICE!
To be honest, I don't have the secret formula for being successful. My almost 40 years in business in Costa Rica have been a rollercoaster. I can't complain, I've learned a lot and I've done quite well. I've also been totally broke a couple of times. And not because I'm stupid or didn't work hard enough.
There are many lists available online about what's needed for starting a business in Costa Rica, like legal residency, a business license, a bank account, etc. Well, that's the easy part.
Let me tell you about the difficult part, and give you the 7 essentials that will give you a good head start for successfully starting a business in Costa Rica.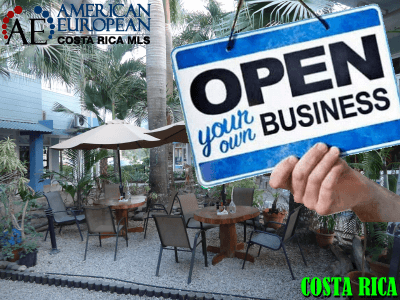 1. Do what you know
Don't try to start a business you are not familiar with. It's difficult enough to do business in a new country is something you're an expert on. You might not know that in Costa Rica EVERYTHING is different. The competition does it all wrong, you know a better way, or that's what you think.
If you insist on doing something you're not familiar with, you can always buy an existing business. That'll give you some advantages.
2. Learn Spanish
Oh yes, a lot of people speak English in Costa Rica. I moved here without knowing much more Spanish than una cerveza por favor. THAT was the most stupid mistake I made in my life and it cost me a lot of money. Hiring locals who speak your language is not enough.
PLEASE learn Spanish before you move here, as much as you can, if you want to make sure you are successfully starting a business in Costa Rica.
3. Plan your finances
Save as much money as you can, so you can invest in your future business. Lenders don't know you, so you can't get a mortgage to buy a house. You can't get a mortgage to buy a building for your business. And, you won't be able to find loans at a reasonable interest rate to buy inventory when starting a business either. BUT, if you're a U.S. Expat, you have a great credit score, and you need start-up capital, we might be able to assist. Check this information about unsecured personal loans in Costa Rica now.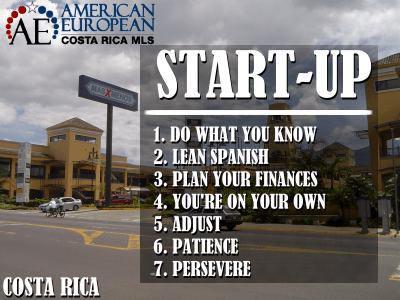 4. You're on your own
You won't be surrounded but family and friends anymore. It'll be just your wife/husband/partner and you when starting a business.
Of course, people will be nice to you in Costa Rica and everyone you meet will promise to help. But will they? You will find out soon enough.
5. Adjust
You're a guest in this country and we have different ways of doing things here. YOU need to adjust to Costa Rica and its ways, not the other way around.
Sound pretty easy, but I promise it is not. Need some help? Check our blogs on how to prevent culture shock.
6. Patience
You will need patience, lots of it, especially when starting a business. Don't lose your patience with the Ticos, their system, their way of doing things.
Losing it won't help, it won't move things faster, quite the opposite.
7. Persevere
The dictionary shows
per·se·vere, pərsəˈvir/: continue in a course of action even in the face of difficulty or with little or no prospect of success.
Synonyms:
persist, continue, carry on, go on, keep on, keep going, struggle on, hammer away, be persistent, be determined, see/follow something through, keep at it, press on/ahead, not take no for an answer, be tenacious, stand one's ground, stand fast/firm, hold on, go the distance, stay the course, plod on, stop at nothing, leave no stone unturned.
In my opinion, this is what those who have returned home with the tail between their legs have not done. It has worked for me.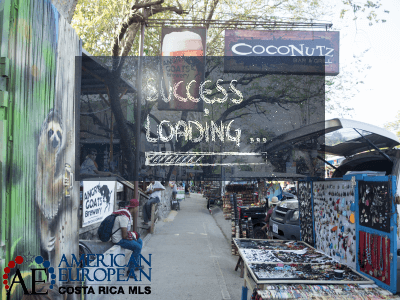 Worth it?
I'm pretty sure there will be quite a few who read this blog who will say: "it can't be that bad". Or "this guy is a know-it-all".
I have always tried to learn from my mistakes when starting a business, and I've made a lot of them. I like to share my mistakes and what I've learned with others through my weekly blogs.
Nothing is more difficult than running short of working capital when you start a new business. If you're a U.S. expat and you have a great credit score, we can help. Click on the banner below for more info.
Did you like this blog about successfully starting a business in Costa Rica? Then, I invite you to subscribe to our weekly newsletter, click the banner below, I assure you it's worth it. Or contact us here for all your real estate needs.