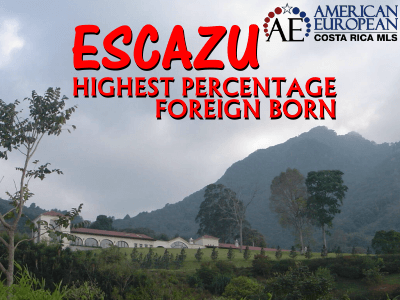 20% Of the population living in Escazu is foreign born. Escazu has, therefore, the highest percentage of the population born abroad in the Province of San Jose.
This does not mean that those who live in Escazu are mostly foreigners. The demographics do show that there is a high percentage of foreign born.
They might be born from Tico parents though. No census speaks where they were born or where their parents came from, nor about their nationality.
I don't know if this makes Escazu real estate different than it does elsewhere, but it is a fact that those who plan to buy or rent a home in Escazu have higher expectations from this home than they would if the home would be somewhere else in the Central Valley.
I have been of attending a large percentage of the foreign born population for their needs to rent a home in Escazu. A large percentage of them are people who have retired to Costa Rica.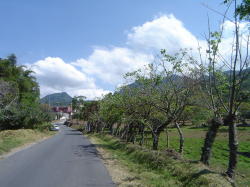 Aggressive development
Despite a slowdown in the population growth curves of the county of Escazu, the process of change in the characteristics of the population toward an urban population has not stopped.
The district of San Antonio, the last bastion of the rural population in Escazu, increased from 6.78% of the urban population in 1984 to 77.29% in 200. It ended almost completely the process of change in 2011 with 98.2%.
This suggests that in the next census we will no longer find a rural type population in San Antonio de Escazú, regardless of the streets and landscapes in San Antonio showing the charm of yesteryear.
A large foreign born population
Census data of 2011 continue to show results that must be taken into account, such as for example the average across the province of San José, is one foreign born for every 10 inhabitants, while in the city of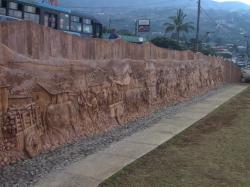 Escazu this amounts to one person born abroad for every 5 people. Taking only the District of San Rafael into account, there is a foreign born for every 3 citizens living in Escazu.
Comparatively speaking, these ratios are the highest in the province of San José. They were matched only by some districts of Central County (San Jose).  The city of Santa Ana, Escazu's western neighbor, follows closely. But certainly, densities in their districts fail to be of the same proportions as the District of San Rafael de Escazú, presumably by some differences in the availability of important city services that have been positioned in the county of Escazú.
Low fertility rates
In recent days, the INEC (National Institute of Statistics and Census) officials announced in the national media their concern that the aging population of Costa Rica threatens significantly the sustainability of our health system, pensions, etc.
Coincidentally demographic indicators of the 2011 Census show that more urbanized counties of San Jose, present LOW FERTILITY INDEXES in the province, Escazú including.
While counties like Puriscal, Aserrí, and Tarrazú show fertility rates of 1.4 to 1.6, some of the most urbanized counties of the province of San José, as Curridabat, Montes de Oca, Moravia and Escazú without leaving the capital city, barely manage to overcome the unit, which suggests that the vegetative growth could be quite sparse and partly explains the moderation in population growth curves. 
Demographics
Costa Rica: Demographic and social indicators by province, county, and district.
Province, county and district
Total Population
Population Density
Urban  Population Percentage

Relation

Men – Women

Escazú (total)
 56 509
 1 638.4
99.3
89.3
Escazú
 11 984
 2 736.1
100
85.7
San Antonio
 22 554
 1 327.5
98.2
95.1
San Rafael
 21 971
 1 674.6
100
85.7
Province, county and district
Demographic dependency ratio
Percentage of population 65 years and over
Percentage of population born abroad

General

fertility rate

Escazú (total)
41.9
8.8
19.9
1.2
Escazú
45.1
11
18
1.2
San Antonio
41.4
7.1
12.1
1.3
San Rafael
40.8
9.4
28.9
1.2
Province, county and district
Percentage of married people or living in civil union
Percentage of disabled persons
Percentage of insured population
Escazú (total)
49.5
10.4
14.2
Escazú
45.5
12
13.7
San Antonio
48.7
10.6
14
San Rafael
52.4
9.3
14.8
Information for this article was mostly compiled and written in Spanish by 
Ing. Gerald Villalobos Marín. M.Sc.
Proceso de Desarrollo Territorial
Municipalidad de Escazú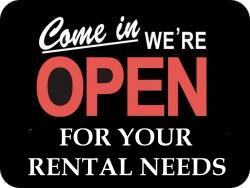 My name is Daniel Langlois, and if you are interested in living in Escazu, contact me now. I am the American European Real Estate Group's affiliate for homes and condos for rent in Escazu and Santa Ana.
Feel free to leave your comments on this blog. If you like this article, please feel free to share it on your social media.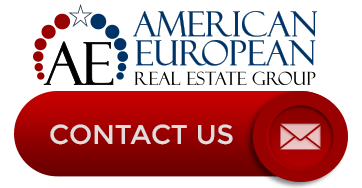 If you like this blog, connect with me on Google+ or subscribe to our newsletter by clicking the banner below.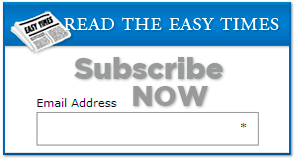 While we're at it, I DO want to remind our readers that we appreciate any referrals you can send us. Finally, please remember the American-European real estate Group's agents when you refer a real estate agent. Because we DO appreciate your business.