Estimated Reading Time: 4 Minutes
Most sellers don't worry about the property listing removal after closing. Of course, once you've closed the sale, you probably have better things to do. Nonetheless, most sellers forget about all those agents they listed the property with. They're not doing the new owner a favor by not contacting all the listing agents.
This blog is just a courtesy call to all sellers. Imagine Joan, the buyer, has moved in and received a phone call on the first day in his new house: "Ring ring, ring, ring… Hi, this is Pat at Costa Rica Realty Group. Can I show your house to a client tomorrow?" And for the next six months, Joan receives a phone call from every realtor in town realtors asking if they can show the house to a potential buyer. That's because the property is still listed online.
I'm sure you wouldn't like that to happen to your buyer, even if you weren't happy with the sales price. Therefore, the seller should always contact all the agents that listed the property and request a property listing removal. Here is the explanation for those who come from more organized markets and don't understand why this happens.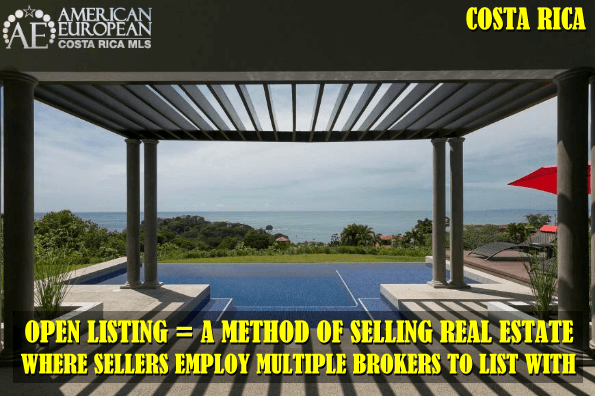 No Formal MLS
In the United States, for example, a seller signs an exclusive listing agreement with one realtor. Then, the hundreds of agents in town will contact the listing agent when they have a buyer. In fact, through the IDX on their website, the listing will be shared by every realtor who is a member of the MLS. Therefore, the listing agent will know when the property sells, and property listing withdrawal is simple.
In Costa Rica, we have only two real estate boards. They both have an MLS, and you're on the third one right now. But you'll see very few sellers will sign an exclusive listing agreement with any particular agent. AND we don't have an IDX on our websites to share the listings. Therefore there are only disadvantages to listing exclusively with one agent here.
Open listings
Therefore, on websites like Encuentra24 and even on an MLS, you will find the same listings advertised by many realtors. This is called an open listing. Because of the lack of expertise, you'll see various data and sales prices on the same property listed by different agents. That's because the sellers do not inform all agents that they have listed their property with price changes and other important details.
In Costa Rica, only in some of the smaller beach towns, real estate brokers work closely with each other and share their listings. But unfortunately, many agents don't even work with others, denying their sellers the option of selling their property faster and at a better price.
How to deal with this
It's pretty simple; you only have to get yourself organized:
1.       Make a list of agents (like on Excel) you contacted to list your property
2.       Create a list of those agents as a group on your email software for easy follow-up
3.       Register Not only their phone but also their website on this list
4.       Ask them to send you the link once they have it online
5.       Verify the data on the links with what you gave them
6.       Check all the links every time you have a change, like a price adjustment
7.       Send them an email and a follow-up call once you have an accepted offer from a buyer, so they can register the listing as "off the market."
8.       Once you have closed, send them an email thanking them for their services and ask for the elimination of the property listing
I want to thank you in the name of the new owner(s). Honestly, you're doing them a favor by taking care of the property listing removal after you sell your property.
Are you looking to list your property with an expert agent? Our network has affiliate agents from coast to coast. Contact us now.
Used in Image: Image by Drazen Zigic on Freepik