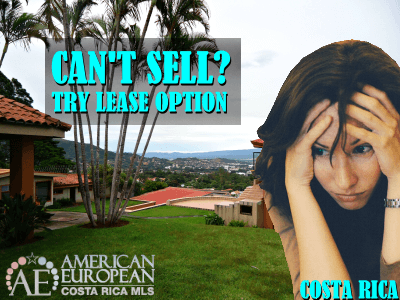 Can't sell your property in Costa Rica? Think about a lease option. Learn about the advantages and disadvantages of a lease option.
You've had your Costa Rica house for sale for a long time and you want to move back home. Your first thought when you wake up in the morning and the last thought before you fall asleep: when will I sell my house?
It dominates your life every day. The boom is over and more people move to Costa Rica with less money than they had before, so you depend more on selling the property to a local than to someone just retiring to Costa Rica. Well, do you really?
In today's blog, I will give you an option, actually a lease option. This might benefit you and everyone suffering with you. A lease option or Rent to Own gives you the opportunity of moving on with your life. Go see the grandchildren. Go get that medical treatment you need so much.
While you are waiting for your life to go by, waiting for your house to sell, others are long enjoying the benefits of having taken the right decision and move on with their life.
What is a lease option?
You rent your Costa Rica house to someone who eventually might be interested in buying it, or not. A lease option combines a basic rental lease with a purchase-sale agreement. There are people moving to Costa Rica who first want to find out if they really want to live in this beautiful country and where and are not willing to commit it to the purchase of Costa Rica real estate. The client can rent the house with a pre-arranged purchase price and either buy the property at the end of the term, renew the lease, or walk away.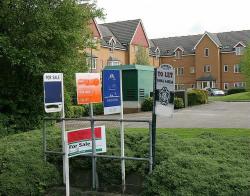 Lease agreement
If this client likes your property and can afford it, you can easily come to an agreement. But, there will be plenty of people who are willing to just rent your property. They might pay the first month and security deposit, and you move back home. Three months later your tenant doesn't like it there and moves out. What are you going to do now? There are good solutions to this problem. But you just need to be a little creative and willing to work on it.
The lease agreement term
The Costa Rican rental law obliges you to three years rent. This gives your tenant the right to stay for that term, no matter if you have signed a lease agreement for only 1 year. You might say that is a long time. But it will feel even longer than that if you can't get your house sold in those three years.
Your real estate agent
Discuss the details with your real estate agent. If you want your real estate agent to cooperate with you and find the right tenant-buyer, the agent will need to get paid first on the lease agreement, which is 1-month rent. Then, if/when the tenant buys the property, you pay the real estate agent the commission you agreed on. Some sellers will try to deduct the rental commission earned but that should be the bonus for getting your life back to you and for waiting 3 years, just like you, to get paid.
What are your options?
You have several options on how to do this Lease Option, always keeping in mind that this is used to get your life back to you:

1. When you sign the agreement, you receive 10% non-refundable of the agreed sales price (which is the percentage that is usual for earnest money) and the tenant will pay a monthly rent until closing. The rent can partially or fully be deducted from the sales price.
2. When you sign the agreement, you receive 10% non-refundable of the agreed sales price, to be used as rent for the first 12 months. If the client purchases the property, 50% of the rent paid can be deducted from the purchase price. It's cheaper than a mortgage for the buyer and it pays a much higher ROI on your money than the bank will pay you on your capital.
3. The buyer-tenant pays 1-year rent in full, of which 25% or any other agreed percentage will be deducted from the purchase price. In this case, you do need to charge the 1-month security deposit
4. Have your 401K or IRA purchase your Costa Rica property, so your rental income and eventual sales price will go into your IRA or 401K. By IRA regulations, you are not allowed to live in the house yourself but you are allowed to rent it out. This option will only work if you have additional income and you don't depend on the sale of your house for that.
What are your benefits?
•    Now you can go on with your life
•    It is possible to get a much better sales price for your property in a better market
•    You will get a higher rent than most comparable properties
•    Minor maintenance issues will be taken care of by the tenant
•    You remain on the deed

Ownership and Title delivery
You will not sell your property until you get paid, you will have to take it off the market. This isn't a mortgage, isn't escrow or anything like that. The property will be in your name until you close. Any agreement that you sign is a simple lease agreement with an option to purchase which will give the tenant no additional rights on your property until you close on the property and get paid.
When you choose an American-European real Estate Groups' real estate agent as your listing agent, you get a real professional who will listen to your needs and wants and help you to make good decisions every step of the selling process.
The difference is that real estate agents in American European Real Estate Group are not only assisting you with the sale of your property. We can be your trusted advisers. We will assist you in how to sell your property in the best way possible. Also, we will give you new ideas about the sales process.
If you want to sell your property, contact our office.
---
Feel free to leave your comments on this blog. If you like this article, please feel free to share it on your social media.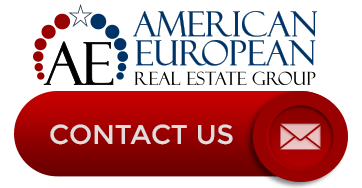 If you like this blog, connect with me on Google+ or subscribe to our newsletter by clicking the banner below.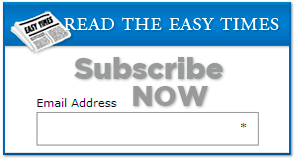 While we're at it, I DO want to remind our readers that we appreciate any referrals you can send us. Finally, please remember the American-European real estate Group's agents when you refer a real estate agent. Because we DO appreciate your business.