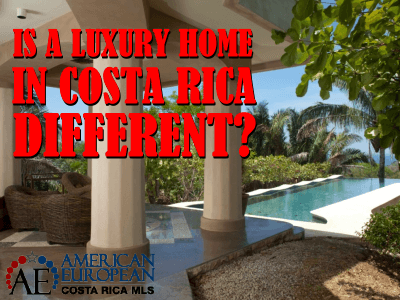 When you ask for an elegant luxury home in Costa Rica on Google or another search engine, what do you expect to find? What defines a luxury home? Is it defined by the price?
Or is it defined by the size, or maybe the finishes? What you will see advertised as an elegant luxury home on most Costa Rica real estate websites, is probably not what you expect to see, the reason for this blog.
I guess the definition of an elegant luxury home in Costa Rica, first of all, depends on the experience the real estate professional has. Second on the insistence, the seller might have on how their property will be advertised. But most of all the fact that in Costa Rica, on what is available in our market. Any home that is above average is called a luxury home by the realtor.
In the Costa Rica real estate market, an elegant luxury property for sale is very different than it is in The Hamptons, Boca Raton, Naples, Beverly Hills or Malibu. You cannot compare any upscale location in Costa Rica with these luxury locations where homes run into the tens of millions of dollars. Costa Rica is a retirement and vacation home destination for many different reasons. But mainly because Costa Rica is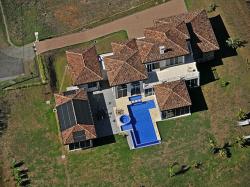 different. Therefore, an elegant luxury home in Costa Rica is defined very differently.
The high price?
A high price alone doesn't define an elegant luxury home. I would define a luxury home in Costa Rica as having a very original architecture. One that has high-end finishes including top of the line appliances as well as luxurious amenities. But all of that is very relative too, most of us cannot even describe it well but will recognize it when we see it.
Cookie cutter?
In our luxury real estate market, a tropical location, lushly landscaped gardens, a beautifully designed infinity pool, a panoramic ocean view and an architecture that is not cookie cutter are signs of being more than a luxurious home and most buyers would call a property with all those specifications a luxury property.
In Costa Rica, an elegant luxury home can be located in a beach area like the South Pacific, the North Pacific or the Central Pacific. And in case the luxury home has to be in the city, you will probably looking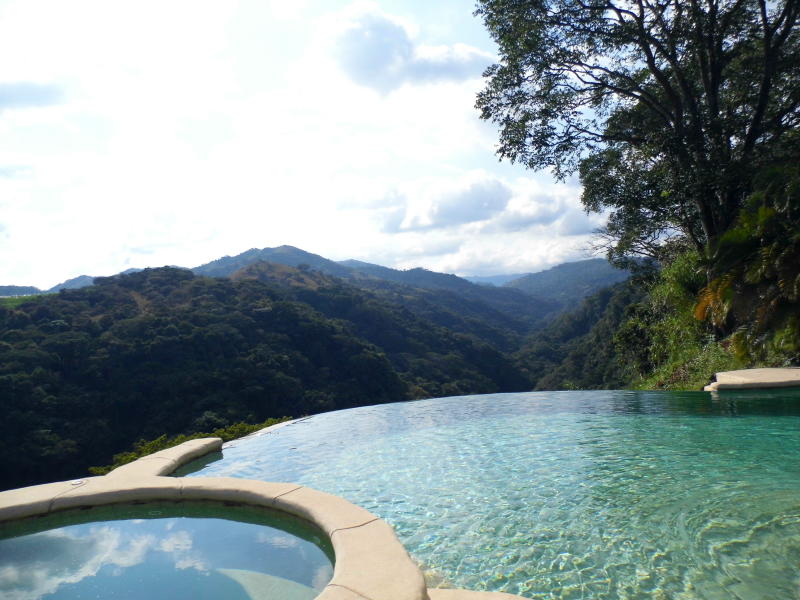 for luxury communities like Villa Real, Parque Valle del Sol, La Hacienda, Cerro Real, Cerro Alto, Hacienda del Sol or Bosques de Lindora. Of course, you will always find a nice choice of golf and luxury homes for sale on any of the golf courses in the country.
The features
There is an amazing amount of features that can make a home an elegant luxury home, to name just a few:
Gourmet kitchen with elegant custom cabinetry
Monogram or another top of the line appliances
Double-wall ovens with self-cleaning, convection, roast and bake features
A beverage center
A wine chiller
Or a pizza oven.
Architectural Details
Architectural detailing throughout the elegant luxury home is incredibly important:
an elegant entry door,
concrete tile roof,
custom crafted wood stair rail,
coffered and vaulted ceilings,
designer-placed media niche,
dramatic down lighting
designer lighting packages
or high-performance double-pane windows.
Bathrooms
Beautiful bathrooms are amazingly important in every house, more so in an elegant luxury home. These bathrooms might have
handset tile vanities,
handset tile showers with glass enclosure,
designer faucets,
oversized jetted tubs
and custom-made cabinetry.
In an extremely luxury bathroom, you might be able to do yoga poses in your shower or you might have a relaxing spa environment in your bathroom.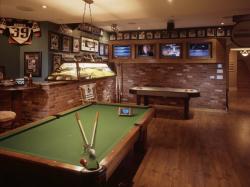 The Indoors
On top of all the above, the luxury home should probably have some extravagant features, right! What about
an indoor pool,
a movie theater,
a boxing ring,
a secret room,
a balcony pool,
an indoor basketball court,
a wine cellar,
an indoor bowling alley
or a music studio.
The Outdoors
Not just a simple landscaped garden should be enough to define the home as a luxury home if it doesn't offer
a sunken tennis court,
a circular driveway,
ivy-draped arbors,
terraced ponds and
formal gardens with perfectly manicured boxwood hedges.
Too much?
If you plan to move to Costa Rica and you expect your future luxury home to have all those features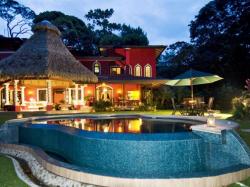 and amenities, I am sorry; you might be looking for a long time. You can expect your luxury home in Costa Rica to have:
a different architectural design,
upscale finishes like granite and marble countertops,
custom made kitchen and bathroom cabinetry,
a well-designed swimming pool with covered terrace and panoramic views
and details that are just different than a property that doesn't belong in the luxury real estate niche.
Tax
Owners of a luxury home in Costa Rica, depending on the value, have to pay the Costa Rica luxury home tax.
Your best source
The American European real estate website with luxury properties for sale from coast to coast is your best source for Costa Rica luxury real estate. Each agent is a leader in their own area and can show you the best luxury homes available. Please feel free to express your requirements by contacting us now.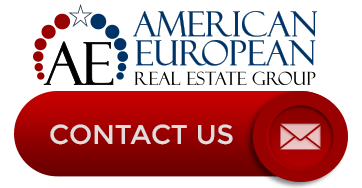 Feel free to leave your comments on this blog.
---
If you like this blog, connect with me on Google+ or subscribe to our newsletter by clicking the banner below.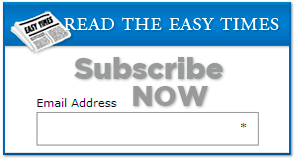 I DO want to remind our readers that we appreciate any referrals you can send us. Please also remember the American European real estate Group's agents when your refer a real estate agent. We appreciate your business.