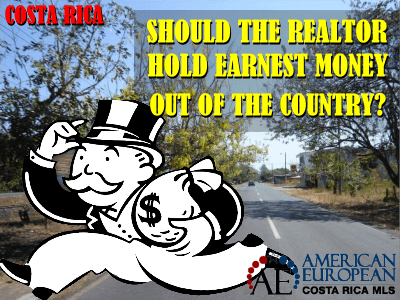 The reason that I titled this blog with the question if realtors should hold earnest money out of the country? That is because the answer is a double NO.  The first NO is that earnest money on a Costa Rica real estate transaction should never go to the realtor.
The second NO is that if you really think you should deposit earnest money into the realtor's account. You should make sure it stays in Costa Rica. AND earnest money should go to an escrow account and not to the realtor.
The other day, I saw an email from a client that included a copy of an email from a Costa Rica real estate agent in the Central Valley. In this email, the agent explained that to list a property, the real estate commission is 5%. So far so good. The email goes on to explain that if this agent's buyer signs an option to purchase a contract, the agent requests the buyer to make a 5% "good faith" deposit along with it.
This good faith deposit, which we call earnest money, has to be wired into his Sun Trust Bank escrow account in Philadelphia …..
WHOA….wait a minute, hold on now because this is scary….. He then goes on stating that when the sale closes, he simply retains the 5% as his commission.
It is horrific that Costa Rica real estate agents get away with things like that.  Because we have an unregulated real estate industry things like that happen. Let me give you an example, if you would purchase a home in Boca Raton FL., would be okay with sending your earnest money to the realtors' bank account in Manila, Philippines for example? Personally, I wouldn't!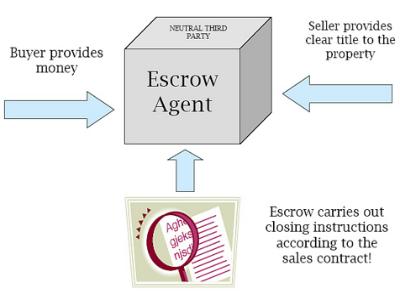 Escrow
In the US and Canada, where real estate is regulated, the earnest money is sometimes held by the real estate agent or by the title company. In Costa Rica, the earnest money should NEVER be held by a real estate agent. It is either held by the buyer's attorney in escrow or by the title company as they are a neutral third party.
Two reasons real estate agents get away with scams like that:
The agent tells the buyer that escrow as known in the U.S. doesn't exist in Costa Rica
It is not a good idea to give the seller the earnest money.
Both reasons to hold earnest money out of the country are FALSE. The real estate agent should NEVER act as an escrow agent.
Superintendent
The escrow account of a Costa Rican attorney as well as a Costa Rican title company are audited seriously by SUGEF. This is the Superintendent General of Financial Institutions of Costa Rica. They control money laundering and other wrongful use of escrow accounts. These accounts are in a bank in Costa Rica, so there is no reason to hold earnest money out of the country.
My opinion
If you wire the earnest money deposit into your real estate agents account in Costa Rica, the US or the Philippines, you're in for trouble. Be smarter than that. Hire a professional real estate agent, so your money will be in a safe place until closing.
Contact us NOW if you are looking for a real estate company who doesn't hold earnest money out of the country. We recommend using a 3rd party's escrow.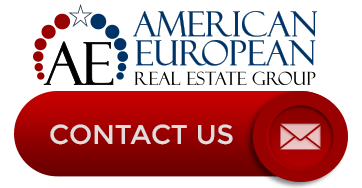 Feel free to leave your comments on this blog.
---
If you like this blog, connect with me on Google+ or subscribe to our newsletter by clicking the banner below.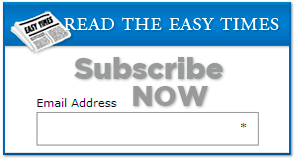 I DO want to remind our readers that we appreciate any referrals you can send us. Please also remember the American European real estate Group's agents when your refer a real estate agent. We appreciate your business.