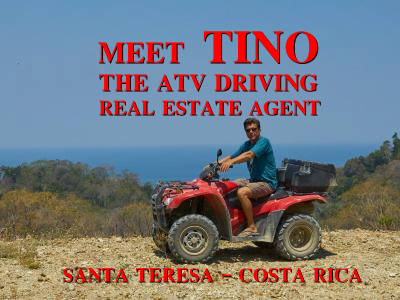 Our Santa Teresa real estate agent, Tino Gnauck, to show Santa Teresa land for sale, goes extreme on his own vehicle. Tino drives an ATV.
In some countries, the realtors who specialize in luxury property drive a Lamborghini, a Viper or a Maserati. Real estate agents in Costa Rica generally drive a 4 x 4 or some beat up pick-up truck. One that takes them everywhere.
Tino doesn't drive his ATV because it's cool or to show off. He drives his ATV because it's necessary. Bad roads with washed away asphalt, large gutters and many rocks are what you get in the Nicoya Peninsula.
Tino's neighbors do drive Lamborghinis and other luxury cars when they're in their California homes, but when they are in their beach home in Santa Teresa or Mal Pais, they also drive an ATV, just like Tino.
Mel Gibson and the rich and famous
I'm now talking about the rich and famous Mel Gibson, Gisele Bündchen and Tom Brady who have their private get-away tucked away in the mountains of Mal Pais and Santa Teresa. When they can get away from the noise, the work and the stress, they enjoy their mansion with ocean views surrounded by nature, Tino can show you how to. On his ATV.
If you prefer driving a Lamborgini or a Maserati, you might have a better chance finding a luxury home or land to build your custom mansion in the Central Valley locations where the cities are connected by more decent freeways.
The good life
If you like abandoned white sand beaches, rugged countryside, fresh daily fish and seafood and sushi, we can probably assist you finding Santa Teresa land for sale to build your own luxury property or mansion. Your timing might even be perfect to show you some beachfront land for sale.
From Mal Pais to Manzanillo
We cover the northern tip of the Nicoya Peninsula that covers the area from Mal Pais all the way down to Playa Manzanillo, a total of about 10 miles of the most beautiful coastline in the country. That gives you 10 miles of beauty to choose from and find stunning land with majestic panoramic ocean views.
Unless you want to purchase Mel Gibson's 500 acre jungle property in Playa Barrigona at just under $30M. Our Samara agent can help you. Tino knows his way around Santa Teresa well. He can assist in finding builders, suppliers and anything you need to build your own luxury property or custom mansion with helipad, a chef kitchen and all the fun toys that money can buy.
An ATV
Are you the eccentric type of person, and you want anything better than a simple ATV? You can custom order an Arctic Cat Wildcat, a Honda Big Red utility vehicle or a Can-Am Commander or any fancy ATV or UTV for under $20K plus import duty.
Ask Tino to take the lead on a property tour of Santa Teresa land for sale. You will need to decide whether you would want to drive your own ATV. Or you allow your car to take a bit of a beating. You'll be surprised how much fun it is to drive an ATV following him from property to property.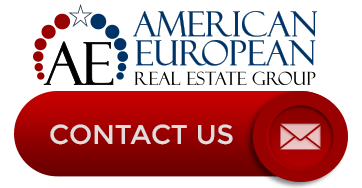 Contact Tino now to search for Santa Teresa land for sale in the Nicoya Peninsula.
---
Feel free to leave your comments on this blog.
If you like this blog, connect with me on Google+ or subscribe to our newsletter by clicking the banner below.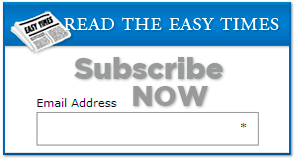 I DO want to remind our readers that we appreciate any referrals you can send us. When you meet people on the plane or anywhere else, please remember the American European real estate Group's agents.  We appreciate your busines