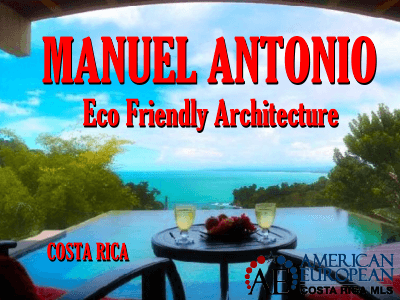 It is evident in the Manuel Antonio Eco Friendly Architecture that Costa Rica hedged their bets on the country's natural resources long before it became popular. Have a good look at Manuel Antonio real estate and you'll be sold on it.
Dating back to the 1930s, lawmakers in Costa Rica recognized that the country's true value lay in its surrounding natural beauty. Lawmakers made the effort to put protection measures in place.
Costa Rican laws, therefore, protect approximately 25% of the land in Costa Rica as a result of these measures. Also, another portion of underwater land also under protection.
Those efforts have certainly paid off well. After experiencing an economic crash, Costa Rica reaped the benefits of a tourism boom during the 1980s. With some 61 volcanoes scattered throughout the country, Costa Rica offers a wealth of beautiful sights and attractions. Ranging from the northern Caribbean coast down to the southern Pacific shoreline, there are no less than 70 protected wilderness areas.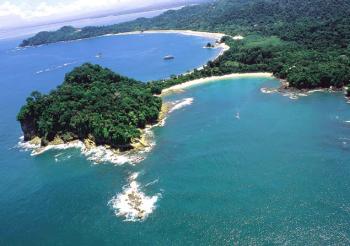 Tourism hotspot
While the tourists have certainly flocked to Manuel Antonio and other area, park rangers are always on-site to ensure that the lush flora and fauna are not damaged by the throngs of tourists who come to view them.
As a result, buyers of Manuel Antonio real estate are typically those who enjoy helping protect the ecological theme of their properties. Many architects who have designed luxury homes and condos in Manuel Antonio incorporate energy- and resource-efficient strategies into their designs. Most Manuel Antonio luxury homes for sale offer sweeping ocean views and are built on hillsides where trees are abundant and construction is mostly based on low-energy design principles, effective use of light, and natural construction materials that are available locally.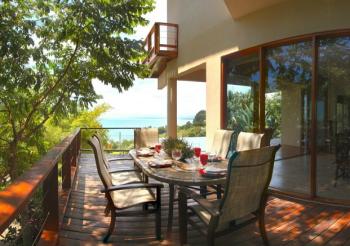 Casa Sonidos de Agua
A great example of the use of the Eco friendly architecture is the design of a Manuel Antonio Luxury home for sale: Casa Sonidos del Agua. This means "house of the sounds of water". Andres Morales, one of the premier architects in Costa Rica, designed this beautiful luxury home. The main objective of his architecture, as he expresses on his website, is to
incorporate the art with nature in every one of his works. To develope spaces where the client can live and enjoy in an environment with a sophisticated style, in harmony with its ambiance.
Manuel Antonio National Park
Without a doubt, one of the country's most beautiful sites is the Manuel Antonio National Park. The park has an unusual history. Ownership once belonged to the United Fruit Company. Manuel Antonio Park is only about a five-minute drive from the town of Quepos.
Prospective visitors can easily access it via a number of rental car companies operating in the area. The Quepos airport provides convenient access to the park and the Manuel Antonio residential areas. Originally inhabited by the Quepos Indians, the Manuel Antonio area later became renowned for its banana exportation industry. Many ex-pats now call the laidback town of Quepos home.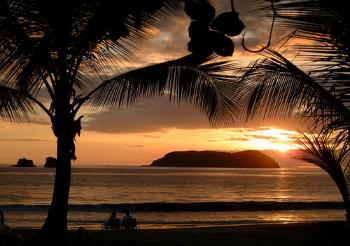 Preservation
Manuel Antonio has made significant efforts to ensure the preservation of the natural environment. The park administration has balanced the preservation effort with the needs of the crowds of tourists who flock here. You can help preserve this natural environment if you purchase property in Manuel Antonio. Just use the guidelines of green construction and/or using sustainable building supplies for the construction of your future home.
The decision to invest heavily in ecotourism proved to be a wise choice for Costa Rica. Despite the fact that Costa Rica is about the same size as the state of West Virginia, the tourism here amounts to billions of dollars in annual revenues.
If you are a nature lover and you like Eco friendly architecture and sustainable living you will feel at home in Manuel Antonio immediately.
If you are attracted to this particular lifestyle, contact me now, we offer a great inventory of Manuel Antonio real estate for sale at all times.
Feel free to leave your comments on this blog. If you like this article, please feel free to share it on your social media.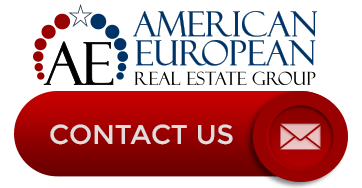 ---
If you like this blog, connect with me on Google+ or subscribe to our newsletter by clicking the banner below.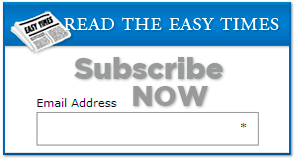 While we're at it, I DO want to remind our readers that we appreciate any referrals you can send us. Finally, please remember the American-European real estate Group's agents when you refer a real estate agent. Because we DO appreciate your business.