Estimated Reading Time: 6 Minutes
Homeowners in Costa Rica almost never think of upgrading their kitchen. They usually stay their whole life in the same home. Maybe they give it a new coat of paint now and then. If that!
In many other countries, homeowners seem to outgrow their homes a lot quicker. Some do a little upgrading now and then. A kitchen should be updated at least every 15 years. When was the last time you did yours?
I really don't know if it's a matter of culture or the facilities on financing. It probably has to do with cheap credit not being available. Or they have more important projects.
In most first-world countries, youngsters start buying a home when they're in their 20's. They usually buy a starter home, if they don't have a rich daddy or an incredibly well-paying job. Once the kids are on the way, the family can move on to a larger house.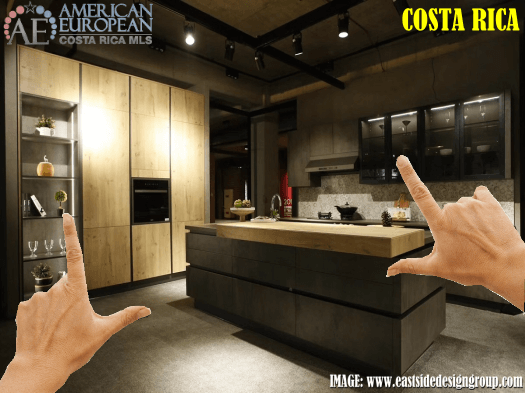 In Costa Rica, Millennials and Generation Z can't afford to buy a house here, unless they finance 100%. Once they do buy, most families stay in the same house their whole life. Even when all the kids have long moved out, most stay in a house that's way too big for them. Why? There is a number of reasons for that.
5 Reasons for not moving
1. Costa Rica is a relatively small country. When there is a job switch, even to another city, homeowners don't move.
2. Selling a home in Costa Rica can take 7 years.
3. When there is a divorce, the wife and the kids usually stay in the same house.
4. After the kids are married and moved out. When they divorce, they move back home with mom and dad.
5. If the property is large enough, the kids will build their house behind the parents' house. This depends on the social level of the family and happens mostly in more rural areas.
Updating
Upgrading or updating a home seems not to be an important enough project for a homeowner in Costa Rica. That is why we have so many 40-year old houses sitting on the market for years.
Although younger families often prefer to live in a condominium or gated community, there is always a market for homes that are updated. Homebuyers do not shop for homes that need upgrading unless it's a bargain.
Upgrading
The right upgrades in a home are usually well worth the investment. They can add a lot of value to the home. For one thing, a home that's up-to-date is much easier to sell than an old home.
Don't do these upgrades when you're ready to sell your house. Do them while you and your family are able to enjoy the upgrades yourselves.
Kitchens and master bathrooms are the most important high traffic areas in a home. They suffer most and they need updating every so often. These are the areas that you'll enjoy best when they're updated. Also, potential buyers concentrate on those first. With an awesome kitchen and master bedroom, you've got your house half sold to any buyer. Let's have a good look at the details of upgrading your kitchen includes. We'll leave the bathrooms for another blog.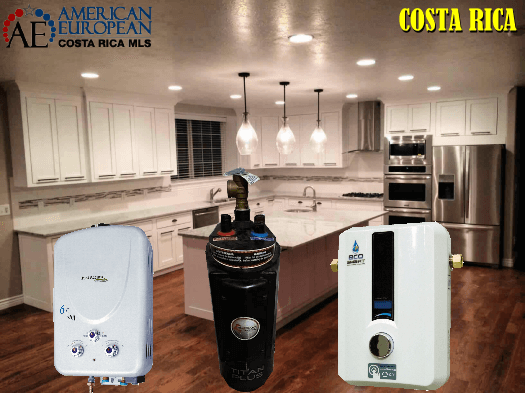 Hot Water
If you don't have hot water in your kitchen, that's the first thing you should take care of. Without having to tear down half the house, it's probably the easiest to install an on-demand water heater on your exterior wall that connects directly to the kitchen faucet.
If you like to cook on gas, you'd want to also look into the option of installing an on-demand water heater that functions on gas.
Kitchen Cabinetry
The kitchen is one of the most sensible upgrades you should think about. Often, it is possible to just re-face the kitchen cabinetry. Most kitchen factories can replace the cabinet doors and drawer fronts for you, in a more modern style. Leave the body of the cabinets alone (if they're in good shape), unless you want to use hardwood cabinets. Those are used a lot in Costa Rica. Of course, it's important to also replace the hardware – handles, hinges, and drawer pull.
Kitchen Sink
Now that you've picked the cabinet doors, hardware and countertop, go shopping for a new kitchen sink and faucets. And while you're at it, I'm pretty sure you don't have a full-time housekeeper anymore. So add a dishwasher to it, if you have enough space next to the sink.
Kitchen Countertops
Laminate and Corian countertops have been out of fashion for a long time in Costa Rica. Tile is still used but anyone will recognize a 30-year old tile. Picking the right countertop will enhance your whole kitchen. AND cooking at home will be pleasurable again. Have a look at quartz, granite, and even stainless steel, depending on the style of your kitchen. Don't forget to look at backsplashes!
Kitchen Floor
Upgrading only your kitchen cabinetry doesn't make much sense. Have a good look at the floor. I've seen acid wash floors in Costa Rican kitchens, but they crack with the first earthquake. In many countries hardwood is also used for kitchen floors but I haven't seen them used in Costa Rica. Using tiles is probably your best bet for a kitchen in Costa Rica.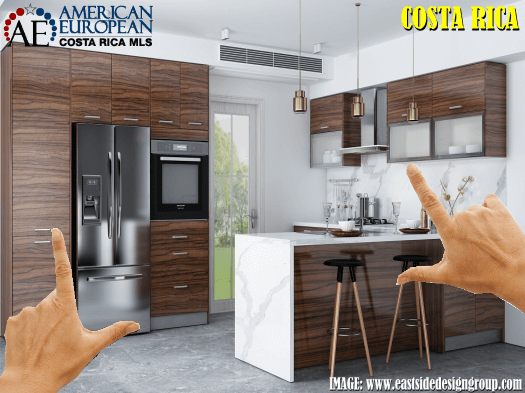 Appliances
Kitchen appliances are expensive in Costa Rica. Now that you've upgraded your kitchen, you might have gone over budget by now. You want to save some money to paint.
BUT, you should shop around for the appliances you'd want to buy in the future and look at the sizes. You don't want to find out the new fridge or stove doesn't fit after you're done with upgrading your kitchen.
Paint
And last but not least, painting. Once you've updated the whole kitchen, give the whole kitchen a fresh coat of paint.
Once you're done, I'm sure you'll enjoy your kitchen. Planning to sell your house? Then contact us now.