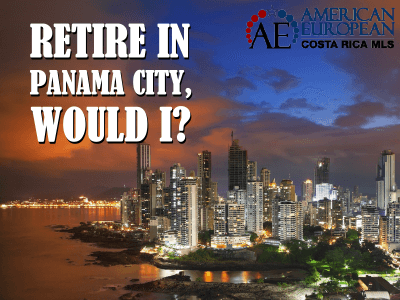 Would I retire in Panama City, Panama? Or should I stay in Costa Rica when I retire? After a visit to Panama City and getting a good feel of what Panama City has to offer, I decided to tell you more about it.  If you are looking for a nice lifestyle when you retire or for a lower cost of living, should you move to Panama City or to a location in Costa Rica?
While I am writing this article, I am surrounded by skyscrapers. I have a binocular view of the ocean if I look hard enough between those skyscrapers.
I'm on vacation and rented a 2-bedroom apartment for a week, so we can make our own breakfast and eat out the rest of the time. It's hotter than hell, much hotter than I feel comfortable in. I can't stand living in air-conditioning.
After living in Costa Rica for 31 years, I never felt the need to visit Panama City because everyone told me it is hot. I love the tropics, I adore the sun, but I hate hot. I mean ´sweaty hot´ like in Florida, where you run from one air-conditioned area into another air-conditioned area. Some love it I guess, I just hate it.
That's why I live in Costa Rica, where I have all those marvelous micro-climates and I can choose the temperature I want to live with.
A cruise from Panama
My wife decided she wanted to take her mom on her cruise but the dear US of A won't give her a visa, so we had to fly into Panama City (more expensive than flying into Miami), take a $75 cab to Colon and get on the cruise ship. We had a great time. But this is not about our cruise, it's about Panama. If it ever might occur to you to retire in Colon, Panama, check out the Costa Rican side of the Caribbean. Check out Manzanillo, Cahuita, Puerto Viejo and Cocles to name a few, and then you'll find out where it is nicer to live, even though I haven't been more than 3 hours in Colon, most of those standing in line to get either on or off the ship. We stayed one night at a hotel at Lake Gatun (see picture) which was very nice.
Getting back after the cruise, into our rented apartment, located in a 15-story building in Cangrejo, Panama City, I decided better not to rent a car. If the Ticos drive like crazy, Panama City is a war. I have driven in Paris, London, Amsterdam, Miami, Los Angeles and even San Jose, Costa Rica is nothing compared to Panama City. I guess you get used to it. When the Concierge told me taxis were cheap in Panama, I decided to take my chance and indeed, a 15-minute taxi ride costs only $2 -$3.
My opinion of Panama City
My opinion is of course totally biased because I love Costa Rica and I sell Costa Rica real estate. I have a choice to live in San Jose, or in Atenas or in Los Santos but I live in Escazu. Some of my own agents wouldn't live for anything in the world in Escazu, so my opinion on Panama City is very personal. This story just shows you how important it is to find out for yourself if you really want to make the step of immigrating to another country, another culture, another language. Panama City offers all the bad things all larger cities have to offer. Bad traffic, everyone honks, noisy traffic in general, the Catholic Padres still think nobody wears a watch so they toll their bells every hour on the hour (which is what drives me totally nuts).
The Avenida Balboa is a beautiful highway that takes you around the Panama and looks like you are in a 1st world country as long as you keep your nose shut because the sewer smells are horrible. They seem to dump the entire sewer from Panama City, but for the most modern high rises who have their own water treatment plant. I was told they are fixing the problem but that it will take another 7 years to do so. By then, you'll be able to walk on that water. Of course, Panama City also has suburbs, where it is quieter and much cleaner, with less traffic and less noise.
On the other hand, Panama City offers lots of things that I am sure many would enjoy and might be a reason for you to want to live in Panama City instead of Costa Rica:
Things to do
On the other hand, Panama City offers lots of things to do. They might be a reason for you to want to retire in Panama City instead of Costa Rica:
An incredible amount of shopping malls, for the rich and for the poor
Supermarkets/grocery stores with twice as much choice as we have in Costa Rica. Shopping in Panama City is cheaper than it is in Costa Rica.
A Chinatown.
A wide range of restaurants everywhere.
Pretty well-maintained roads, and good toll freeways.
Casco Viejo (the old town that is being restored little by little), while downtown San Jose preserves very little of the Spanish conquerors.
The beaches are only 20 minutes away.
The Amador Causeway, three islands connected with fill extracted from the Canal, now beautifully done with lots of restaurants, bars, marina and other entertainment.
The locals are much friendlier than I thought they would be, though most don't speak English surprisingly.
And last but not least, the cost of your day to day living and entertainment is probably 1/3rd cheaper in Panama than it is in Costa Rica.
Hundreds of apartments for sale in Panama City
On local TV, they have this advertisement channel where they offer hundreds of apartments and condos. The offer is incredible and anyone who would like to retire in Panama City would find a deal. Prices are generally 20 – 30% cheaper than they are in Costa 
Rica. But when I look at the towers around our apartment, maybe 30 of them in our immediate neighborhood, at least 12 of them are in different stages of construction. Many of the others are older and kind of falling apart, like the one we are staying in. We are on the 14th floor and there are huge humidity stains in most every floor. The paint is falling off and only one of two elevator works (though that one makes horrible sounds and will stop working soon, hopefully after we leave).
There are many apartment buildings like that, with very bad maintenance. So I wonder how long it will take before those new ones will look just like it. Many of the finished buildings, at night, have hardly any lights on. So they're either owned by foreigners who have them as a 2nd home or they are unsold. Whatever way you look at it, either now or pretty soon, there is a huge inventory available. That is something we don't have in Costa Rica.
Developers here are either VERY rich or something else is going on here. Maybe prices will fall as they will not sell all these hundreds (or thousands) of units that will come available soon, I don't really know. Just my two cents on this matter.
A great economy?
The financial center of Panama City is bustling with people. As far as I could see, most every office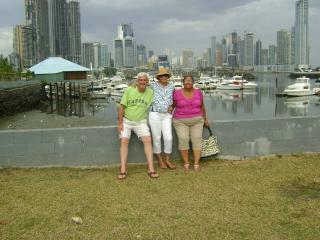 building is occupied. The local economy seems to be doing well. And now after they have taken back the administration of the Panama Canal and if the present and future politicians don't fill their own pockets too much, there is a good and strong economic future for this country. This might be a great reason for many to semi-retire in Panama City.
A week's stay in any country is not enough to see if you really want to retire in Panama City or not. I do not have time to investigate more. I didn't have the time to interview expats who have made the step to retire in Panama City. And there are of course still those who live in the cooler areas like Boquete.
Reasons for not living in Panama City
I can tell you right away that I would NOT retire in Panama City for several reasons:
The oppressive humidity, along with the heat, that obliges you to live in an air-conditioned area. While in Costa Rica you do not need more than a ceiling fan throughout the year in most places.
The opportunity to live with the temperature you are comfortable with.
The easy going, laid back life of small town living. I fled the big city life for an easier going lifestyle in Costa Rica.
The choice you have of different cities/towns like Escazu, Santa Ana, Grecia, Atenas, Los Santo, Jaco Beach, Dominical or Flamingo Beach, each with their own lifestyle, temperatures, rainfall and their own particularities.
Ticos have a friendlier nature than the Panamanians I have met here. It probably has to do with the ´pura vida´ lifestyle of the Ticos. They have not suffered through wars, takeovers and other non-democratic issues like Panama did.
The "live and let live" lifestyle of the Ticos. Don't bother anybody and you won't get bothered, that is one of the best things Costa Rica has to offer.
Would I move to retire in Panama City?
My personal opinion: No, thank you, its not for me. I would never retire in Panama City. But it might be for some of you. You should check out both countries and any other country you might consider. It's not smart to retire to Panama City without doing your homework.
But it might be for some of you. You should check it out, as well as you should check out Costa Rica and any other country you might consider.
Over the last 15 years, my agents and I have helped hundreds of people from all over the world to relocate to Costa Rica, see here some of our client's testimonials. Therefore I feel comfortable to tell you that most people who are looking to retire in a tropical country in a comfortable climate, with good services, an easy lifestyle amongst easy-going locals, just like 90% of those we already helped relocate, will prefer Costa Rica over Panama.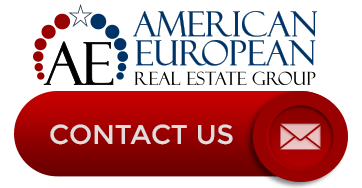 Feel free to leave your comments on this blog.
---
If you like this blog, connect with me on Google+ or subscribe to our newsletter by clicking the banner below.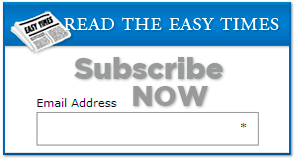 While we're at it, I DO want to remind our readers that we appreciate any referrals you can send us. Finally, please remember the American-European real estate Group's agents when you refer a real estate agent. Because we DO appreciate your business.