Estimated Reading Time: 7 Minutes
Who would have thought I would be telling you that you can have a safe life in Costa Rica a couple of years ago.
For years, foreigners were moving to Costa Rica for many reasons. Living in Costa Rica was advertised worldwide as being close to nature. And for not having an army and for a high score on the highest life satisfaction. Also, for being very affordable during retirement. Well, the Covid-19 pandemic has changed everything.
When I wrote this blog on May 4th, we had only 6 deaths, in the whole country! Now, on December 26th, we have 163,000 Cases – 129,000 Recovered and 2,086 Deaths. See the images below that show you the comparison between Costa Rica, Panama, and Ecuador. These are the top 3 retirement destinations in Latin America.
The health authorities have done an incredible job, as well as the people because they followed instructions. Ticos and Ticas have never behaved so disciplined. I wish they'd behave like that in traffic! Fortunately, most follow the government's guidelines of keeping social distance, washing hands continuously, and use facemasks where necessary.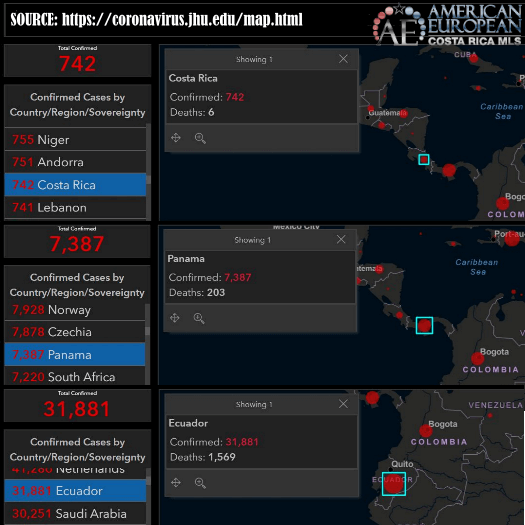 On May 4th, 2020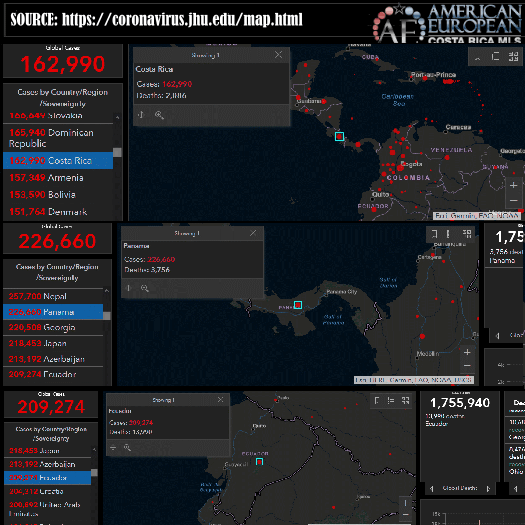 I know it might sound a little crazy. But I think we can say Costa Rica is a pretty safe place to live, even during this Covid-19 pandemic. Imagine how safe life will be in Costa Rica when the pandemic is all over!
Cheaper Countries
Costa Rica used to be cheap. In the past few years, many have moved to Panama and Ecuador, because they were cheaper. Is that still a good idea?
Sadly enough, Panama has reported 7,387 sick and 203 deaths ( on 12/26 – 26,660 sick and 3,756 dead). Ecuador has reported 31,881 sick, and 1,569 deaths (on 12/26 – 209,274 sick and 13,990 deaths). Nicaragua only reports 15 sick and 5 deaths (on 12/26 – 5,991 sick and 164 deaths), but nobody seems to take those numbers seriously. Just today, 14 cases were reported in the Immigration Detention Center in Costa Rica. Guess where those came from…
The cost of living in these countries is a lot lower than in Costa Rica. But I'm sure you agree with me that it's better to be safe than sorry.
Cheaper than the Hamptons
In Costa Rica, you won't find people bumping into each other on the street, or cramming into concert venues and sports stadiums.  It's no wonder all the rich people in the U.S. have left for the Hamptons—in Costa Rica we have that same space for you. Without having to pay so much.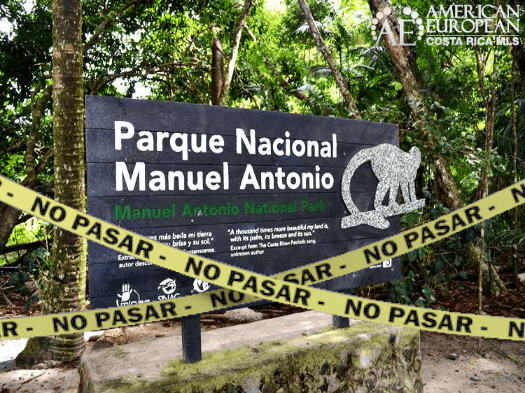 What to Expect
Only in downtown San Jose you will find crowded streets. So don't go there. Fortunately, there are many other places to have a safe life in Costa Rica, without having the obligation of much social interaction where you can stay healthy.
Once the airports open up again, you should fly in and check out for yourself. Where to go? Allow me to give you some ideas:
The Central Valley
There are several great locations n the Central Valley where you can have a safe life. Grecia with a population of only about 16,000 and Atenas with a little over 5,000 are probably great places to check out. Cariari, a master-planned community close to SJO airport is another great choice.
The Beaches
You can ask Google "which are the 24 best beach towns to live in Costa Rica", but everyone has their own opinions on that anyway. Each town has its advantages and disadvantages, depending on your own needs.
During the COVID-19 pandemic, the government has closed all the beaches in Costa Rica. Bars are all closed and Restaurants are at a 50% occupancy rate. You can have a very safe life when moving to any of the beach towns of Costa Rica if you stick with the rules.
Off the grid
Costa Rica offers many rural areas where you can easily be away from your neighbors. You can go off the grid almost anywhere outside the Central Valley. Do you need any ideas for a new hideaway? We can assist.
Safe Life
The rules for having a safe life in Costa Rica isn't much different as it is elsewhere. We're getting used to knocking elbows or just saying Pura Vida at a distance when saying hi.
Unless you plan to go downtown, in any city of Costa Rica, you'll be able to keep the necessary social distance. Just stay away from sidewalks and malls, so you're safe.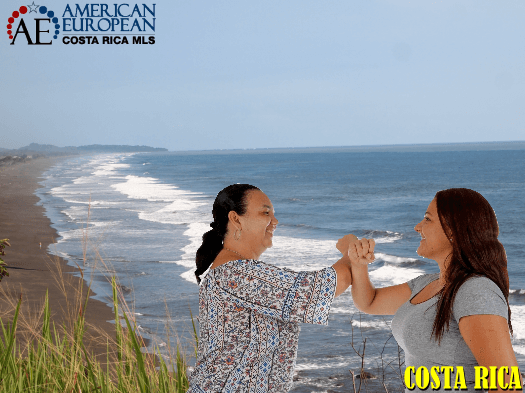 Public transportation
Planning to take the bus or the train to travel? Then you need to take extra care of yourself. Social distancing will not be easy on public transportation. Especially just before boarding.
The bus companies keep hygienic measurements and clean all units before each new trip. Passengers are only allowed when there is sitting space available
Parks
Just like the beaches, all public parks, national parks, and forest reserves are closed, for now. Therefore, we all stay at home.
Airports
International and national airports are still closed as of today. We have many travelers waiting for them to open again. We've had to include a Corona Virus clause in all the options to purchase – sale agreements until buyers and sellers who are out of the country can fly in.
Work remotely
Even during the pandemic, we have a pretty reasonable internet connection. Our internet speed is pretty acceptable to work remotely (see image below).
Although our affiliates can assist in your real estate needs, talk to an emigration lawyer about your options when planning to live in Costa Rica and work remotely.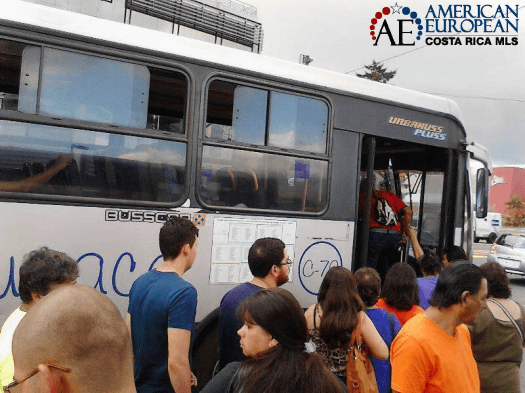 The future
We've noticed a huge number of new visitors on our website, as well as new subscribers on our Tuesday newsletter "The Easy Times" I don't know if that has anything to do with the coronavirus only or if there are other reasons. Getting ready for your move to Costa Rica needs a lot of due diligence work. If you want to do it right. I'm sure our weekly blogs will be able to assist in a lot of it.
When you're ready, contact us.