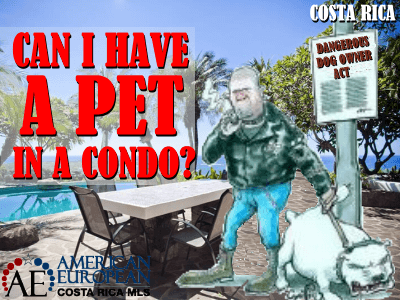 If you are asking yourself if you can buy or rent with a pet in Costa Rica Condos, the answer is "depends".
If you are in the market to purchase or rent a Costa Rica condo and you have a pet, you should tell the realtor what kind of pet you have before looking at properties. The realtor, when listing  a city condo or a beach condo for sale or for rent, should get that specific information from the seller. This is quite often not done.
You don't want to look at a Costa Rica condo for sale, fall in love with it and then find out you cannot bring your pet. Or put down the security deposit to rent a condo and then find out you are not allowed to bring your pet.
If you want to buy or rent with a pet in Costa Rica condos, those pets are probably as important to you as any other family member. So what can you do to make sure your pets are allowed? You don't want to find out you cannot have a pet in Costa Rica condos after you have bought or rented. It is horrible to find out there is a prohibition in the condominium bylaws until it is too late.
Ask your realtor the following questions before going to a showing of a condominium for sale or for rent:
Are pets allowed in the condominium?
What kind of pets are allowed?
What are the restrictions?
You will always find a clear description in the bylaws about having a pet in Costa Rica condos.
An example
Each condo owner or tenant may have household pets in their condominium only; with the understanding that you cannot breed them for commercial purposes. It is important that they do not cause a nuisance to neighbors. Dangerous pets are not permitted under any circumstances in any part of the condominium or it units. Dangerous pets are any kind of reptile or other animal that is considered wild for its behavior. Also, the pet may not endanger the physical or emotional health of any person who lives, labors or visits the condominium.
Therefore, it is expressly forbidden to have and/or introduce dogs known as Pit bull Terrier, German shepherd, Doberman or Rottweiler. Each owner or authorized resident is responsible and should clean or pick up their pets feces. When pets are in the common areas, they must be with an adult at all times. And must be on a leash to prevent any accidents.
Any violation of the above authorizes the Administrator to require the pet owner to remove the animal from the condominium. The owner can be fined as well. These limitations do not include fish in aquarium or caged birds. As long as the birds are not in the common areas and constitute a nuisance to neighbors. When the owner of the pet does not clean up waste produced by the pet in the common areas the administration can proceed to bring you a written reprimand. As a result and if this event were to occur, the administrator can charge a fine of $ XX,XX. This will be billed in the maintenance fee. To ignore and continue breaking the rule, the condominium owner will be fined in the amount of up to two maintenance fees.
Hire the right agent
Are you interested in buying or renting with a pet in a condo? Hire an experienced condo agent. Our agents will be happy to assist in your search for a condo that will allow pets if you need to. They will find all the answers to your questions about the rules; contact us NOW.