Estimated Reading Time: 5 Minutes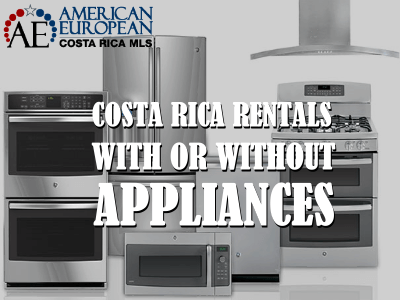 When searching for Costa Rica rentals, you might assume the home appliances will be included. They probably are not, unless you rent a furnished and equipped home.
Are you interested in knowing more about renting with and without home appliances in Costa Rica rentals? Then you can ask a knowledgeable realtor or just read on.
In Costa Rica, the appliances are called "linea blanca". So, if you read "linea blanca incluida", you know the unit is rented with the appliances.
In some countries, it is quite customary that the home appliances come with the home for rent, in Costa Rica, they generally don't. Home appliances in Costa Rica pay heavy import duty. Landlords do not include the appliances in the rent, because they are much more expensive than you are used to.
Kitchen appliances are amongst the highest taxed import articles in Costa Rica. An imported stove pays 80%, refrigerators 68% while microwaves, washers, and dryers pay 49% import taxes. All appliances also pay a 13% sales tax. By shipping your own household goods to Costa Rica and bringing you used home appliances, you will be saving some money.
When home appliances are included the rent is higher
Because home appliances are so expensive in Costa Rica, most landlords do not rent their property including the appliances. If you end up renting a home that does have all the home appliances, the rent is probably a bit higher than you would pay for a home that does not include the appliances.
Tell the rental agent about your rental needs
Think about your needs before you search for Costa Rica rentals with a rental agent. Then just send the agent an email with your rental needs. Rental websites are usually not very specific in the description of the rentals shown and what they include and what not. Tenants have different options for a rental time period, such as short-term rentals (usually vacation rentals) or long-term rentals (usually 1 year or longer). Vacation rentals in Costa Rica, you may assume, fully furnished and equipped and come with all the necessary appliances.
Home appliances included or not
If you bring your own home appliances with you, tell the rental agent ahead of time. So the agent won't have to show any rentals that do include the appliances. I have seen tenants fall in love with a rental home and end up with two appliances. The reason was that the landlord didn't have a place to store his own appliances and would not reduce the price because of it.
When you find a Costa Rica rental with the home appliances included, you should check those appliances before signing the lease agreement. The last tenants might not have told the landlord that an appliance needs repair out of fear to lose their security deposit. Most landlords forget to check the functionality of the appliances at the termination of the last lease agreement. For sure you don't want to end up paying to fix a malfunctioning home appliance that is not yours.
Find used home appliances on-line
Unfortunately, nobody rents out home appliances in Costa Rica. Buying appliances is definitely more of a hassle than just renting a home that has the appliances included. Fortunately, there are many ways to find used appliances for sale. You can use websites like Craigslist or check on any Facebook page like CostaRicaCentralValleyLiving.
Contact us for your rental needs
That way, when you are ready to purchase your real estate in Costa Rica, you can have your home appliances. When you are moving to another country, you can use the same places to sell your home appliances again. You can also contact us, if you wish, for Costa Rica rentals in any of the areas where we have affiliate agents.
---
Feel free to leave your comments on this blog. If you like this article, please feel free to share it on your social media.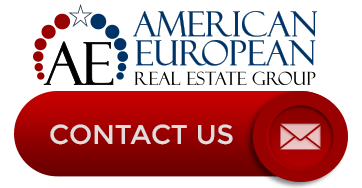 If you like this blog, subscribe to our newsletter by clicking the banner below.