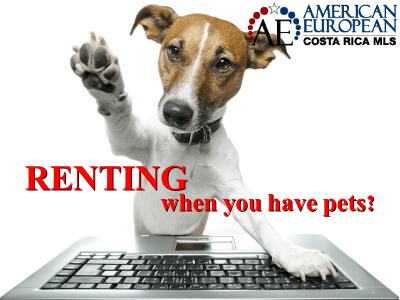 "Hi, my name is Ann I saw this one-acre rental property in Santa Ana online and would like to see it". Me: "yes Ann thanks for your call. We would love to show you this property at your convenience. Do you have pets?"
"Oh yes, I have pets. That's why I want to rent a one-acre property. So my 8 lovely dogs can run around freely. Is the property fenced?"
"I am very sorry, but the lease agreement on this property says that pets are not allowed on the property under no circumstances."
"Oh, but my doggies are so well behaved, they have never damaged any property. they are potty trained and they're my family".
I am a pet lover myself as well as a landlord, the reason for this blog about how pets can damage property and what could be done about it.  Our pets are our family too, just like Ann's, but I own my house, I don't rent. Our last tenant would leave her Chihuahua inside while she would go to work. The doggie chewed up every corner of every baseboard, door and door frame in the apartment. We ended up tearing out the wall to wall carpeting that was impossible to clean anymore. And we threw away part of the furniture.
Destroyed property
I have seen a lot during my real estate career in Costa Rica. Tenants with pets had for example
Gardens that were totally destroyed
Hardwood floors that needed a total re-finish
Baseboards, doors and kitchen cabinets destroyed
and many other damages.
When I get a phone call like the one I got from Ann, I am ready to walk away from this irresponsible person. Some tenants with pets think the world turns around them. They expect landlords to adjust to their lifestyle and not the other way around. To my personal opinion, if you are a tenant, you should not have more than one, very well trained pet. AND you should be willing to make an important pet deposit PLUS the regular security deposit to pay for damages.
If you are like Ann, please do not call me, call my competitor! If you have 8 lovely dogs, you should not rent but buy a property. That way, you can mess it up as much as you want.
A pet résumé?
Of course, there are lots of responsible tenants that have pets. Those who take well care of their pet(s), train them well and don't lock them up in the house while they're away.  How do you show a landlord that you are one of those responsible pet owners? How can you show your future landlord that you take the responsibilities of being a pet owner seriously and responsibly?
Unfortunately, insurance companies in Costa Rica do not offer a pet damage insurance. If you have pets, it would be nice to offer the landlord an important additional security deposit to cover any possible damages.
If you have pets that are well trained, you can also write up a pet résumé. I can see you laughing now, but it is definitely an option to show your future landlord how important your pet is to you.
What should you put in that résumé? Well, have you ever written a job résumé? You can start with a photo of your pet, the breed, age, size, and temperament. Have you and your pet taken any formal pet training and where?
Is your pet potty trained?
Was your pet house-broken, does the pet respond to voice commands? What's the pet's schedule look like? Do you walk the pet, how many times a day, where, do you have a dog walker, and how do you clean up the poop?
Is your pet up to date on shots and vaccinations; is he/she on flea medication? Does your pet bark or make other noises that can be a bother to neighbors, how do they react to unfamiliar visitors?

Whose fault is it?
It is quite common for tenants with pets looking for a home for rent in Costa Rica, to become nasty with the real estate agent about the fact that most landlords do not accept pets because they have a bad experience, just like I had with the tenant and her Chihuahua. Please understand that we, as real estate agents, are the first one to be called when there is damage to the rental property and we have to work with the landlords every day, while a bad tenant will disappear.
If you have pets (not 8) that behave well and you are interested in renting in Costa Rica, contact us. We'll give it a good shot to help you find your next home. If you have more than 1 pet, with pleasure we will sell you a home so you don't have to worry about an angry landlord..