I really enjoy reading discussions between expats if moving to Panama is a bad idea or not.
I enjoyed Ivo's blog about Bill who could not consider Costa Rica for retirement but prefers moving to Panama instead. I am not sure his neighbor in Vancouver has been to Panama recently, but I go quite often. I am, just like he is, a Costa Rican and would like to show you my view on this matter.
Of course, I'd suggest to Bill, that it's not such a bad idea to do his due diligence in person. It is very difficult to know if you will like a country, without visiting it.
I too have an opinion about moving to Panama, just like Bill's neighbor from Vancouver does about Costa Rica. My opinion is based on my personal experiences in both countries. And I thought it would not be such a bad idea to share some of those experiences in Panama with you.
I have worked as a real estate agent in Heredia for the last 26 years. For those opportunities that life gives us, I have had the opportunity to visit Panama about fifteen times in the last four years.
As a Costa Rican visiting the Panamanian coastal strip is a pleasure. All those tall buildings, the subway, the wide roads without potholes, the shopping centers like Alta Plaza or Multiplaza or just walking through the remodeled part of the Old Town at sunset is a pleasure.
The heat
Nonetheless, at some hours of the day, you cannot put a foot out the door because of the unbearable heat. Leaving an air-conditioned place during that heat is simply a bad idea.
I was visiting acquaintances who live in a high building in the Cinta Costera (Coastal Beltway), Panama City. One day there was no water in the building and we were on the 30th floor. We had to fill buckets of water and use the elevator full of buckets (all neighbors were trying to do the same).
Then, the day came that the elevator stopped working. Fortunately, we had water again, so we could take a shower every time we had to walk up those 30 stories. Walking 30 stories in a 90º temperature with a huge humidity is enough to start hating any place on earth.
The building was quite new, beautiful, but often had such problems. My friends later moved to an old one-story house in a normal neighborhood.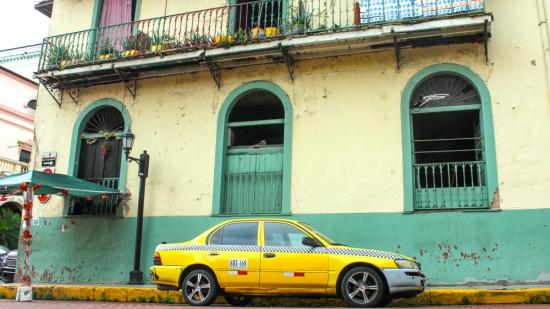 The taxi driver
At certain times of the day, the heat is too unbearable to walk to the nearest grocery store or mall. That's when taking a taxi, a bus or Uber is not a bad idea. Finding a taxi at certain hours is another almost impossible task.
The drivers decide how far they want to take you. One day, I needed to make a quick stop and then wanted the taxi to take me to the airport.  From where we left to the next stop was only two kilometers. He told me to choose: right there at the bus stop (on the wrong side of the road) or he'd take me straight to the airport. I offered him 3 times the rate to do me the favor.
My Latina blood
Like a good Latina, my blood started boiling. I got off the taxi. Then, I climbed the pedestrian bridge with both suitcases and climbed down at the other end.
By the time I got to the other end, I was soaked in sweat, my arms, my head, and my feet hurt. It's when I found out that not taking another taxi was a bad idea. The heat was just too unbearable for someone who lives in a much more comfortable Heredia climate between 65 and 75 degrees all year around.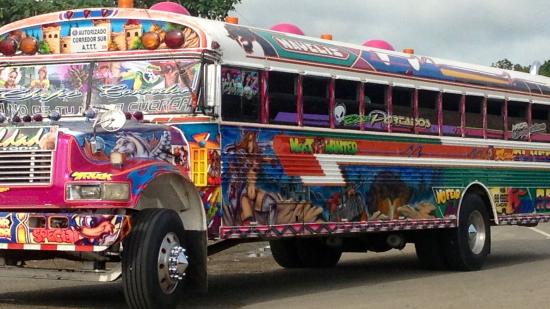 The buses
The buses are another story. There are two bus systems in Panama City:
* the integrated system of urban public transport. These are new units. You can only pay by card and the balance of the card expires if not used often. These buses pass from time to time. It's happened to me that my balance was expired. And there was always a good Samaritan who allowed me to use his/her card, so this "poor tourist" didn't have to get off the bus.
* The Red Devils. These are popular minibusses. They drive by almost every minute. The drivers have fun listening to their favorite music, overtake other cars like crazy, crossing through parking lots, gardens, changing lanes, driving over the sidewalks, breaking suddenly, shouting and screaming.
Food
I prefer to eat fresh, organic vegetables and surely they must sell them somewhere. Unfortunately, I have not been able to find them in Panama. I have been to the Seafood Market on the Coastal Belt. But with that heat, the vegetables did not look fresh enough to my taste.
Locals told me to go to supermarkets like El Rey, Xtra, Riba Smith, Super 99 but did not find what I was looking for. I'd love to find a farmer's market or something like a Trader Joe's.
Eating out is always a good option. Franchises like P.F. Chang's have affordable prices in Panama. But after a few days of eating out, I miss my Costa Rican food, the one that I adore.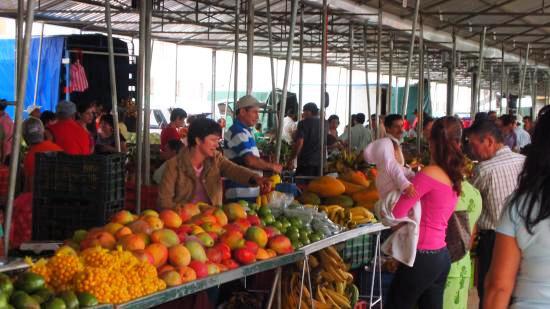 Customer service
Each country has its idiosyncrasy. Panama, in my opinion, is so different than Costa Rica. I felt ignored, scolded every time I asked about something in stores or restaurants.
Then I learned that they are not angry. They just have a different attitude than what we are used to. Panamanians have a different style of customer service than we have in Costa Rica. I have a tip: relax, breathe, smile, many make a joke and then ask for what you need. It will be much easier, believe me.
Getting angry at someone because he or she is not very nice is a bad idea.
Other places
It is impressive the amount of money that the government of Panama is investing in recovering the Old Town – Casco Viejo. There are a few blocks full of restaurants, bars, and shops. But then, when you walk a little more, you will find the other side of the Old City, which is dirty, poor, smelly, and noisy.
I personally like the Clayton area. It is far from the airport and has the charm of the old American area. Clayton is clean and I even saw garbage dumps for recycling.
After 2006, several of my North American clients have been moving to Panama from the Central Valley. Some went to Chiriquí, a mountainous area near the southern border of Costa Rica.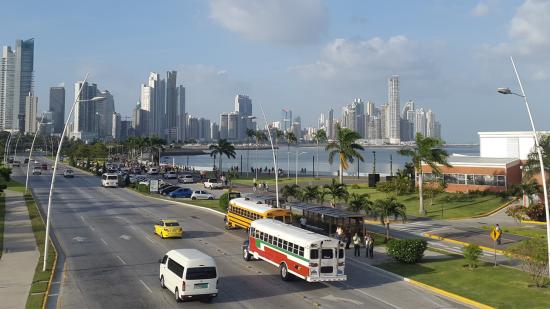 Moving to Panama
I remember when one client called me to say they did no longer want to live in Costa Rica because it is very expensive. He was moving to Panama.
They sold their house fast because the husband was a good builder and the wife a good landscaper. They visited the Regional Directorate of Immigration and returned in their residency card. I heard them say: "we will not return to this country; we cannot live here anymore".
A couple of years later I remember that they called me. They were bored after they had finished building the new house and landscaping the gardens. He said that his only amusement was to go to the hardware store. And he's going to the grocery store to buy food. There were no recreational activities like the ones they were used to in their more than ten years of living in Costa Rica.
Return to Costa Rica
So they requested a meeting at the Immigration Office. To their surprise, when the employee opened the file with their two residence cards. They thought that it was going to be easy.
Unfortunately, even though their cards were on file, they had to start the residency process again, from scratch. In their opinion, the whole idea of moving to Panama turned out to be a bad idea.
Things to do
Others who were moving to Panama City and returned did not find activities such as reading clubs, dance clubs, card clubs, theater clubs, wine clubs, etc.
Each country has its culture. Before you move, it is important to find out what you like all day. Because if you want to watch TV and not interact with people, stay at home!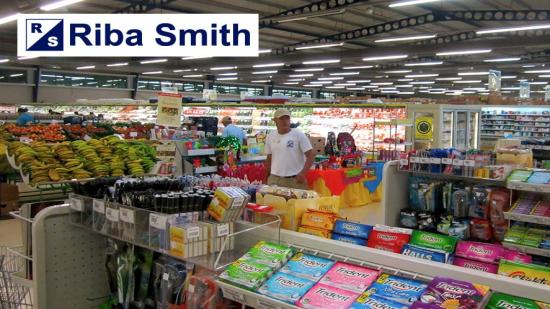 Do your homework
Before moving to a country, visit it first. Stay a few days in different places, talk with people, ask about hobbies, values, activities of the locals, go out at night. Do not visit only in tourist places.
Make a list of what you CAN NOT accept, what you CAN accept and what you hope to find in your ideal place.
For clarification, these are my personal experiences of moving to Panama. I hope they will help you to a better understanding of the culture and appreciate the beauties of that country.
Each person is different, each country is different, I want you to find what best suits your needs, live an learn.
The Author
Xinia Salazar Vargas is our Heredia real estate agent for all Heredia real estate located on the north side of Heredia city. She lives in Heredia herself. Xinia, as a born and raised Costa Rican knows the upper Heredia mountains better than any other Heredia real estate agent in Costa Rica.