Estimated Reading Time: 4 Minutes
Our very dear affiliate in Tamarindo, "Jogi" Juergen Gerner appeared as a Featured Top Agent 2021. Jogi, who has been an affiliate since the American European Real Estate Network was founded in 1999.
Top Agent Magazine features the best real estate agents and industry partners throughout the world. This US Nationwide & International real estate magazine profiles the best of the best in the world real estate professionals.
Here is what Top Agent Magazine published on page 83:
Born and raised in Germany, "Jogi" Juergen Gerner first visited Costa Rica in 1992 and fell in love with the country right away.
Following subsequent visits, he decided to make Tamarindo his home. When a close friend offered him a position at their local real estate business, Jogi knew he had discovered his dream job. After establishing strong foundations in the area, he decided to launch ABC Real Estate with his wife Verena Moshammer in 1999. The two have been going strong ever since.
Today, Jogi is the Owner and Broker of ABC Real Estate, where he services clients throughout the Northern Pacific Coast of Costa Rica. With his offices located at the heart of Tamarindo, he has combined his expertise, compassion, and integrity to meet the demands of any transaction, from residential homes to lots and commercial properties.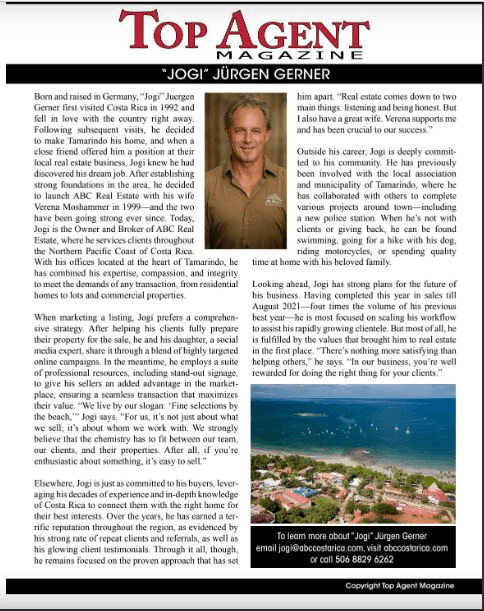 Marketing
When marketing a listing, Top Agent 2021 Jogi prefers a comprehensive strategy. First, he helps his clients to fully prepare their property for the sale. Then he and his daughter, a social media expert, share it through a blend of highly targeted online campaigns. In the meantime, he employs a suite of professional resources, including stand-out signage. These resources give his sellers an added advantage in the marketplace and ensure a seamless transaction that maximizes their value.
Fine Selections
"We live by our slogan: 'Fine selections by the beach,'" Jogi says. "For us, it's not just about what we sell; it's about whom we work with. We strongly believe that the chemistry must fit between our team, our clients, and their properties. After all, if you're enthusiastic about something, it's easy to sell.
Decades of Experience
Elsewhere, Jogi is just as committed to his buyers and sellers, leveraging his decades of experience and in-depth knowledge of Costa Rica to connect them with the right home for their best interests. Over the years, he has earned a terrific reputation throughout the region. This reputation is evidenced by his strong rate of repeat clients and referrals, as well as his glowing client testimonials.
Through it all, though, he remains focused on the proven approach that has set him apart. "Real estate comes down to two main things: listening and being honest. But I also have a great wife. Verena supports me and has been crucial to our success.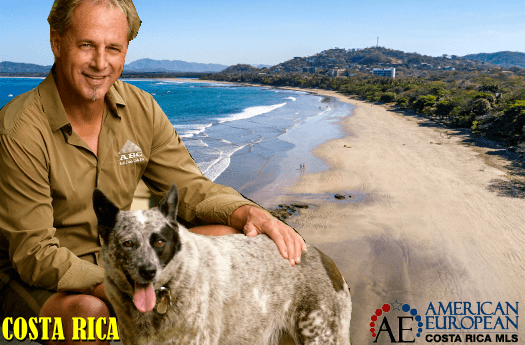 The Community
Outside his career, Jogi is deeply committed to his community. He has previously been involved with the local association and municipality of Tamarindo. Top agent Jogi has collaborated with others to complete various projects around town—including a new police station.
When he's not with clients or giving back, he can be found swimming, going for a hike with his dog, riding motorcycles, or spending quality time at home with his family.
The Future?
Looking ahead, Jogi has strong plans for the future of his business. Having completed this year in sales till August 2021—four times the volume of his previous best year—top agent 2021 Jogi Gerner is most focused on scaling his workflow to assist his rapidly growing clientele. But most of all, he is fulfilled by the values that brought him to real estate in the first place. "There's nothing more satisfying than helping others," he says. "In our business, you're well rewarded for doing the right thing for your clients."
We invite you to learn more about Jogi and to search his listings now.