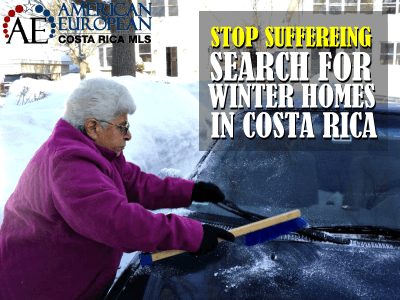 Stop suffering and check out our winter homes in Costa Rica inventory online! It's time to shovel snow again, for those who live way up north.
I decided over 35 years ago to move to a warmer climate where there is no snow at all, my choice was Costa Rica. My wife has never seen the snow. My son just visited Denver, Colorado and saw snow for the first time in his life. We have rain, but not when you have snow.
Our dry season runs from December to June, so when it snows up north, we have the best weather in the world in Costa Rica.
Some people love to suffer. Do you know how nice it is to wake up in the morning, every day, and not have any reason to put on thermal clothing to clear the driveway? Or remove snow from your windshield before you drive away, I hated it so much that I decided to move to Costa Rica when I was 25 years old.
In Costa Rica, we don't dress like the couple in the photo on the left when we go for a walk. We wear shorts and flip-flops like they show themselves on the right and we all love it!
Winter homes in Costa Rica
Smart snowbirds look on our inventory of winter homes in Costa Rica for sale and for rent and can stop worrying about that kind of suffering. Unless you love the snow and enjoy being freezing cold all the time, sleep under blankets and shovel snow to be able to get out of your house, you should look at the options we can offer you in Costa Rica.
Snowbirds
We have thousands of snowbirds who have bought one of the winter homes in Costa Rica that our affiliates have listed on the MLS. This is either a winter home in a nice and cozy environment in the Central Valley or any of the beautiful beaches we have in the Southern Pacific, the Caribbean, the Central Pacific or the North Pacific. No matter what your lifestyle is, we have all the options for you because we have affiliate agencies from coast to coast. That is exactly what the American European Real Estate Group is, a one-stop real estate solution so you don't have to knock on 50 doors to find the perfect winter home in Costa Rica.
Retirement funds
Did you know you can use your retirement funds to buy any of those beautiful winter homes in Costa Rica that you see on the MLS? U.S. Citizens can use their IRA or 401 (k). Canadian citizens can use their RRSP.  We can help you realize that without any of the usual hassle that comes with buying property in a foreign country.
Learn along the way
Don't forget to start doing your due diligence in time, we offer our FREE weekly blogs full of information about moving to Costa Rica, living in Costa Rica and the ins and outs of Costa Rica real estate. Check our blogs out now, they're very informative. While reading our weekly blogs, you might hit on one of those near perfect winter homes in Costa Rica that we can offer.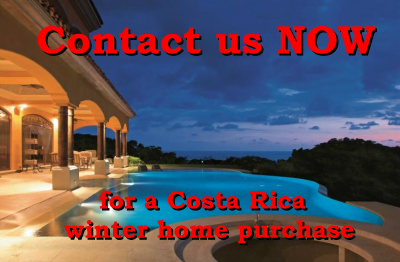 On our website, you can search for winter homes for sale and for rent in the most incredible locations in Costa Rica and a wide range of inventory of mountain homes, ocean view homes, beach homes and condos starting in the lower 100's.  All our affiliate brokers have at least one luxury homes specialist in their office
Contact us now to buy any of the winter homes in Costa Rica that we carry on inventory.
Feel free to leave your comments on this blog. If you like this article, please feel free to share it on your social media.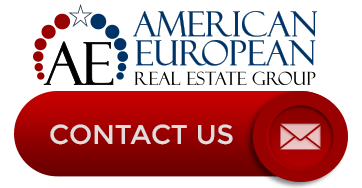 ---
If you like this blog, connect with me on Google+ or subscribe to our newsletter by clicking the banner below.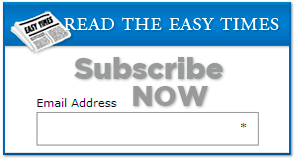 While we're at it, I DO want to remind our readers that we appreciate any referrals you can send us. Finally, please remember the American-European real estate Group's agents when you refer a real estate agent. Because we DO appreciate your business.