Estimated Reading Time: 4 Minutes
In Costa Rica, when it rains, it pours. You definitely don't want to wait for the rainy season to find out that you have a serious roof problem.
When it comes to the welfare of your roof, making the right decision on whether to replace or repair it will save you from headaches and unnecessary costs and worries.
It is essential for homeowners to lessen the big expenses, and reroofing falls into this category. Before hiring a contractor, you must answer one critical question first " Should I get my roof replaced or repaired?
Once you have a professional response to this question, you can decide whether you want to fix some leaks here and there. Or maybe you want to remove the whole thing and get a new roof.
If you are unsure whether to have your roof repaired or replaced, look at the following situations. See if any of them fits your present condition.
Reasons for Roof Repair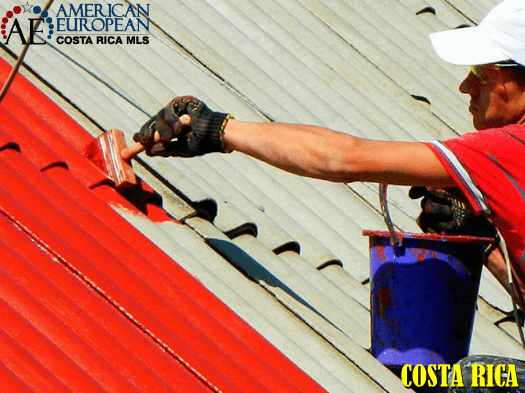 Minor Damages
Are there only tiny, manageable damages? Then having a complete replacement may be both expensive and excessive.
When you contain small areas with damages, contractors or roofing pros can repair them easily. For instance, a leak in the bathroom or kitchen can be sealed, stopping the need for a new roof installation.
Tight Budget
The choice of repairing your roof may be up to you if your budget does not fit a roof replacement. Replacing a roof or even a partial replacement can cost thousands of dollars. Yet, a few repairs might cost you a few hundred.
Maintaining the Design
For many homeowners, maintaining the architectural integrity of the houses is of the highest importance. Any considerable improvements, particularly one like replacing part of the roof, might change the look of the property. Yet, roof repairs will let you maintain architectural integrity.
Quick Solution.
Another factor that may convince you to have your roof repaired or painted, instead of roof replacement is the time factor. We often have clients who have planned to go on vacation, only to find out a few days before they leave that they have a leaking roof. They want a fast solution and nothing quicker than attending to the problem directly and repairing the leaks.
Reasons for Roof Replacement

Lifespan
The roof has reached the limit of its serviceable life. At some point, the roof will get tired and come to an end. Roofing materials will come at some point that they will decay and corrode.
Major Damages
Roof and roofing materials are made to endure severe weather conditions. But sometimes, the forces of nature show to be more powerful. For instance, a tree could fall right into your home, creating major damages on the roof that goes beyond repairs.
Expensive Repairs
At times, the total amount you must spend for many repairs could be as expensive as the total cost of getting a roof replacement. If so, it would be better to have a complete roof replacement and prevent future emergency repairs again and again.
You want a new roof
Often, many homeowners want to have a new look for their homes. They renovate the bathroom, kitchen, paint the exterior of their home a different color. Or they replace the roof with a new one with fresher materials and designs.
On that note, you, as the household owner, have the final word on whether you need a roof repair or a roof replacement. Before making any decision, be sure you consider the above factors into account, and it will not hurt you if you consult with a roofing pro. Experts at Rugged Roofing and Restoration can tell you more about metal roofs, which is what is used in Costa Rica regularly. will help you make the right decision.